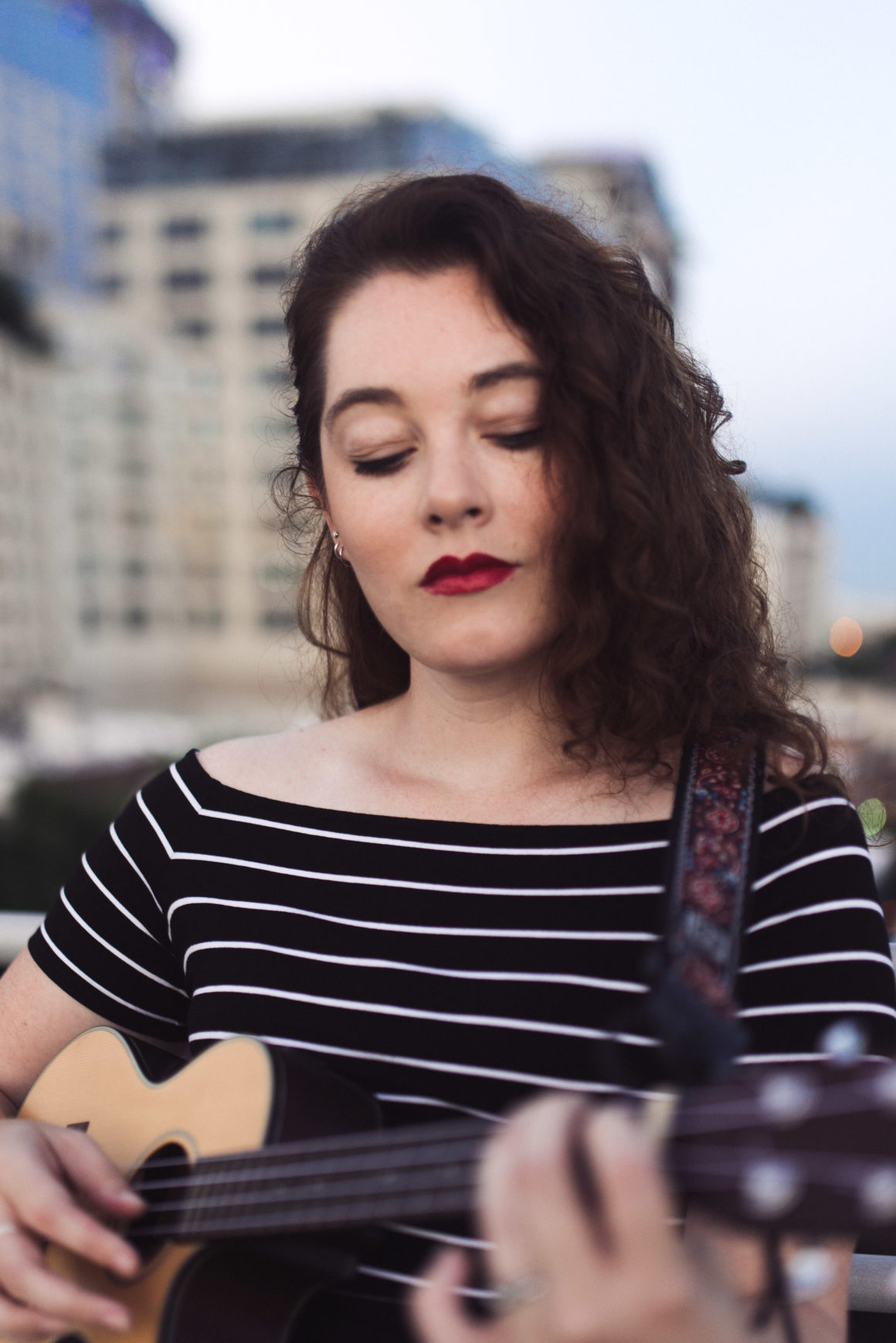 ---
As Mandy Harvey approached center stage to begin singing, the audience was quiet. Not because they weren't excited, but because instead of clapping their hands they raised them in the air, fingers shaking, as the sign for applause in American Sign Language.
Popular singer, songwriter and recent America's Got Talent contestant Harvey, who also happens to be deaf, performed on Oct. 21 at the Haugh Performing Arts Center.
Harvey was accompanied by her band which included a pianist, electric guitarist, bassist and drummer.
Together, Harvey and her band delivered an emotional and professional musical performance that was altogether enjoyable and memorable.
"Every time I perform there on a new stage there is a learning curve of getting used to the environment and feeling the floor the best but that's what is incredible about working with my band members," Harvey said in an email. "No matter what happens we are in this together and we always figure out multiple ways to sync."
No big screens or pyrotechnics were used; only Harvey, her band, some fancy lighting and a fog machine. That is all the acoustic performance needed, as the focus was on the music and not overwhelmed by a busy background.
Harvey's crisp clear voice pierced through the audience as she sang not only her original songs, but also covers of what she said to be her favorites.
A few stand-out songs from her performance included a cover of "Hallelujah" by Leonard Cohen, her original song "Falling Down" and a cover of "Yellow" by Coldplay. An audience favorite seemed to be one of her most popular songs, the one she auditioned with at America's Got Talent named, "Try".
Almost each song performed was previewed with a personal anecdote and a message behind the lyrics to songs she wrote herself. The personal anecdotes helped the audience gain a mental-image of the lyrics and fully engage with the song in a way that made her performance even more emotional.
Harvey also accompanied each song with ASL. Even when her hands were busy playing the ukulele, she brought out an ASL interpreter to help her.
At times there were instrumental breaks and guitar solos that seemed a bit drawn-out, specifically in songs such as "House of the Rising Sun", but overall the quality and technique of the musicians was able to maintain the audience's attention.
These instrumental solos were not used sparingly, which took away from their unique quality a few songs in.
Harvey and her band were always in-sync and the communication on-stage was clear and never felt unrehearsed or hectic.
At the age of 18, Harvey lost her hearing due to a connective tissue disorder and decided to pause her pursuit of a career in the music industry.
After struggling to find her way, she returned to her vocal craft in 2008 and developed her passion for music and songwriting in a whole new way. Now at the age of 29, Harvey's musical career path is still unfolding.
Since returning to the music scene, Harvey has released studio albums and said she has performed at various venues across the country.
Harvey said this was her first time visiting Glendora and that college environments are a special place to perform.
"Playing at college campuses were especially fun for me because there is always such an energy. It's a time to express yourself and to find what you are motivated to do in this life," Harvey said.
This past year, Harvey auditioned for the reality competition show America's Got Talent, where her audition and journey throughout the show catapulted her into widespread popularity.
At the end of her concert, Harvey took the time to hold a meet and greet with the audience.
"Music is an expression of the soul…it doesn't matter your age or the venue," Harvey said. "We can be a part of something together!"
---
---