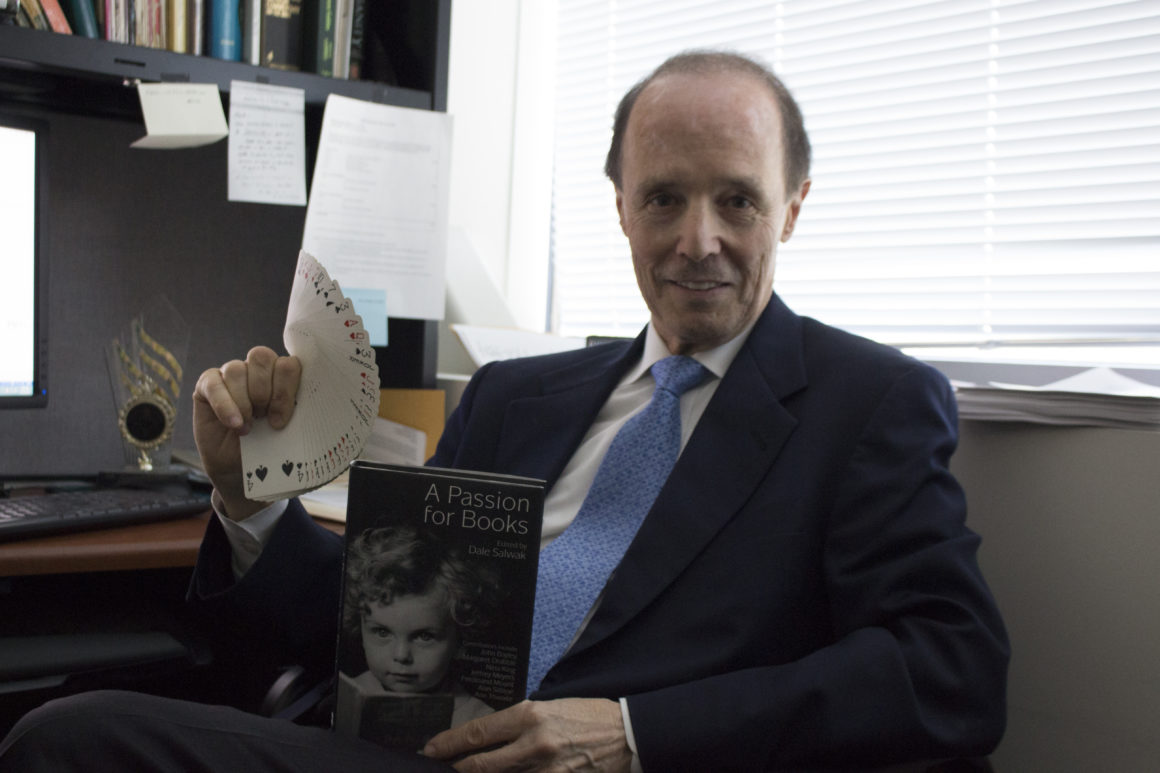 Professor and magician Dale Salwak poses for a picture with his two passions, magic cards and his book "A Passion for Books" on Oct. 12 in his office in the CI Building. Photo by Steven Garcia / Clarion
---
World renowned magician, illusionist and Citrus College Professor Dale Salwak has been invited to return to North Korea in April 2018.
He has traveled to North Korea before with his son, Ryan Salwak, a former Citrus College student.
Salwak has been the only other American magician, after Hal Myers in 1981, invited to perform in North Korea. This is the fifth time he has been invited.
Known as the "Gentleman of Magic", Salwak is a regular performer at Hollywood's The Magic Castle. He balances his career with magic with his profession as an English teacher at Citrus, careful not to mix the two, so there will be no sawing women in half in class.
"The majority of my time will be spent in the capital city, Pyongyang, but at my hosts' pleasure I am sure, as before, I will be taken to other provinces to visit other sites," Dale Salwak said.
Salwak said once his host took him to visit a Buddhist Temple about an hour outside of the city they were staying. Besides travel and performing, he said the majority of his time will be occupied by meetings.
He had been previously invited by Kim Jong Il in 2009 to perform at the Friendship Festival of the Arts.
Despite tension after President Donald Trump tweeted his wish to "totally destroy" North Korea, Salwak said he doesn't expect trouble.
"They are too smart to know that a war would be disastrous for both," Dale Salwak said.
Because Ryan Salwak has has the unique benefit of experiencing the country personally, he said in his opinion it is both the US and North Korean governments colliding, not the citizens individually, that the media shows in their coverage.
"It saddens me… I will continue to talk positively about my experiences and share stories of my interactions with the Korean people," Ryan Salwak said. "I will continue to be a positive source offering a perspective that differs from the political one we read about every day."
As for his personal safety, Dale Salwak has no worries. North Koreans want tourists to have a good time and if there was trouble, "it would be an embarrassment to them," Salwak said.
Ryan said he felt "protected" and "safe" by the security North Koreans had during their stay.
The magician's son said he remembers seeing a child after landing and waving. After hesitation, he returned the gesture. The Salwaks said they would not be affected at all because they are guests of the government.
"I'm only there on a small level, I don't deal in politics," Dale Salwak said.
Dale Salwak noticed tension in the first three days of arrival. However, after an impromptu performance he said he noticed the people were more relaxed.
"They have heard a lot about Americans," he said."If they hear that flowers on the other side of the fence are purple, then they see yellow, they wonder."
Dale Salwak said that copying was a form of respect for North Koreans. They had erected a monument, the Juche, modeled after the Washington Monument to honor Kim Jong Il's 70th birthday.
He said he feared that after Kim Jong Il's death in 2011, the personal exchanges between the US and North Korea would end, but Kim Jong Un decided to continue it.
Robert W. Gibson, former foreign affairs editor for the Los Angeles Times, and old friend of  Dale Salwak, is a fully supportive and generous donor of their goals with North Korea.
"Dale Salwak's civil discourse with the North Koreans contrasts starkly with the crude and bellicose exchanges between Donald Trump and Kim Jung Un," Gibson said.
"Through example, Dr. Salwak and the North Koreans with whom he talks show courteous collaboration is possible," Gibson said, "This may be a thin reed upon which to build hope but nevertheless it is a reed to clutch and cherish for anyone interested in peace."
Dale Salwak said he hopes to open doors for more Americans and North Koreans to travel to each country, and he has also visited Latin America, South America, Europe, Australia and China eleven times to perform.
"I am not here for myself, I am here for my students," Dale Salwak said.
While balancing teaching and magic, Salwak is also a published author. He said it takes around five years for his books to be produced and that he always starts on one before the previous is finished. His most prominent works include:
"The Wonders of Solitude"
"Living with a Writer"
"Teaching Life: Letters from a Life in Literature"
"Writers and their Mothers," which is to be published Jan. 2018.
"The man eats, sleeps and breathes literature. He endeavors daily to advance his students, improve his community and deepen his understanding of literature, and he never yields," Leo Spengler, a former student of Salwak, said in an email.
Salwak said he will continue to travel and has trips lined up for New York City to attend the Modern Language Association annual convention in January, as well as a trip to London to celebrate the release of his newest book.
"I've never met anyone like him in my life. I know he treasures every second, every pulse of the heart" Spengler said, "He follows Thoreau's advice to the core, to paraphrase: front only the essential facts of life, and don't realize, when you come to the end, that you haven't lived the life you wanted to live."
---
---