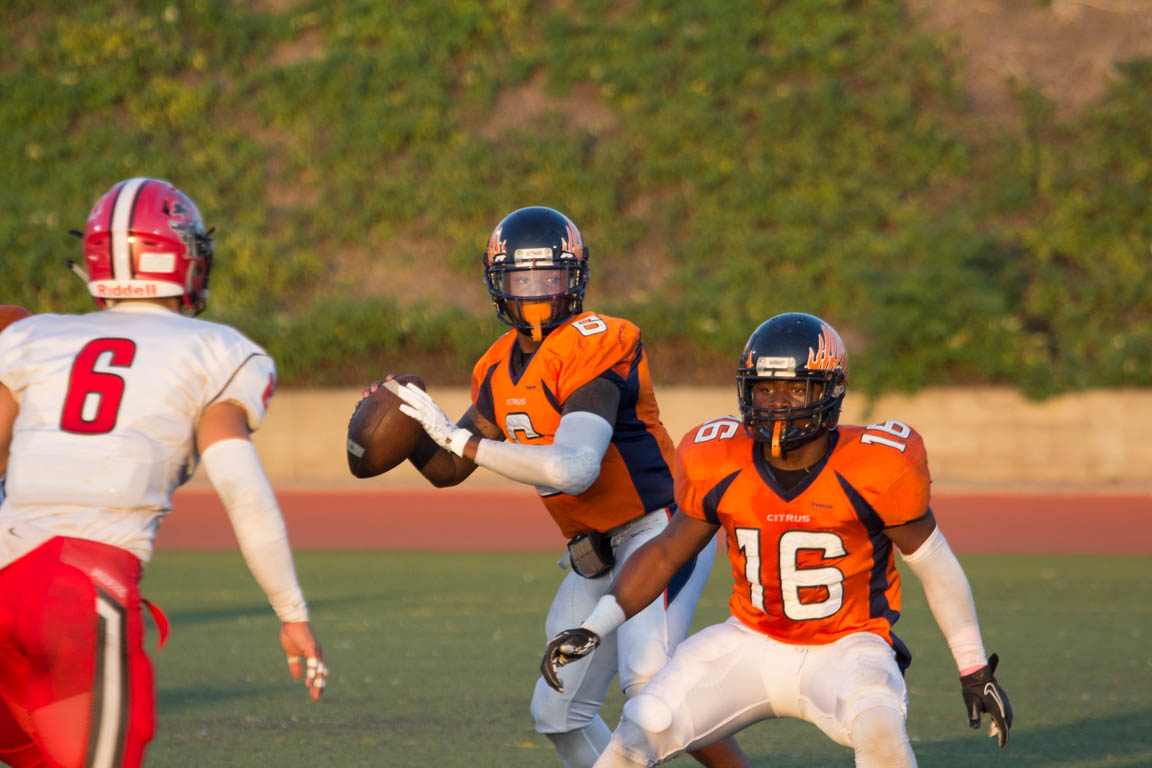 ---
There was a different air in Citrus stadium when the Owls took the field Saturday, October 28th in their 31-15 win over the Santa Barbara Vaqueros. They may have been 1-6 coming into the game, but it felt like the season had just started, and for good reason, Darreon Lockett was starting the game. Lockett, a Pomona High School alum, in his first game as a starter last week threw for 271-yards and four touchdowns in the Owls' loss to LA Valley, but he was a glimmer of hope for an offense that had struggled at the quarterback position all season.
At home against Santa Barbara on Saturday, Lockett delivered. Through the air Lockett passed for 130-yards and three touchdowns, on the ground he led the team in rushing with 103-yards. When prompted on how he put together such a stellar performance, Lockett was quick to credit his teammates.
"Our coaches made a playbook I'm comfortable with" Lockett said "and our linemen and my teammates finally started to click together to put points on the board, and the defense continues to do their thing."
In just two games under center Lockett has accomplished more than the other Owl quarterbacks have done in six. He more than tripled the total passing touchdown count of every other Citrus QB combined, and has also accounted for nearly half of Citrus' total passing yards.  
"It was just the type of offense we run," said Lockett "It needed a game changer at quarterback and I knew I could do it."
On defense the Owls continued their consistent dominance, keeping the Vaqueros scoreless through three quarters. The Citrus defense is currently ranked #3 in the CCCAA, which is comprised of 68 teams, and on Saturday the Owls showed exactly why, coming up with three interceptions including one returned for a touchdown by Chazz Eldridge on the first play from scrimmage to start the second half, the other two came from defensive back Shawn Franklin who now leads the team with four on the season, and linebacker Eshon Gray. The Citrus secondary only allowed 111-yards through the air from three different Santa Barbara QBs. Largely responsible for Citrus' no fly zone secondary is defensive back coach Mario Franklin. Coach Franklin wrote in a text message that his secondary maintained great consistency.
"The attention to detail, great technique, and confidence and belief in themselves," Franklin said. "Also complements to the defensive line, the secondary and the line are like the right hand washing the left hand. Imagine trying to wash your hands one at a time, it can be done but it's much easier with both."
In the running game, Santa Barbara was held to 91-yards. The Owl defense made name for itself with their physicality all season and Saturday was no exception as they racked up five sacks and 10 tackles for loss. One of the Owl's defensive captains, middle linebacker Zach Lewallen, said in a text message that the defense was focused leading up to the game.
"It starts at practice," Lewallen said. "Coach G, coach Puck, and coach Franklin make sure we were dialed in all week and as a whole defense we have a bully mindset."
The Vaqueros rallied in the fourth quarter to score 15 points but the Citrus defense was not to be outdone, at one point posting three consecutive sacks to put an end to Santa Barbara's comeback hopes.
The Owls host LA Valley next Saturday, Nov. 4 at 1 p.m.
---
---