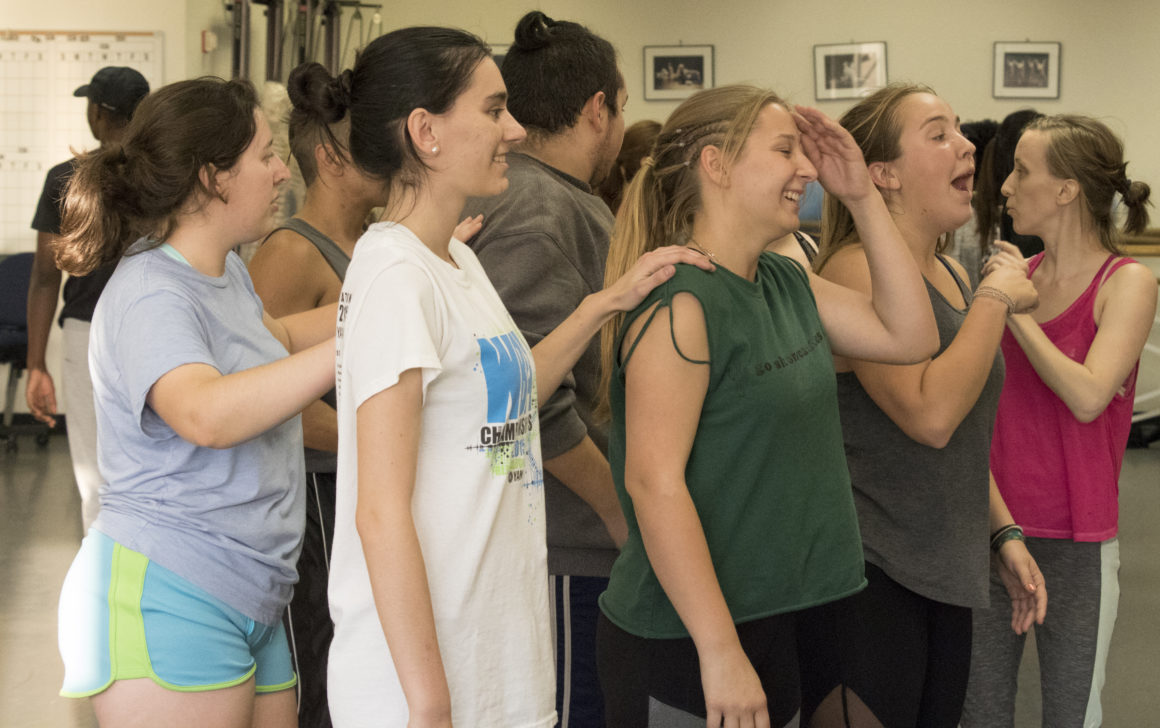 ---
Dance Instructor John Vaughan arrived at the weekly dance practice preparing for the Fall Dance Concert. After discussing with Renee Liskey, another dance instructor, the two entered the studio with an idea in mind.
As the student dancers gathered around, Vaughan asked the group a pressing question:
What do you all think if we donate the proceeds from the concert for hurricane relief in Puerto Rico? Vaughan said.
Citrus Alumni, La Verne graduate and a choreographer for the fall dance concert Art Ball said all the students were quick to answer.
"It was a unanimous decision to donate our proceeds we make in our ticket sales," Ball said. "We are more than dancers and faculty; we think and decide as a family."
In addition to all of the fall dance concert proceeds going to Puerto Rico, there will be a dance piece in the show titled "For Puerto Rico" that is dedicated to the country's tragedy.
Liskey said the Fall Dance Concert is the second main dance concert during the year. The other concert is in the spring.
"This dance concert is not as long as the one during the fall because isnt student centered, its faculty based in terms of pieces," Liskey said.  "In the spring we open up the show more to them to explore and choreograph."
Even though the majority of the pieces are choreographed are by Liskey and Vaughan, there are three student choreographed pieces in the upcoming dance concert.
Ball is one of the student choreographers who created the piece titled "The Ugly Christmas Sweater Party."
Ball who has danced for five years and his primary style of dance is hip-hop said this show offers a variety of styles in one show.
"This concert is very versatile in concepts of music, artistic views and choreography," Ball said.  "The audience is in for a treat this holiday season."
Another student choreographed piece was created by Shawna Cook titled "I Bid You a Fond Farewell".
Cook said this piece has a lot of personal meaning.
"My neighbor died suddenly in a car crash and left behind a 22 year-old son, he's a brother to me and my family," Cook said, "She never was able to say goodbye."
There's two main characters in Cook's piece, the mother, Norma Arellano, will be portrayed by Lissette Garrido and her son, Albert Arellano, will be portrayed by Lucas Howard.
"I've been working on this piece for the past two years and I wanted to do this for her as a way of letting go but not forgetting her," Cook said. "This (dance) is her coming down from heaven going to her family and saying goodbye."
The piece will have a lot of purple lighting and costumes, which was Arellano's favorite color.
Cook said other aspects of Arellano will be included as well.
"She also loved butterflies which will be reflected in the lyrical movement since it will be a contemporary jazz piece," Cook said.
Although the Fall Dance Concert will be shorter than the spring, the show will be full of variety and creativity.
Liskey said she looks forward to the student choreographed pieces as well as the dancers progress.
"I love watching the students grow, in the direction of dance they want to grow in," Liskey said. "Especially the choreographers with their skills and their transition professionally."
The dance instructors and student dancers are still researching on the organization for where the proceeds will go to since they want to donate it directly to hurricane relief for Puerto Rico.
The Fall Dance Concert will be on Nov. 10, 7:00 p.m.. Tickets are $10 for students and seniors, $12 pre-sale and $15 at the door, all proceeds going to Puerto Rico.
---
---