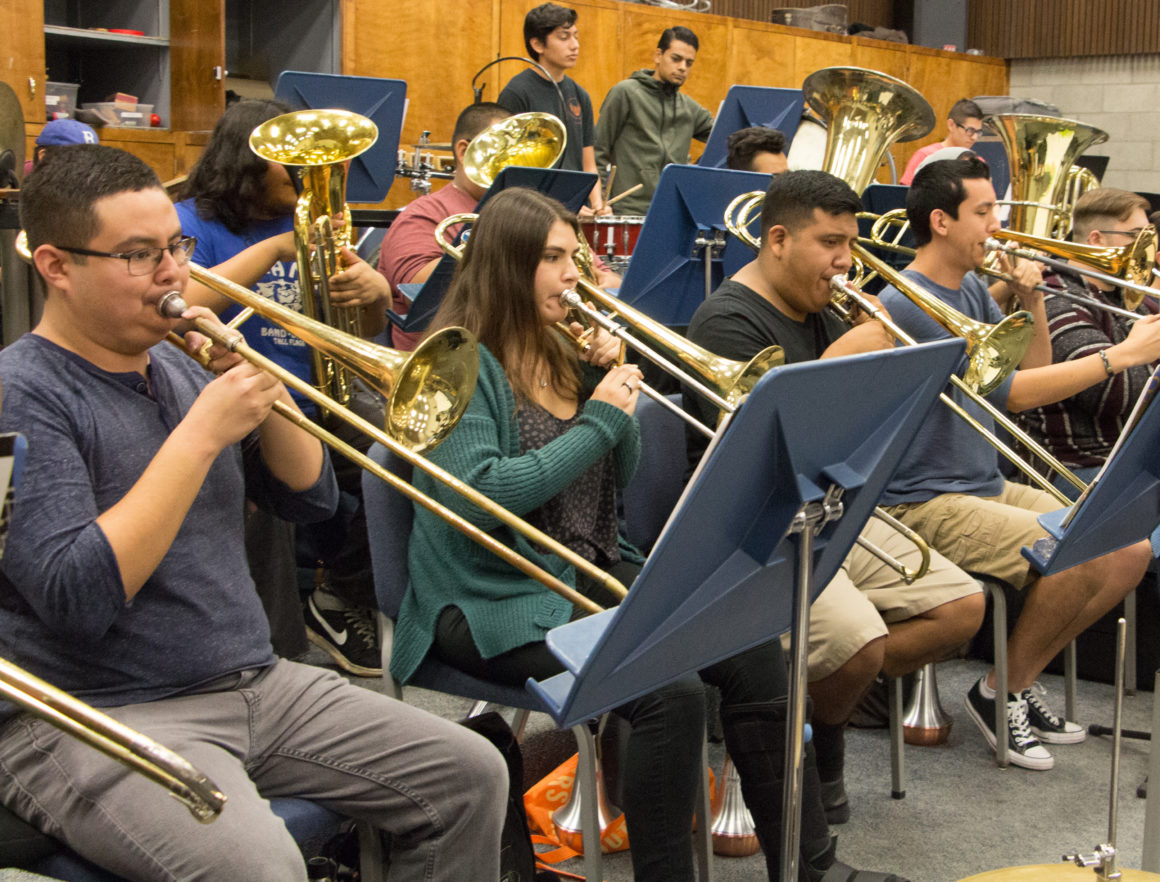 ---
Since its creation in 2001 by Citrus College's Director of Instrumental Music Bill Hoene, the Sierra Wind Symphony of Citrus College had only played joint concerts with high school ensembles. This upcoming Winds and Dances performance will be the first time the Sierra ensemble performs a joint concert with another college.
The Citrus College Sierra Wind Symphony and the Azusa Pacific Wind Ensemble will perform at 2 p.m. Nov.19 at the Haugh Performing Arts Center, entry is free.
The pieces the Sierra Wind Symphony will perform are slightly above the usual difficulty the ensemble plays but because of the joint concert Hoene said, "With combined strength like that, you can often pull off more challenging music."
The Sierra ensemble has only three string instruments in their symphony, all bass players. But with the addition of APU's Wind Ensemble the ensemble will be a complete orchestra with the addition of a string section for this one time performance.
One bass player in the Citrus Sierra ensemble Max Juarez said with a complete string section, it will be more encouraging.
The Sierra Wind Symphony will open the first 25 minutes of the performance then will hand it over to APU's ensemble to do another 30 minutes of pieces.
The Sierra Ensemble will perform a variety of dynamic music, which shows the symphony's range.
Conducted by Hoene, the Sierra ensemble will take  on the orchestral pieces "Jericho: Behind the Wall" a bible themed epic, "Fiesta" a Central American inspired rhythmic work, and an English traditional piece "English Dances."
Practice is carried out three times a week, and the symphony is now in full preparation for these extensive pieces, which each offer their own challenges.
First year Citrus student and long time trumpet player Paul Crawford (19) explained what practice has been like for the pieces. "(Hoene) does a really good job at helping explain things and so far it's coming along really well and I think it's gonna sound pretty good," Crawford said.
The performance will open with an eerie and gloomy flute solo in "Jericho" Hoene said. The piece will have more powerful contrasting sounds that follow the eerie solo.
"And of course the walls come tumbling down in this piece…the percussion gets to like cause an earthquake, you know what I mean, which is kind of cool," Hoene said.
For the first time in Citrus' symphony history, the two ensembles will then perform a piece together, closing Winds and Dances with "Symphony Dance No. 3."
With extensive practice and a new orchestral environment, Hoene's Sierra ensemble will have the opportunity to show the symphony's full potential.
"This concert on the 19th with APU is one we're really looking forward to" Hoene said.
Free tickets required for entry are available online at http://tickets.haughpac.com/single/SelectSeating.aspx?p=1634.
---
---