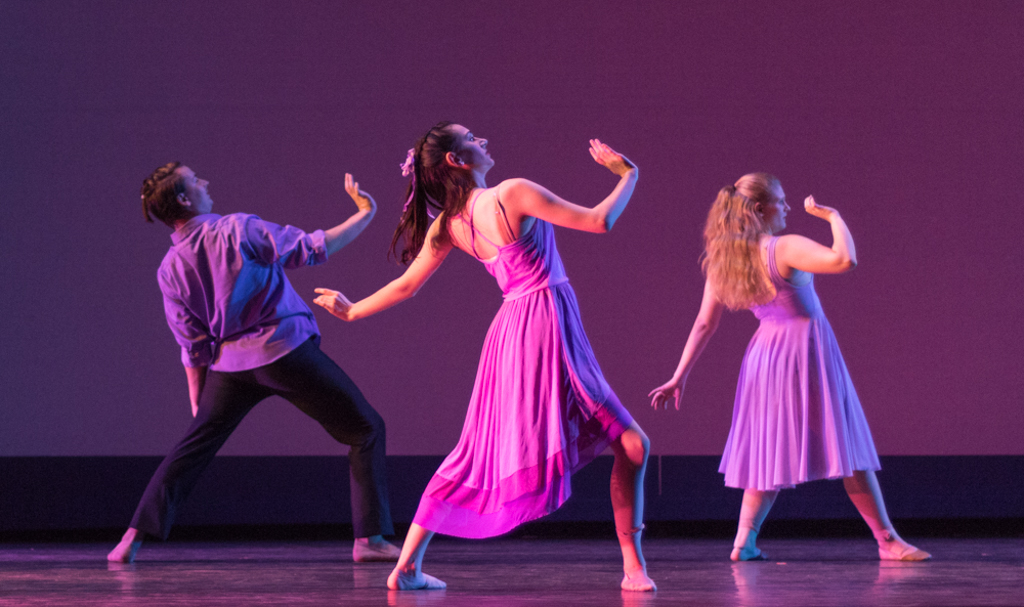 ---
Although Hurricane Marie hit Puerto Rico on Sept. 20, more than half the country remains without power. A small group of dancers at Citrus College has decided to donate their Fall Dance Concert proceeds to Puerto Rico's rebuilding.
On Nov. 10, at 7 p.m. The Dance Company performed 11 numbers at the Haugh Performing Arts Center.
The short 45-minute show was predominantly choreographed by faculty with only three student pieces.
Faculty members John Vaughan and Renee Liskey created a dance titled "For Puerto Rico" which included all student dancers.
This dance, performed towards the end of the show, told the story of hurricane Maria hitting Puerto Rico using circular motions.
The female dancers wore blue and white ombre dresses symbolizing water, while the male dancers wore grey shirts and black pants as they danced to a piano piece by George Winston.
The Dance Company received a well deserved applause after this beautifully choreographed piece.
Even though the piece dedicated to Puerto Rico was a success, it was not the only captivating concert piece.
One of the student choreographed pieces, "I Bid You All A Very Fond Farewell," was a touching dance. Photography and dance  major  Shawna Cook created this piece for  her neighbor, Norma Arellano, who died in a car accident.
Cook said this was Arellano's way of saying goodbye.
Student dancers Lisette Garrido played Arellano and Lucas Howard played Alfred, Arellano's son. The two dancers were joined by five others.
With dainty steps and sadness in their faces, Garrido had to leave Howard at the end. It was almost too difficult to watch knowing this was a true story.
Cook's choreography and the purple costume choices made the dance a beautiful dedication.
Although the Fall Dance Concert had a somber yet beautiful dances, there was an upbeat, feel-good dance that had a holiday flare to it as well.
"The Ugly Christmas Sweater" choreographed by student dancer Art Ball pumped the audience up for the holidays. . This specific number provided a more in depth plotline.
Younger people were at a holiday gathering listening to classical Christmas music with bored expressions on their faces. Their mother, played by Cook, made sure they were listening to the old-school classics.
However as soon as she left, the younger people changed the music to current- pop tunes and started dancing.
While the music turned away from the holiday theme, the dancers all wore ugly christmas sweaters. The lighting flashed red and green to maintain the holiday spirit.
Once Cook walked back onto the stage the dancers quickly resumed looking bored again while listening to christmas classics, getting a laugh from the crowd.
The Fall Dance Concert provided a diversity of choreography coupled with various moods and music which appealed to audiences of all ages.
The Dance Company is still deciding on what charity or relief fund the proceeds will go to.
---
---