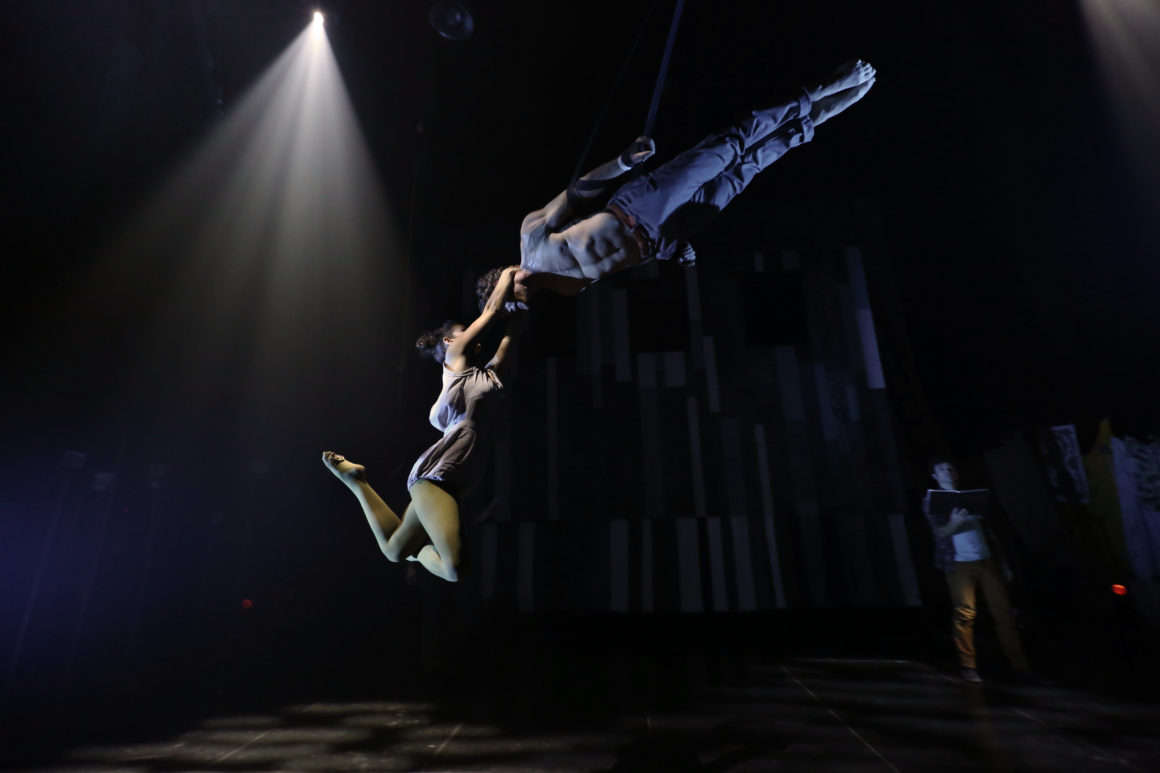 ---
Flip FabriQue was based solely on body movement, featuring circus tricks. Unfortunately, acrobatics and music wasn't enough to keep up with the storyline on Nov. 12 at the Haugh Performing Arts Center.
The few times the performers used their voices, microphones would have worked better for the audience to be able to hear over the  background sounds and music of this performance.
The beginning of the show portrayed rain and thunder sounds, with flickering lights to create a the idea he cast was standing outside in the rain.
The cast was banging on a large cardboard cutout of a building for someone to let them in from the imaginary pouring rain. The sounds overpowered their voices and it was difficult to understand them.
At times, even the music was louder than their voices. The production should have turned the music down a bit, since microphones were not included in this event. It would have given the show a nice sound balance.
At one point during the show, hard rock music played while performers were doing random flips. It's unclear why the production decided to pick a hard rock song.
The unnecessary music needed to be changed to a different and more suitable song for the audience to enjoy, which was filled with families and elderly people.
There was even a point in the show where the music skipped for about two seconds in one of the dance segments. Any audience might expect more sharpness, since they are professional performers.
The entire show was more like a collection of random performances like the Sonny and Cher variety show, except there were more people involved on stage in the show at the Haugh, which was necessary because of the stunts performed.
It would have been nice to see more costume changing in this production in spite of great set changes and music variety.
The only act that had a costume change was when the performers danced to "Copacabana" by Barry Manilow, while holding big red beach balls and wearing tropical-like shirts. The movements and talent with juggling the red beach balls was bright and uplifting.
At times, the show felt like a high school talent contest with the cartwheels and cheap stage production, but the show's running time was tolerable lasting 75 minutes long.
Anything longer than that would have had people checking their phones for the time.
---
---