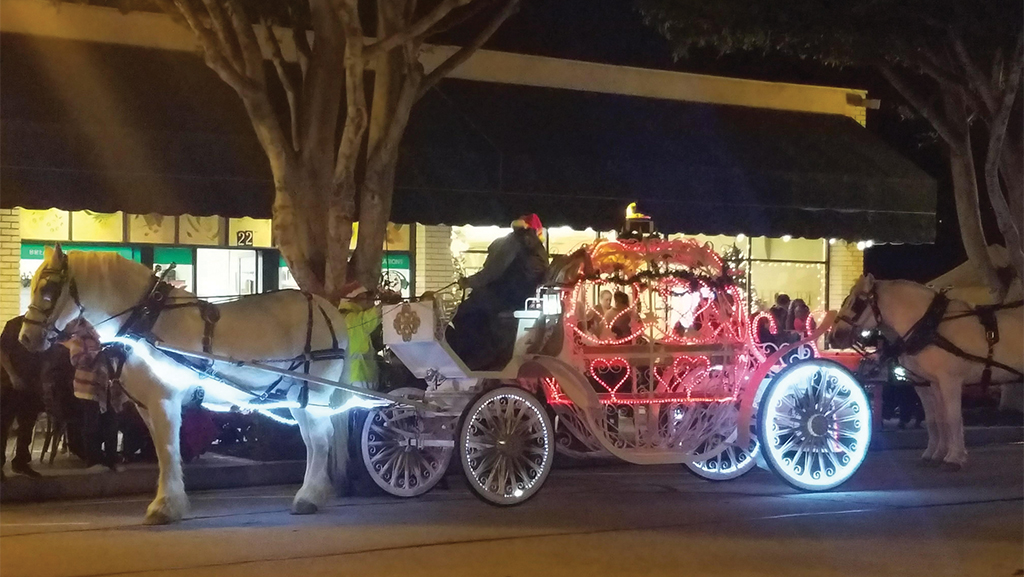 ---
It's beginning to look a lot like Christmas as the streets light up with holiday decorations, singing, dancing and eating centered around Glendora's Village Plaza to welcome the holiday spirit.
The community kicked off the season in downtown Glendora at the Annual Holiday Stroll and Tree Lighting event on Nov. 17.
"The Holiday Stroll is a 30-plus year event to feature the downtown village," Gary Andrews, the coordinator for the Holiday Stroll, said.
"I think you see people in costume already, people singing,  eating, interacting, everything that embodies the holidays, it happens right here," Jade Knight, Hilltop Real Estate agent, said.
Knight had a chocolate fountain with pretzels, marshmallows and crackers at the Holiday Stroll.
A buyer at one of the Glendora Village stores expressed her thoughts on watching a lot of people once again come back to the Holiday Stroll in Glendora.
"I think it is just a sense of community, it is kind of where all the families and everybody come out and get to spend a nice evening together and go to gift shops," Heather Bliss, a buyer at Nelson's Drug at the Holiday Stroll, said.
The event began to unfold with a greeting from the Glendora City Council as they thanked everyone for attending. Five City Council members then took turns telling a Christmas Story.
Santa could be spotted riding the very first fire truck in Glendora through the streets.
Fun attractions, such as free carriage rides and pictures with Santa were available for the families to enjoy.
The carriage rides took place up and down Glendora Avenue as carolers walk up and down the street caroling.
There were photographers taking pictures of the kids with Santa and, with the parents permission, the pictures were posted online on the City of Glendora website.
The Citrus Singers and the students at Azusa Pacific University will be entertaining crowds with their dancing and singing.
Glendora High School and Charter Oak High School will also sing with their choirs at the event.
A tree lighting occurred towards the beginning of the unfolding of the event while restaurants and businesses offered samples like finger foods or cheese and crackers.
"This is an event where it is a partnership between the businesses and the city and so all of the businesses have some sort of food or project that people can enjoy," Mayor of Glendora Gary Boyer said.
A dance school performed at the event.
Madeleine Danison sang "Jingle Bells" with Peter Pedro and the Jam Top Billing entertainment company, a non-profit that performs for theatre productions, as well as teaches studio classes at the village.
"The Holiday Stroll brings back getting families together and we get it that every day is a busy day and I feel our company contributes by giving that family orientation into the company and into the neighborhood itself," Danison, co-director and dance instructor at the Top Billing Entertainment Dance School in Glendora, said.
---
---