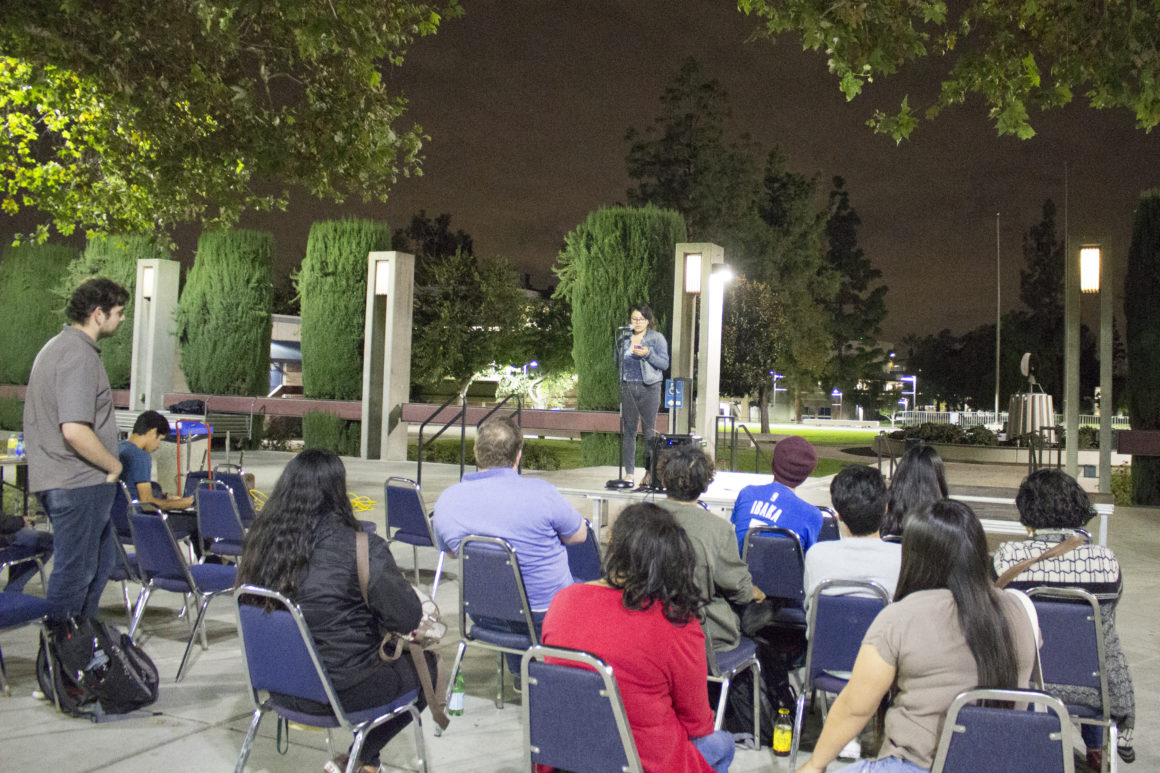 ---
In a time where free speech and race have become prominent in political discussions in the U.S., the Latinos Unidos Student Association and Black Student Union responded with artistic expression on Nov. 16 in the Campus Center Mall. Their collaboration gave all students an opportunity to take center stage and speak their minds.
Citrus students presented a variety of original works, as well as recited existing poems. Race, politics, domestic issues and religion themes carried the night.
Creating a platform for such expression, this event was made possible by the efforts of  L.U.S.A. advisor Nancy Quinones, and the Inter Club Council Supervisor Fernando Flores.
Quinones first suggested the idea and scheduled it with L.U.S.A. in August. She had always included slam poetry in her classes, such as Ethnic Studies 101, and wanted to bring this form of art to the students.
"In one of the meetings I said 'you know it would be great if all of us could begin to kind of explore this way of articulating our ideas, our frames of reference,'" Quinones said.
It was not just a L.U.S.A. event, as Quinones encouraged Citrus students of any background to join and present their poetry, which showed by the attendance of club members from the Gay Straight Alliance, Political Science Club and more.
Along with coordinating the event, Flores and Black Student Union president Brittany Andrews performed their own co-written poem together which spoke on the issues of elitism and race in America, closing with a reference of President Donald Trump."Impeachment on the horizon and can't come fast enough," Flores and Andrews said in unison.
Club members from the ASCC, Political Science club, Consciousness club, and Citrus Gender & Sexuality Alliance made up the majority of the audience.
Quinones presented her prepared poem, "Citizen's Love Letter to 45," which brought to light past ethnic policy issues and the issues minority communities face in the United States. Quinones' poem expressed discontent with Trump and the past racial issues that have occurred in the United States.
Nutritionist major Matthew Landeros Guillen, who spends much of his time studying theology, recited Proverbs 31 from the Hebrew Bible. Guillen explained the bible touches on themes of oppression and race, which went in part with the overall direction of the event.
"If you see your brother in a hole you should pick him out of that hole," Guillen said, referencing the importance of unity between minorities becoming oppressed.
For Quinones, this poetry event is to have student voices be heard as opposed to being silenced.
She said it is important "that students have a place here, that there's an academic space for that, that they are creators, their poetry matters, that their thinking matters."
Despite the event reaching a close, those in attendance like student Matthew Guillen and history and social and behavioral sciences professor Michael Ray continued dialogues regarding issues in their community.
Flores and Quinones said they hope events such as these allow students to express and become a part of Citrus' campus activities to overall benefit their educational paths.
"For me I feel like colleges are incubators for new ideas, and part of those ideas come from inspiration of not just poetry but maybe it's like publication, art work, and this is our way of putting that out there to promote that type of expression," Flores said.
---
---