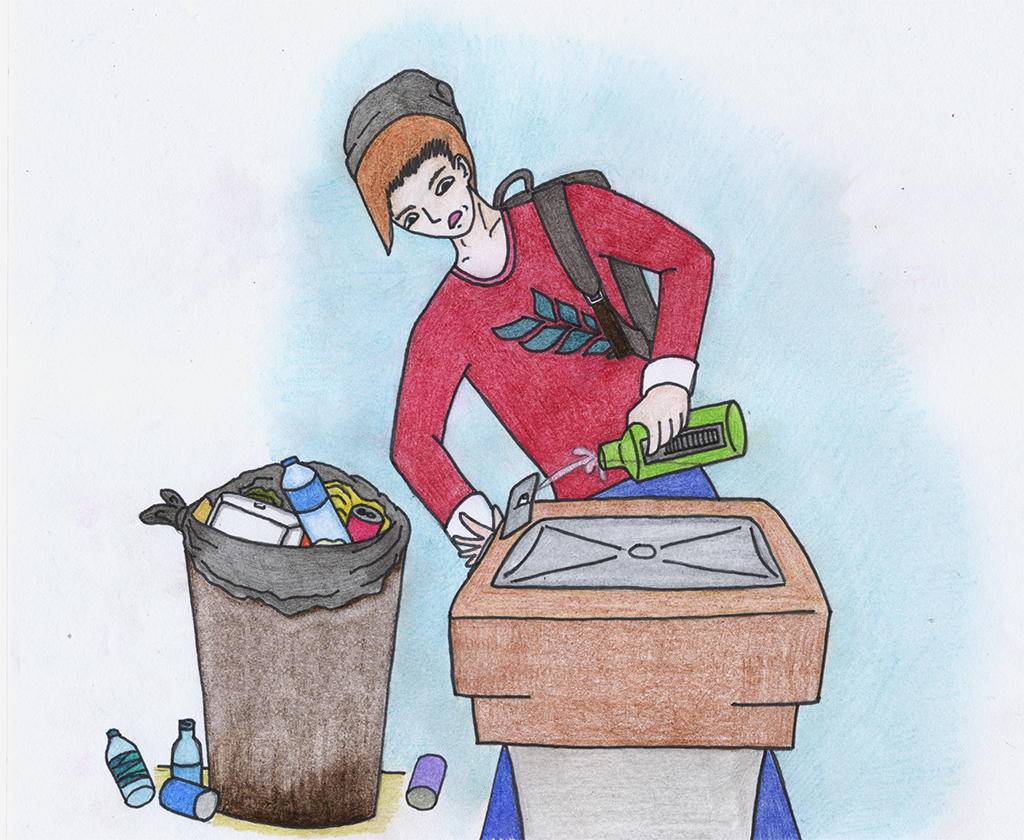 Illustration by Charity Wang / Clarion
---
The library has already installed mobile device power stations, now it is time for Citrus to have a water bottle refill station.
In April 2017, the library asked students "If the library could acquire any of the following items, which do you think would be most helpful to your success?" Options included: Charging stations to power mobile devices, Water bottle refilling stations (filtered water) and laptop computers to check out and use in the library.
Out of 470 respondents, the top two responses were charging stations for mobile devices and filtered water bottle refill stations, with over 70 percent.
Citrus is in the midst of remodeling the cafeteria, which would be a great place to install the campus' first water bottle refill station.
Currently, our options are water fountains or bottled water from vending machines.
Water fountains on campus don't make it easy to refill a reusable water bottle. Plus, the recent discovery of lead in the non-filtered drinking fountains at Cal State University, Long Beach is an example of the potential health risk posed by non-filtered tap water.
However, according to an article by Kat Schuster in The 49er, CSULB's newspaper, "All indoor hydration stations will remain on as they are filtered and have been deemed safe."
Many refill stations filter and refrigerate the water that is dispensed. Therefore they are a reliable source of clean drinking water.
Then, there are the water vending machines, which are expensive and placed next to soda vending machines, which offer a less healthy alternative that costs the same.
The price of one bottle of water from a vending machine is $1.25.
From the tap it is about $0.0033, a third of a penny, for the recommended daily amount of water, or 64 ounces per day. That amounts to ten cents a month, or $1.20 per year for one person, if they drink the recommended amount. Not all students will drink all eight glasses every day on campus, so the cost would amount to even less per person.
One person could drink the recommended daily amount of water for a whole year for less than the cost of one bottle of water from a vending machine.
Not only would it benefit the students' wallets, it would reduce trash.
According to a 2015 article from Duke Today, the Duke University news hub, the university saved about 400,000 bottles in one year following the installment of 50 refill stations.
Duke has a larger campus, Citrus could make an impact by installing four or five stations around the campus. Start with the cafeteria and the library, places where many students congregate.
Other campuses, like UC Riverside, UC Santa Cruz, Princeton, Las Positas College, near San Francisco, and many others have done this, why can't we?
By providing students and staff with a clean, convenient way to refill reusable bottles there will be fewer people overspending on the vending machines, and fewer recyclables in the wrong bins.
Citrus could even sell branded reusable bottles, capitalizing on the trend towards sustainability.
The remodel of the cafeteria is a great opportunity for Citrus to move towards greater sustainability, by installing a filtered water bottle refill station.
Reduce trash. Save money. Citrus needs refill stations.
---
---