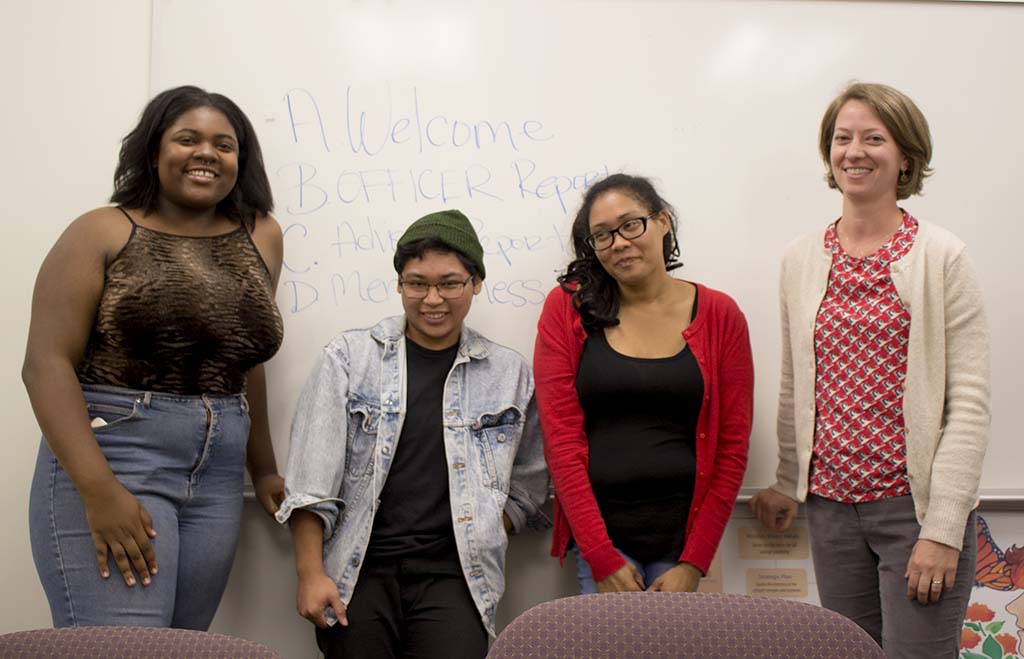 Black Student Union members, from left to right, Anaya Jones, Damian Delfin, club President Brittany Andrews, and the club's advisor, Elizabeth Ritacca.
---
Black Student Union has been touch and go on the Citrus College campus for years. It had not been active since around 2007, but students resurrected the club this semester.
Michael Stewart, communications, education, and human resource management major, had been trying to bring BSU back for the past two semesters.
"The point is to get a voice, you are paying into an institution that should hear your concerns." Stewart said.
While there have been no recent concerns with campus administration, Stewart wants to ensure that if issues do arise the BSU is taken seriously.
"We're not a radical group, we look at how we could be better represented," Stewart said.
For now the club's goal is to maintain a presence on campus and celebrate black culture. It is open for people of any ethnicity to join in on discussions about race, culture and history.
Over the course of the fall semester, BSU has been trying to recruit more members and build relationships with Latinos Unidos Student Association and the Gay Straight Alliance.
Stewart said they work especially closely with GSA and are trying to collaborate with and support other clubs to strengthen connections across the student body.
Stewart particularly wants to address offensive language used against different racial groups and LGBTQ in a safe environment to encourage proper respect and breaking down stereotypes.
Anise Fenette, fine arts major, said she loves attending BSU meetings because they discuss positive ways she can impact society, and tell jokes.
"Gotta have some levity in there, we discuss some heavy topics," Fenette said in a text message.
Fenette has been trying to recruit more members since Club Rush. She said she thinks people have been hesitant, because they assume it is for black students only, but the club did meet their goal.
Elisabeth Ritacca, who teaches African American history in addition to U.S. and history of women in America, said she was surprised that Citrus did not have a current BSU.
Ritacca volunteered to be the BSU's advisor, because she feels like it is her role to expand students' knowledge about the history and culture of African Americans that students may not know or understand.
Their meetings discuss events on campus and current events, like the recent "Take a knee" NFL protests and their historical and cultural significance.
BSU has already participated in social justice week on campus and plans to take a field trip to the Museum of Tolerance and the California African American Museum.
"It's great to see students leading the discussions on race," Ritacca said.
---
---