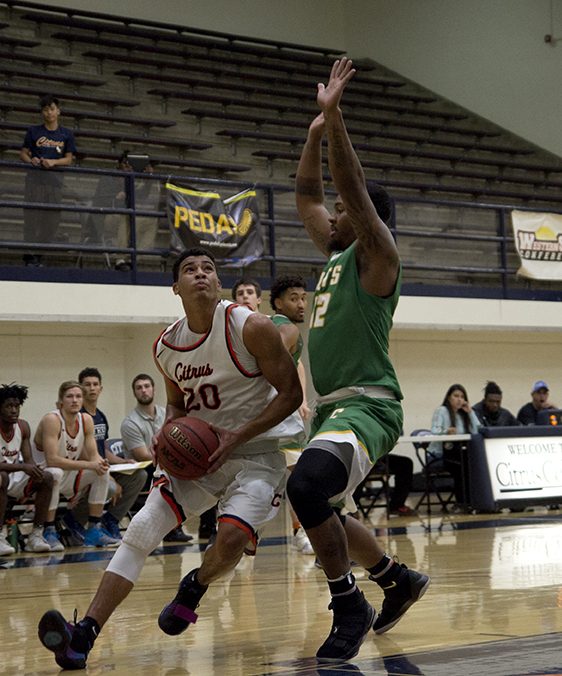 Forward Kyle Gray, left, drives in on center Antony Navarrete, right, for a layup on Dec. 1 at Citrus College. Photo by Michael Quintero.
---
Citrus College men's basketball defeated the Cañada College Colts, 101-89, Friday, Dec. 1 for game one of the Citrus Invitational at Citrus College.
With just under 10 seconds to play, sophomore Antony Navarette of Cañada College got physical with sophomore Kyle Gray, ending with a technical foul and benches almost rushing the floor.
The altercation was quickly resolved and campus safety was called toward the end of the game, making sure another incident would not occur.
Head coach Brett Lauer quickly composed his team while frustration was happening in the second half.
"Coach called a timeout and basically said for us to stop acting like kids and focus on the game," sophomore Miles Crawford said.
Sophomore Jeremy Smith and Crawford combined for 59 points in the late win for the Owls. This was a career high for Crawford with 29 points.
Crawford shot lights out from three point range shooting 6-12.
"I felt locked in today, I meditate before every game and my shots were going in today," Crawford said.
Citrus started both the first and second halves slow, almost blowing a 13 point lead to start the second half.
The Colts brought the deficit within six with 13 minutes left in the second half, but the Owls didn't panic and played mature basketball to hang onto the lead.
"Coach called timeouts to tell us to be calm, and to stay focused on the lead," Smith said.
Smith and Crawford took over late in the game drawing fouls, hitting clutch threes and jump shots. Smith shot 13-14 from the line helping Citrus take the win.
Smith has taken the role on of being the caption of the team averaging 19 point per game, and leading his team to a 8-2 start.
"Jeremy has matured a lot everywhere, and is becoming more of a leader and a mature point guard," Lauer said.
The Owls will continue their invitational play against East Los Angeles College at 3 p.m on Dec. 2 and Cuesta  at 5 p.m on Dec. 3 at Citrus College.
---
---