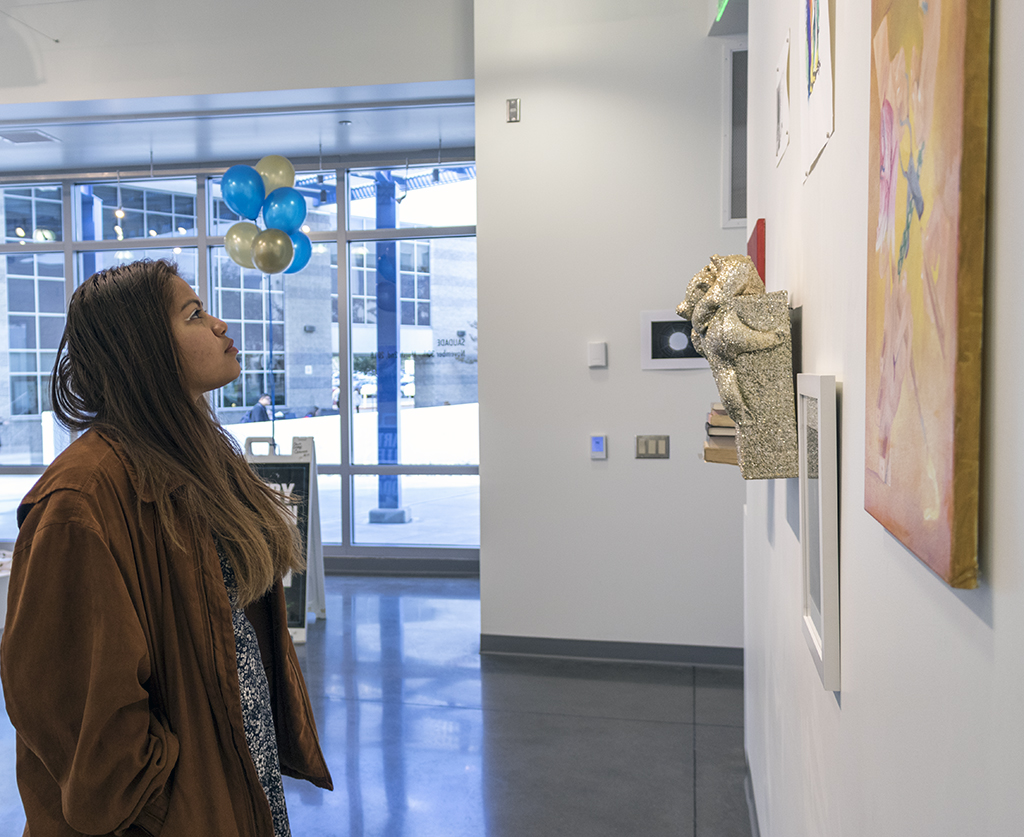 (Wendy Brito/ Clarion) Student Jessica Flores analyzes artwork at the Saudade Art Gallery curated by the Citrus College Display and Exhibition Design class on Nov. 30 in VA 120.
---
Over 30 pieces of featured artwork from students, faculty and staff lined the walls of the art gallery in VA 120 on Nov. 30 for a soft opening.Different from a typical gallery, this exhibition was put together by  the Display and Exhibition Design class, the first of it's kind at Citrus College.
The student curators campaign for submitted work invited artists to turn in pieces that aligned with the word "Saudade," which they said is a "notoriously difficult to translate Portuguese word" commonly found in Brazilian literature and folk music
The word is best summarized by "profound melancholic longing," "the presence of a hard to define absence" and the "pleasure you suffer, an ailment you enjoy."
The chatty crowd bustled with  faculty and students inside and outside where the department provided snacks and beverages.
Patrick Alvarez, undecided major, said he came to see what the bustle was about.  "I came to look around and see what the students created," he said.  "I just wanted to see what it was all about."
The soft opening revealed some minor complications. This allowed professor Summer Guthery to catch any first round mistakes that are common of an event.  A couple of students noticed their names and some of their art titles misspelled in the event's program sheet
"Today is just a test run for students and faculty to come see the art before our official grand opening this Saturday," she assured students. Guthery followed through and those names have since been corrected.
The pieces submitted were not limited to any specific medium and the artworks featured vibrant colors and abstract objects all around the room. Including a guitar displayed with arms and legs growing out of it made from wire and nylon. Some of the art displayed were collaborations with other art students from Citrus.
Fine arts major Deborah Diaz said a red painting with stacked books was her favorite and stood out to her the most.
The gallery was originally scheduled to be open from 1 p.m. to 3 p.m. but the department stayed open so everyone had a chance to see the gallery.
Students, faculty and staff can still visit the open art gallery to view this exhibition.
---
---