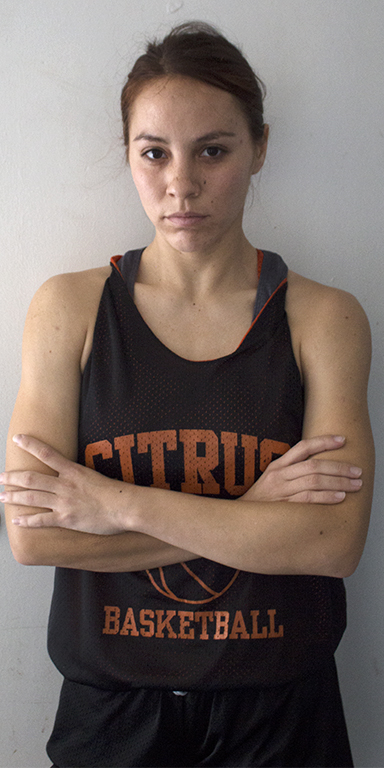 Freshman guard Lydia Sanchez in the gymnasium on Thursday, Nov. 30. Kate Liming. Clarion.
---
Being an athlete takes a lot of energy, focus and determination. Being a Marine takes all of these qualities to another level.
Freshman on the women's basketball team Lydia Sanchez has experienced both sides.
Sanchez has served in the Marines for four years from 2012 to 2016, and during this time has prepared herself for moments such as coming to college and playing basketball.
"I got physically strong and mentally strong," Sanchez said. "I'm definitely more responsible,I'm better with time management and being more on top of my stuff."
Citrus head coach Linnae Barber Matthews, who is in her second year as head coach, remembers the day that Sanchez walked into her office and introduced herself.
"She dropped in my office in the spring and I didn't know anything about her," Barber Matthews said. "She told me she was from the Marines, came to school and wanted to play, so I told her to come to tryouts in the summer and she was a little rusty, having not played in six years, but now she's playing and starting games."
Despite not having a stellar tryout, Sanchez has improved her game. Barber Matthews has recognized Sanchez's basketball IQ in the first few weeks of practices and games.
"She's locking down players, her defense is really good, she knows when to pass and not pass the ball," Barber Matthews said. "She just does all the right things for us."
Through Dec. 3, Sanchez has posted a total of 15 points, 18 rebounds and 11 assists in 10 games, playing an average of 14.5 minutes per game.
Sanchez played basketball at Northview High School where she led her team to a 2009 Valley Vista League championship in her junior year. She walked away from the court her senior year to take care of her family.
"I made the varsity team in my freshman year and played through my junior year," Sanchez said. "I didn't play in my senior year, because both of my grandmas got sick, so I stayed home to help out."
After graduating high school, Sanchez started to consider the Marines. Nobody in her family served in the military, but she said the reason she joined was because of a former best friend and ex-boyfriend.
"It was kind of a stupid reason, but stuff happens," Sanchez said. "My family was kind of surprised when I made the decision. My mom kinda knew that I was looking into it, but she didn't find out until after I went through the military entrance processing station and came back with my contract."
Sanchez packed up her bags and left her hometown, Covina, as she traveled down the coast to her station in Miramar, a neighborhood in San Diego where most residents live on the Marine Corps Air Station Miramar.
It wasn't easy for Sanchez to make the decision to leave 111 miles away from her home, but knew she would still have weekend opportunities to return and spend time with her family.
"I think the hardest part was when I deployed, being away from my family and friends," Sanchez said. "But I'd come home on the weekends, so that was cool."
Being 25 years old makes Sanchez the oldest player on the women's basketball team, but it also makes her the most experienced with life, which has given her the opportunity to show her team how to step up and take on challenging situations.
"It's a little different," Sanchez said. "I think my age kinda plays a factor into it. I got a few years on the girls, but other than that, some of them look up to me."
One of the teammates who looks up to Sanchez is teammate and freshman Destiny Dent, who said Sanchez's experience in the Marines has made her an inspiration to the team, taking on any challenge that comes her way.
"I think Lydia is someone the team looks up to as a role model," Dent said. "We all messed up early on in the season, but with Lydia, she knows her role as a player. I don't know my role exactly, but she knows hers and does whatever the coach asks."
With the leadership-like qualities Sanchez has shown to her team, Barber Matthews knew she needed to partner up some girls from the team with Sanchez so that they could understand that she has gone through more difficult situations than most people.
"Off the court we have a buddy system and she's partnered up with some kids who think they have it hard and I partnered them up for a reason because she's had it harder," Barber Matthews said. "But she doesn't talk about it, she doesn't show it, she doesn't make an excuse and it has helped them off the court as well, because their grades are better now and they look at her as our leader, even though she's technically a freshman."
After getting to know Sanchez and where she came from, Barber Matthews credits the freshman guard for what she's been able to do from being a leader in the Marines to carrying that leadership over to Citrus basketball.
"Her mentality is on another level," Barber Matthews said. "I mean, for what she did for this country is amazing and for a kid like that to come back and want to play, I knew she would give us leadership on and off the court, and that's something I wanted, because we have 14 freshmen. She has the qualities of a leader."
Dent, a criminal justice major, said she has been influenced by Sanchez through her leadership both on and off the court to better herself.
"I've learned to be more responsible," Dent said. "I'm getting there, but she's been through so much more than me. She's like a robot. She knows what to do and when to do it. She has a lot of discipline."
Character and discipline among other core values is what Barber Matthews emphasizes to her team on a daily basis and she says she couldn't be more than proud to have a player like Sanchez demonstrate those values to the team.
"I'm really glad she came out and tried out for the team, because she has something that the other girls don't have, which is experience of life," Barber Matthews said. "The girls definitely respect her and look up to her. I respect and look up to her for what she's done and for her to come back and play basketball and give that to herself, it's amazing of her to do that."
A child development major, Sanchez plans to finish her two years at Citrus before transferring or making her way back to the Marines.
"I've thought about going back to the Marines as an officer after I get my degree," Sanchez said. "But we'll see.
---
---