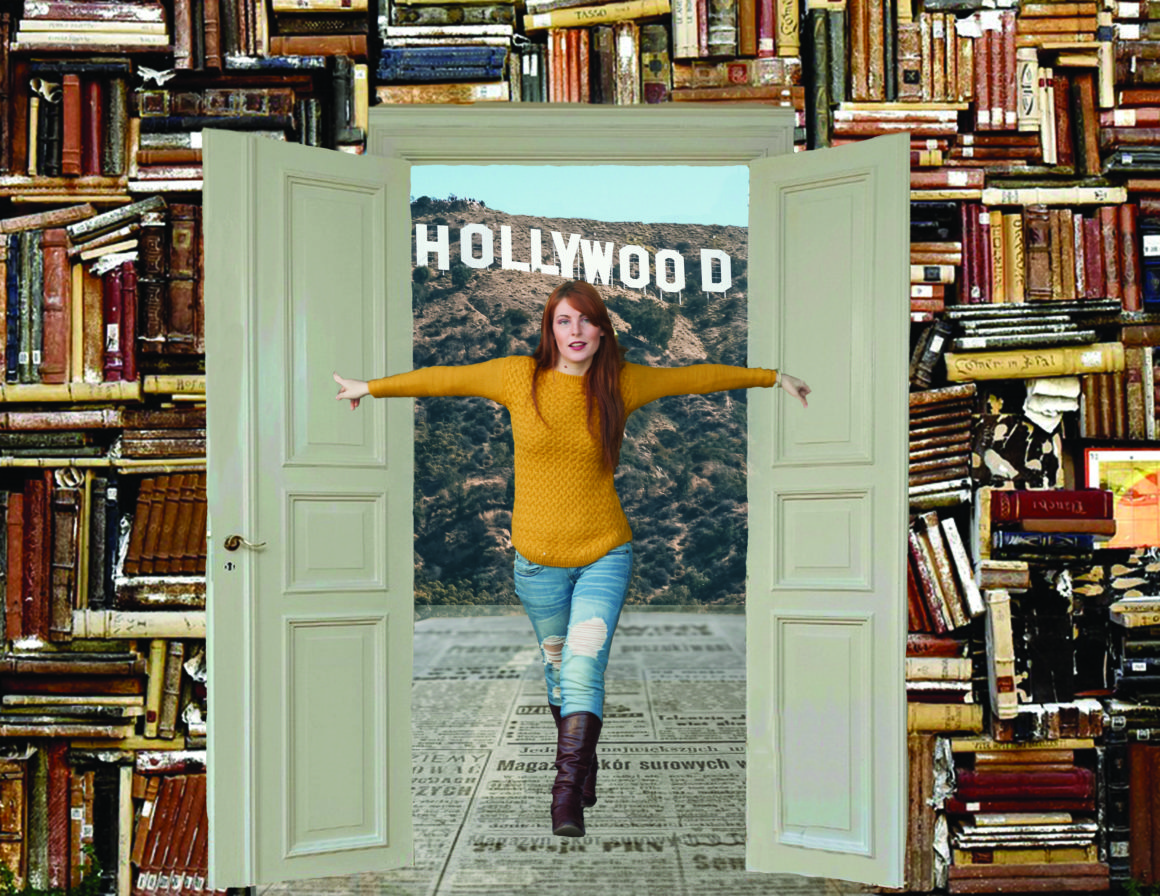 ---
In November 2014, Samantha Goodsell found herself sitting across the table from the executives of Nickelodeon, who were offering her the opportunity to have her own TV show.
With her pen hovering over the dotted line, executives intently watching, Goodsell suddenly realized that this was not what she wanted. Gathering all the courage she could muster, she stood up, thanked the CEO's and executives for their time and left.
Three years later, Goodsell now finds herself at at the end of her first semester at Citrus College, majoring in broadcast journalism.
Goodsell's acting journey began at the tender age of 5. She remembers going to the movies with her dad where she saw a couple fighting as they walked into the theater. As the movie began, she found herself paying more attention to the couple than the screen.
She noticed that whatever they were fighting about was resolved by the time the movie had finished.
"That's what I wanted to do for people," Goodsell said. "I wanted to bring them back together after they have had this really huge fight."
The decision to act was not an simple one for Goodsell. Growing up she could never decide what she wanted to do when she got older. She found herself wanting to be be a chemist one day, a mathmatician the next and maybe a marine biologist the day after that.
It soon became clear that being an actress would allow  her to bring people closer together while exploring being different characters and professions.
After graduating from Tigard High School in Tigard, Oregon, Goodsell moved to Southern California to attend the New York Film Academy in Burbank, where she chose to pursue the career her 5-year-old self had dreamt about.
During her 10-year acting career, she had the opportunity to share the screen with Ryan Gosling in the movie "Gangster Squad."
Goodsell recalled a conversation she had with Gosling.
"He told me the greatest compliment I had ever received in my entire acting career," Goodsell said. "Ryan said, 'I had my eye on you this entire shoot, I was watching you work and with your work ethic and skill the next time we see each other we will be co-stars.
Goodsell has also had the opportunity to be the body double in all of Miley Cyrus' music videos, from "Start all Over" to "Party in the U.S.A."
Leading up to her declining her own TV show with Nickelodeon, Goodsell was on the show, "Big Time Rush." She came in during the second season as the character Marcy.   
Her work as Marcy caught the CEO's and executives attention at Nickelodeon and prompted them to offer her own TV show.
"I was in the meeting about to sign papers," Goodsell recalled, sitting in the conference room. "My pen was literally hovering over the dotted line and I realized I couldn't do it. Something inside me just wasn't feeling it anymore. It was kind of that feeling when you just know you're in the wrong place at the wrong time. I just couldn't shake the feeling that I wasn't where I was supposed to be."
Bryan Cottle, one of Goodsell's best friends, said he admires her for her courage.
"I don't know if I could do that," Cottle said. "I am so ingrained in my own studies, all the work, effort and student loans. I am so far into it and invested, I don't think I would have the guts to say, you know I am going to jump ship completely."  
After Goodsell said no to Nickelodeon, she realized that her ability to actually say no reassured her that she was ready to leave acting. To leave and do what, she wasn't exactly sure yet.
She picked up some odd jobs here and there while she was trying to figure out what she wanted to do with the rest of her life. Often times she found herself picking up small acting roles because it was something she was good at.
Cameron Birrell, Goodsell's boyfriend of little over a year, said he only found out about her saying no to Nickelodeon recently.
Cottle also recalled only learning about Goodsell's offer not too long ago.
"To be honest, I think it was because she didn't really want to talk about it, which I think goes to show her character," Cottle said. "She never was this person to go flaunt stuff. Being a snob is not her. So it didn't surprise me that it was within the last little while that I learned about it."
During the three years after leaving acting to now, Scott Holman, another one of her best friends, remembers Goodsell feeling defeated, because things weren't going her way and she still wasn't too sure what she wanted to do.
"She had been wrestling with the idea (of going back to school for a long time)," Hollman said. "There was still very much a part of her that loved being on set and having the cameras rolling."
Eventually she decided to go back to school and enrolled for fall semester at Citrus College.
"I sort of came to the conclusion that maybe me not knowing what I want to do is a good thing," Goodsell said. "Like I can just go back to school and this time I will study out all my options. I will look at everything before I will decide."
She went into the school orientation with the goal of declaring undecided as her major, but once again her hand hovered over that dotted line.
It was then that she had a flashback to being with her grandfather.  
He was a Democrat in a very Republican state, she said, everyone he knew was a Republican.
"He could discuss his views with his friends that it never turned into an argument," Goodsell said. "Where he gave them the time to talk about their views and they gave him the time as well."
His passion and love for politics sparked the same passion in her.
Back to the orientation room, Goodsell was trying to decipher what this memory meant.
She was sure politics specifically wasn't for her. However, she had been in front of the camera for 10 years and had a lot of experience. That is when it hit her.
"So instead of putting undecided on my form, it just came right out of the pen again," Goodsell said. "Broadcast journalism."
---
---