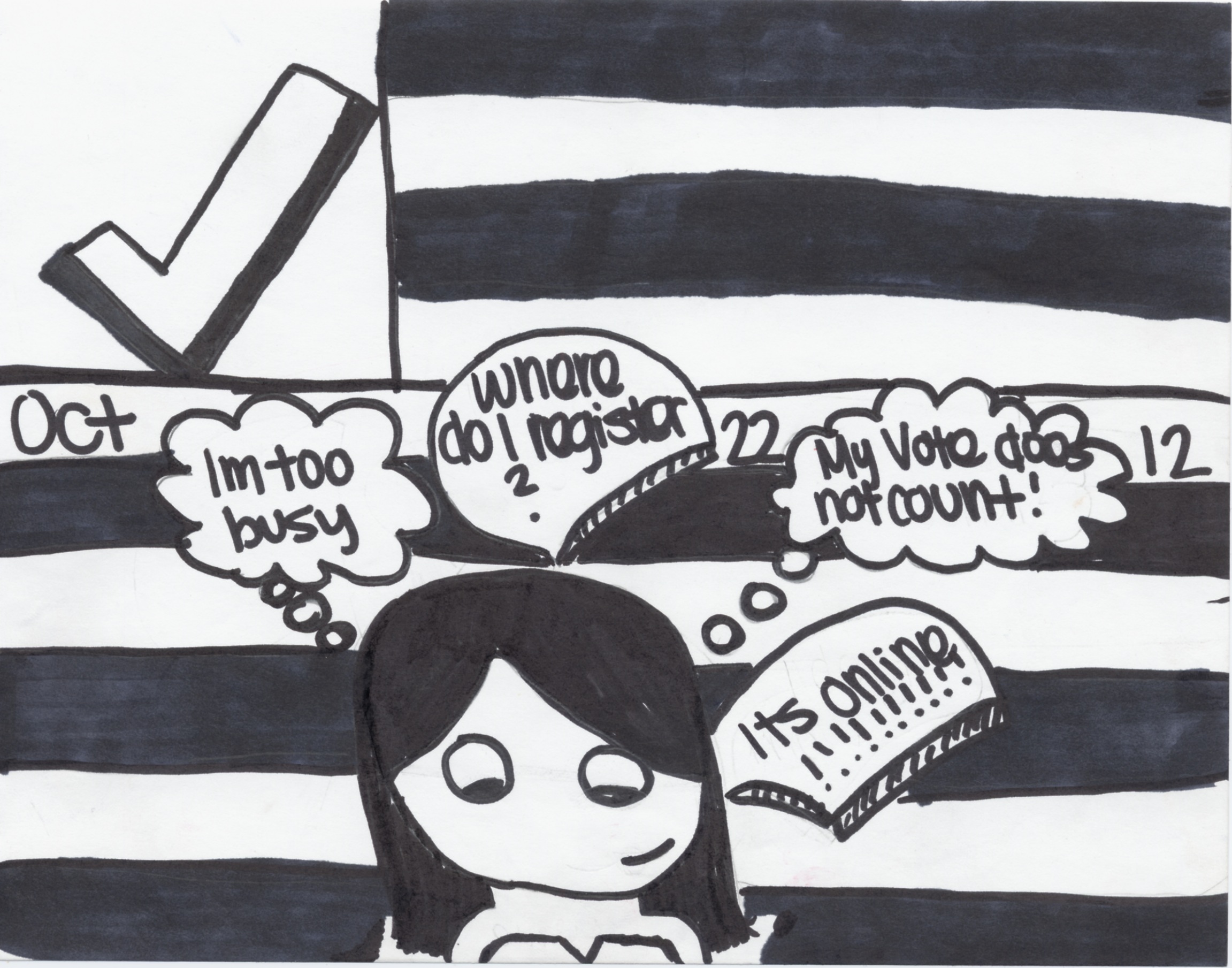 ---
According to Kim Alexander, president of the California Voter Foundation, 6.5 million Californians are eligible but unregistered to vote.

We complain about how the government is run, how gas prices are too high, and classes being cut but we don't vote and still complain.

Some 15 million young Americans have turned 18 since the past presidential election in 2008. Many students who could not vote before now have that chance if they register before the Oct. 22 deadline for the Nov. 6 elections.

The state recently set up an online voter registration system where you can register with a click at https://rtv.sos.ca.gov/elections/register-to-vote/, in an effort to boost the state's sagging election turnouts. From 2004 to 2008, more than a third of the state's eligible voters did not exercise that option.

"We have one of the lowest rates of registration in the country. We're hoping that this new system will encourage more young people to get registered," Alexander said.

Even though registering and actually voting may take some time, Citrus College students need to vote for the candidates they believe will change the United States and California. We're all adults now, the same adults who worked for us when we were kids. They registered and voted for us, why can't we do the same?

As students, we are all struggling to get that one class we couldn't get last semester, struggling as a full-time student or struggling to get a job. Registering to vote puts us in the game—it means we can change history for our generation and the next.

It is our right and privilege to register vote. We should not make excuses about why we do not want to. People in many oppressed countries around the world would love to have same options. For example, the women of Saudi Arabia and all of the citizens of Brunei are not allowed to vote. We need take advantage of what we have, for any election.

Our founding fathers established the right to vote as the basis of our democratic society. If we fail to even register, we fail our ancestors.

If you don't know where or how to vote or get a registration form, there is the voter assistance hotline: (800)345-8683. You can also register at county election offices, the Department of Motor Vehicles, libraries, post offices, and even at the Rock the Vote event being  held here at Citrus on Oct. 11.

We all have issues that are important to us. If we vote to change, we just might get something in exchange.

As students and Americans we have the right to vote for the candidates and propositions that can change how the country is run for its people. Are you registered to vote?
---
---