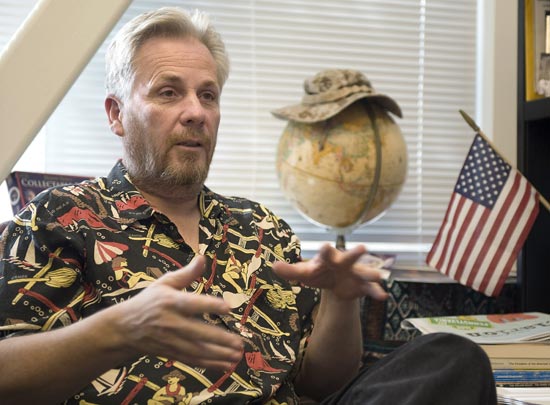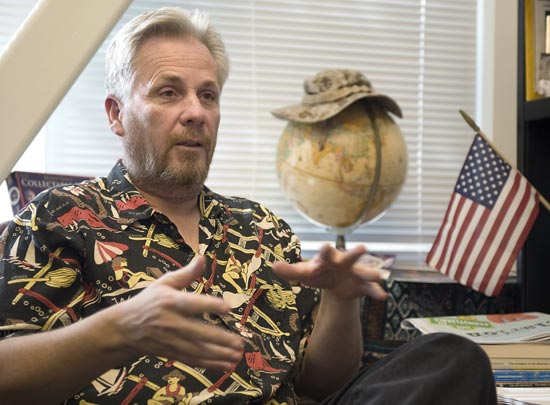 ---
An advocate for student veterans and nationally recognized playwright, history professor Bruce Solheim has been selected as the distinguished faculty member of 2012- 2013.
An Army veteran, Solheim's experiences have inspired him to help Citrus College's student veerans adjust to college life.
In 2001, Solheim was instrumental in forming a Veterans Club, but he knew this was not enough.
At first he worked to create The Navy Program. Applying distance education, sailors at sea were taught through online classes using computers aboard ships on various deployment.
Next, Solheim pushed for an on-campus Veteran's Center, now located in Hayden Hall. "It is a home away from home, a place they can go work together, socialize, and also help each other," Solheim said. "They're indoctrinated by the military and military culture and a lot of those things they need to survive are not very helpful in civilian life," Solheim said. "They're trained to be very combative and aggressive. I mean, you do that or you die, but you can't do that all the time."
Solheim's brother served in the military during the Vietnam War. "He was exposed to a lot of stuff, and he's very much affected," Solehim said. "He's a disabled veteran with PTSD, post traumatic stress syndrome, and was exposed to Agent Orange, which was a powerful herbicide spread in the war but also gets into people's bloodstreams and gives them cancer and leukemia. Which a lot of our vets have here," said Solheim.
"After 9/11, I decided someone needed to take care of these people when they came back so they didn't end up like my brother. I wanted to help these young people coming back, especially when they come to this college."
Student veteran and actor in "The Bronze Star," Anthony Vidales said of the Vet center, "there's a brotherhood right there and a sense of welcoming."
Citrus College was named a GI friendly campus after the Veteran Center opened. Other campuses modeled the Citrus effort and created their own Vet centers.
While still in the army, Solheim figured out his future plans one night when he was sitting in a history class listening to his professor tell a story.
"I thought, 'Man, if I could only do that for a living.' I love telling stories. I can't believe you get paid for that," Solheim said.
"Teaching is a two way street. It helps me; that's how I learn. That's part of the reason I love what I do."
Solheim took a sabbatical in spring 2012 to work on "The Bronze Star," a play he co-wrote with Citrus professor Neil Weiss. It is based on a true story of a gay Vietnam veteran who struggled to find acceptance after the traumatic experience of war.
"In order to do it, I had to learn how to write plays. I took classes here, playwriting and screenwriting and read many books," Solheim said. "I had to tell the story somehow."
"I think when you tell a story that means a lot to you personally and you tell it in a certain way, that other people get it and think it's important too. It wasn't just a play to entertain people, although I do think it was entertaining, but I wanted them to learn some thing from it."
The production was performed as part of the Veterans Theater Project, with real veterans working on the show.
"It worked out really well. 'The Bronze Star' helped veterans work through a lot of issues that they had in a safe place," Solheim said. Student veteran, Frank Duran Chavez said, "acting in 'The Bronze Star' was very rewarding and I had an opportunity to work with other veterans and students from the Theater Arts department."
Vidales, of working with Solheim said, "He's a great guy to work with. Him being a veteran as well as myself; we connect on another level. When it comes to what he does he's very passion- ate and committed. He's always looking out for the veterans, if we need any kind of help he's there for us. It was an honor and a plea- sure working with him and I hope that I can do it again someday."
"The Bronze Star" was one of seven nationally recognized plays that was featured in the Kennedy Center American College Theater Festival, which is comprised of student performers from col- leges and universities in Califor- nia, Arizona, Utah, Nevada and Hawaii.
"Plays are awesome because I get to use my historical training, my writing, working with people towards a common goal and working with the veterans," Solheim said. Solheim is now writing another play. This one is set in Norway during World War II. Not only will Solheim be exploring his Norwegian roots, but he will also be getting veterans from Citrus to work with veterans from Norway.
The military is made up of young people. "It's a shame. I think of all those young people. 8,000 have died in Iraq and Afghanistan and 55,000 have been injured and they're all in their 20s. They had lives ahead of them. What could they have done if they had they lived?"
"Those kinds of things weigh heavily on me when I think about it, so that motivates me to try to do something," he said. "I can't stop war but I can certainly help the people that come back."
Solheim will be honored at graduation on June 15.
---
---