---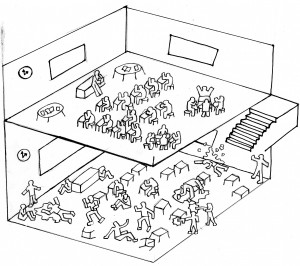 Sandy Hook, Virginia Tech and Columbine are all members of a club that no school ever wants to join. The ugly truth is that no place is ever fully safe, including our own campus.
After every school shooting it is guaranteed that we will hear those five dreaded words: "It could have been prevented."
But, while it's nearly impossible to keep a deranged, weapon-carrying psychopath from striking, it is possible to reduce the number of casualties with an emergency alert system.
In fact, in March of 2012, a jury found Virginia Tech guilty of failing to issue timely warnings to students during the 2007 shooting in which 33 people were killed.
The civil suit filed by the parents of two of the deceased victims claimed that had an all-campus warning gone out immediately, instead of two hours after the shooting started, many lives might have been saved.
You're probably thinking right now that sending such an important warning two hours after the event took place is ridiculous.
Too bad a similar scenario took place at Citrus College on Feb. 20, the first day of the Spring 2013 semester, albeit this resulted with no real threat to anyone.
To recap: the Student Services Building was put on lock down after an Azusa Pacific University student reported seeing a person wearing a hoodie and possibly carrying a gun.
Nobody matching that description was found. But many of the students and staff on campus at the time had no clue what was happening, and the resulting confusion was a warning sign that the current emergency alert system at Citrus College needs a big fix.
The cellphone, text and email notifications went out nearly two hours after the incident took place. Even APU students knew that we were on lockdown before most Citrus students did.
Unfortunately, many Citrus students have not bothered to sign up to receive Citrus Alert messages, and those who have often do not get notification until long after the event is over.
A quick safeguard comes in the form of a new campus safety app: LiveSafe. Available on smartphones, the app was developed by Virginia Tech shooting survivor, Kristina Anderson.
Anderson was a Virginia Tech sophomore when the 2007 mass shooting took place. She suffered two gunshot wounds to the back and one to the foot. Since then, she has dedicated her time to raising awareness for campus safety.
The free LiveSafe app, scheduled for release on iTunes in mid-May will inform students of on campus emergencies. By connecting the students to campus security, the app will allow information to be shared instantaneously.
With the LiveSafe app, students will be able to record crime scene photos, videos and audio and submit them anonymously to public safety officials.
Using data or Wi-Fi, push notifications and emails will be sent directly to campus security.
The app will be made available for Apple iOS and for Android operating systems.
Additionally, if you take a look around your classes, you'll notice a fire alarm box located somewhere on the wall. In case of a fire, a strobe light flashes and the box emits an incredibly loud and annoying sound.
Since the existing fire alarm system cannot be used as a multifunctional alert system because of fire department regulations, an easy upgrade would entail installing a new alarm box in all classrooms and bathrooms.
Picture the second alarm box with a different colored strobe light without the sound that could be activated when the school is ordered to go on lockdown. Much like the current fire alarms in place, this additional system will flash continuously until Campus Safety and the Glendora Police Department deem the situation to be safe.
The most expensive safety measure Citrus should consider is to install surveillance cameras at strategic locations throughout campus. Though some may find the cam- eras to be invasive, they would be the best way to have eyes on park- ing lots and neighborhood street boundaries at all times.
Surveillance cameras could be aimed at public spaces so as not to intrude on the reasonable expectations of privacy. In case of criminal activity, Campus Safety would be able to look back through the video and release timely news updates as well as information on persons of interest.
Schools affected by shootings have taken similar precautions, proving you can never be too safe. Yes, the chances of a shooting taking place on our campus seem pretty slim. But are you willing to bet your life that it won't happen?
---
---