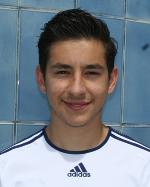 ---
This slideshow requires JavaScript.
In a sport with low scoring results, it takes a special type of player to bag a goal.
Drive, vision, creativity, speed, agility, strength, and intelligence are qualities a forward needs to score goals.  Aggressive play, like every craft, takes dedication and hard work.  Not everyone is able to strike fear in the hearts of an opposing defense.
The Citrus College men's soccer team has six such players that fit the bill.
Daniel Ortiz, 20, is a quick forward who thrives on through balls.
"Any sport I have ever played, I like offense. I like scoring," Ortiz said.
Ortiz attended Arcadia High School and played four varsity seasons for the Apaches. When he was a senior, Ortiz was on the 2nd team All-Pacific League.
"I like really direct through balls, just beating people with speed," Ortiz said.
"As forwards, we need to need to support the other forwards, other midfielders, just keeping the ball moving."
A second Citrus forward, Grayson Iwasaki, 18, describes his playing style as aggressive.
"I always want to go. I want to go score goals," said Iwasaki. "It's just my mentality."
During the offseason, Iwasaki has been working on building his strength to better hold off opponents while waiting for support from his teammates.
"I always look forward to scoring goals. When I do, I get back and try and do it again," Iwasaki said.
Iwasaki scored two goals in the game at San Diego Mesa on Aug. 30, which the Owls won 5-0.
Another Citrus forward that has a need for speed is Austin Amato. Amato, 21, said speed and experience are his main strengths.
Amato got the Owls to a great start by scoring the first goal of the game against San Diego Mesa on Aug. 30 and his first goal of the campaign.
"I'm not the youngest guy on the team, but I've been playing a while," Amato said, his ability to make the right decisions at the right time is a skill he has developed from playing soccer for many years.
Amato described his playing style as "definitely fast."
"First thing I feel after scoring a goal, whoever my teammate was that led me in, I got to show my love for him," Amato said.
Forward Shusuke Kajiwara, 20, a freshman from Japan, loves to dribble.
One of Kajiwara's strengths is his short-distance speed.
"I am very quick," Kajiwara said. "My job is to score goals."
Kajiwara scored in the 53rd minute of the second half against San Diego Mesa on Aug. 30 and also scored the Owls only goal in a 2-1 defeat to Cuyamaca on Sept. 6.
Antonio Bernal, 21, has been a forward since he started playing at a young age. "I've always had a thing for scoring goals," Bernal said.
Bernal described his strengths as his speed and his strong shot.
"We [forwards] need to create plays," Bernal said.  "Sometimes you don't have the option of being able to turn around and need to look for the open man."
Another forward who has been playing forward since the age of 8 is 22-year-old Benny Martinez, who played two varsity seasons at Ganesha High School.
Martinez's strength is his ability to create space for his teammates. He is good at turning around defenders with the ball.
"I like to create space and connect passes with my fellow teammates," Martinez said. "I spent the offseason working at the gym and on my footwork."
Martinez can hold up the ball while waiting for support from his wide players.  Martinez can dribble and shoot with both feet.
"I hold the ball up as much as I can for the wingers," Martinez said. "I pass it to them and turn the defender to create space."
Men's soccer coach Fred Bruce-Oliver wants his forwards to work together on offence and defense.
When the Owls lose the ball in the attacking third, Bruce-Oliver wants them to track back and put pressure on the midfielders.
"The forwards need to be aware and combine with each other to get behind the opposing defense," said Bruce-Oliver.
Bruce-Oliver urges his forwards to attack the ball if they do not have it.
The men's soccer team's next home game is a conference matchup on Sep. 17 against L.A. Mission at 4 p.m. The game will be played at Citrus Stadium. Admission is free.
---
---