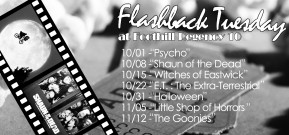 ---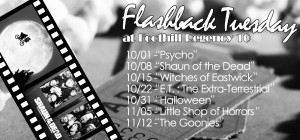 The Foothill Regency 10 Theater located on Alosta and Citrus Ave, right down the street from Citrus College, is well known for the lowest priced movie tickets in the area. Now each Tuesday night, the long running theater also operates as a cinematic time machine.
The theater hosts "Flashback Tuesdays" a collaborative effort between the Azusa Film Society and nukethefridge.com, an online blog dedicated to all things comics, film and TV.
The theater shows movies spanning the past four decades of sci-fi, action and comedy cinema.
These weekly events are open to the public, including Citrus College students, and they feature trivia and costume contests that relate to the featured movie.
For less than half the cost of your standard movie ticket, students and their friends can gather on Tuesdays to experience and perhaps relive some of their favorite movies untouched with digital sound and new special effects.
Recent films that have been shown at the Regency include The Shining (1980), Pulp Fiction (1994), The Pink Panther (1963), Star Trek II: Wrath of Kahn (1982), Batman (1989), and 2001: A Space Odyssey (1968).
Moviegoers were recently treated to a screening of Quentin Tarantino's debut cult classic, Reservoir Dogs, starring Harvey Keitel (Moonrise Kingdom, Pulp Fiction) and Steve Buscemi (Boardwalk Empire, Ghost World).
The Azusa Film Society is screening these movies to reach a younger generation of moviegoers.
There is a lost romanticism in modern cinema. With a rise in Internet piracy and illegal torrenting or downloading of movies, younger moviegoers tend to rely on instant gratification rather than the experience of theater going.
Azusa Film Society is rekindling that passion for movie going that has been lost to the ease of relying on portable devices and illegal downloading.
They are bridging the generation gap in film appreciation by providing students and the public with an opportunity to relive cinema history.
The Film Society meets at the Regency Foothill Theater every Tuesday evening at 7:30 p.m. admission is $6.
---
---