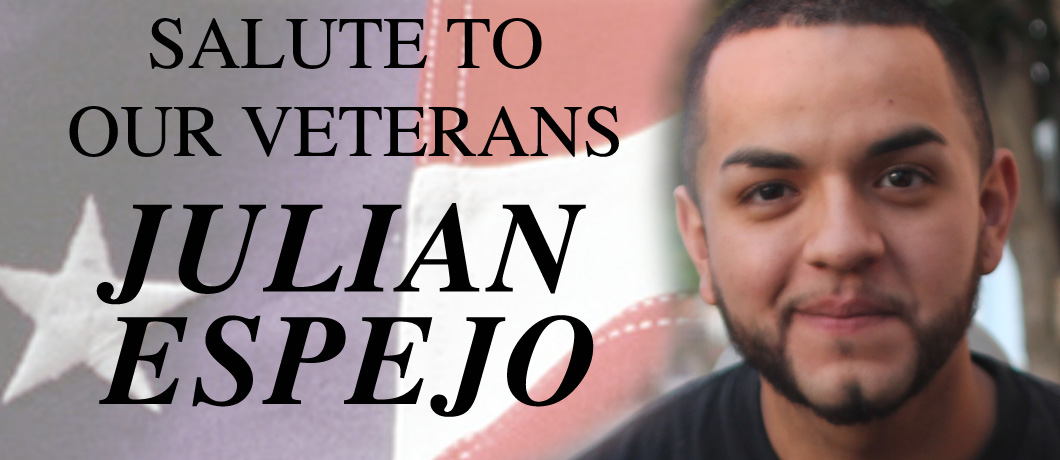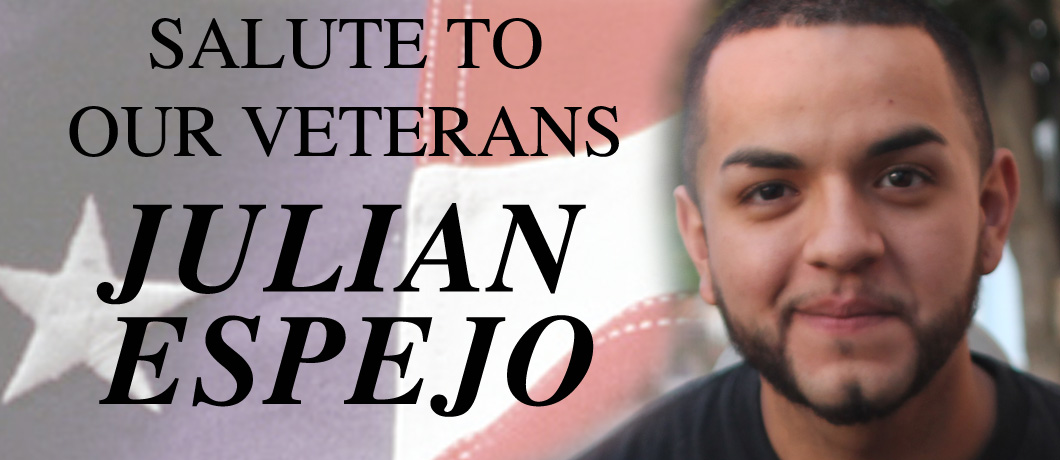 ---
On any given day the typical Citrus College student rolls out of bed, gets ready for school, arrives on campus and walks to class.
This is not how the average day goes for student veteran Julian Espejo, 23.
On good days Espejo is only able to walk with a cane, on others, he uses a wheelchair.
Espejo has overcome adversities most people couldn't.
Born on Dec. 19, 1990, Espejo is the middle of five children.
In 1993, when he was 3 years old, Espejo and his siblings were taken away from their biological parents and placed into the foster care system.
"It was scary," Espejo said, "[my siblings and I] were all separated."
The first seven years in foster care, Espejo was abused and had to be relocated to 18 different foster homes.
Establishing stable friendships and relationships was nearly impossible. "I never trusted anyone enough," Espejo said.
In 2000, Espejo was placed with a foster family in Azusa, where he remained for nine years until he enlisted in the United States Army.
During his four-and-a-half year enlistment, Espejo was deployed overseas once. He spent one year in Iraq and three months in Afghanistan.
At first he was certified as a driver of military vehicles.
Then he was promoted to machine gunner for having excellent marksmanship and discipline.
Both positions require the soldier to be on high alert at all times. The driver and machine gunner are the only two in the unit who do not dismount the vehicle during searches.
This is a precaution and requires that both individuals do not fall asleep.
On a mission in Anbar Province, Iraq, Espejo was with his unit on a routine mission.
While the rest of the unit dismounted the Humvee for a search, Espejo and the driver remained in the vehicle.
Suddenly he heard his unit screaming his name and yelling at him to get out of the vehicle.
The Humvee had leaked gasoline and the heat from the still running vehicle caused it to combust. Espejo had no choice but to jump out of the Humvee.
He landed on his feet, but the force from his body weight plus 65 pounds of body armor, a 14-pound machine gun and 49 pounds of magazines causing him to sustain a serious hip injury. Recovery time was two months.
In October 2011 a soldier's worst fear became Espejo's reality. While on a search in the Anbar Province the unit hit an improvised explosive device.
"The driver made a wrong left turn and boom," Espejo said. No one in the unit was significantly injured, but Espejo's hip pain began to increase.
His physicians said that he had merely pulled a groin muscle. Then in December 2011, his unit hit another IED while driving down a hill and preparing to dismount for a search. The same driver made another wrong left turn and the Humvee tipped, landing on its side.
Espejo was discharged in May 2012. It was only then that a Veterans Administration physician found that he had sustained injuries to his hips consisting of a fractured right hip and torn labrum in both hips.
Walking caused Espejo excruciating pain. It was not until Feb. 28 of this year that he had his first hip surgery and began a recovery process with the help of his wife, Michelle Espejo.
She has stood by him through the deployment as his girlfriend and the after effects as his wife of more than a year.
"It's hard . . . but he is strong and I know together we will get through it," Michelle Espejo said.
After the recent government shutdown Espejo was one of the many veterans with delayed pay. This was especially difficult for Espejo because he also had to find a way to provide for his wife, his brother and himself.
Espejo's brother, Edgar Leon, 21, was homeless until Espejo took him in.
Leon recalls what it was like when his brother returned home after he was discharged.
"It hurts me as much as it hurts him because I know how much he wanted to make it a career," Leon said.
Although Espejo was going through his own struggles, he made sure to help his family.
"He's put a roof over my head and was a shoulder when I needed somebody," Leon said "I love my brother."
Having a strong support system is important for any veteran, but especially those who come back injured.
Espejo's best friend, Anthony Torres described Espejo as "the type of guy, no matter how bad something beats him down . . . he still looks out for everyone."
Espejo struggles with the physical injuries but also the mental trauma of war.
"I still have nightmares," Espejo said "it's hard to see me getting better because it hurts so bad."
Espejo is pursuing a career in psychology to help others who are going through similar experiences.
"I can't fail. There's no 'if' because it can't happen, there are too many things wanting me to fail . . . but I'll always find a way to do the right thing," Espejo said.
---
---