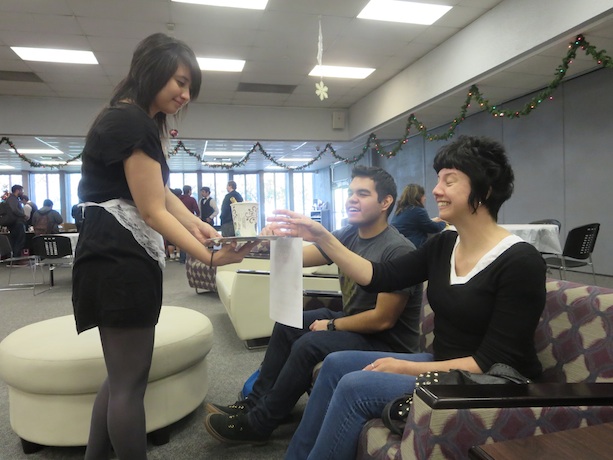 ---
The Anime Connection of Citrus College hosted its third semi-annual Maid Café in the Campus Center Mall on Dec. 3.
Guests were greeted to a sweetly decorated room complete with tablecloths in a lounge-style place.
Male club members were dressed as waiters as women members dressed as maids to make this a unique and fun experience by serving the sweets to student and faculty customers.
"We did not have enough girls in the whole club, so we decided to have guys dress up as hosts [or waiters]," Anime Connection President Christian Hernandez said.
For this Maid Café, members of the club gained sole responsibilities for holding the event.
This event is the trademark of Anime Connection as they were the first to promote Japanese Manga and its culture.
Manga refers to a style of comics created in Japan by Japanese artists rooted in the animation culture.
Anime Connection vice president Europa Henriquez said that the Maid Café is also experienced in anime conventions and in manga games.
"In Japan, they have cafes where maids or hosts will play cards and games with [patrons] while they have their food," Henriquez said.
Students and staff were able to purchase from an assortment of pastries made by 85 Degrees Bakery in West Covina, as well as snacks and hot drinks to enjoy in a comfortable setting.
The Maid Café was first started by club alumnus Christopher "K-On" Luangphinith and Vincent Lewis, vice president for Inter-Club Council.
The purpose of the Maid Café is to promote the club, make revenue and give students and faculty members a chance to relax and spend time with each other before the finals.
"Primarily, it is just the club members who [dress-up], but we also have past club members and [other people who are friends of the club members] come and help us out [with the Maid Café]," Hernandez said.
"The original purpose of it was just to promote our club, raise funds and have fun," Hernandez said.
"Anime Connection used to own a Maid Café as a business but it did not succeed. We wanted to carry on the tradition by having it available at the Campus Center for everyone."
This year's Maid Café also had games available at each table for  student and faculty customers.
"This is the first time we are going to have different kinds of pastries available," Hernandez said.
"This year we are going to have milk pudding pastries and Taiwanese danishes."
Denise Kaisler, an Astronomy professor at Citrus who is also their club advisor, attended the event and was pleased with the outcome of the event.
"Every semester, [Maid Café] gets better and better," Kaisler said. "Every time they do it, they learn something."
---
---