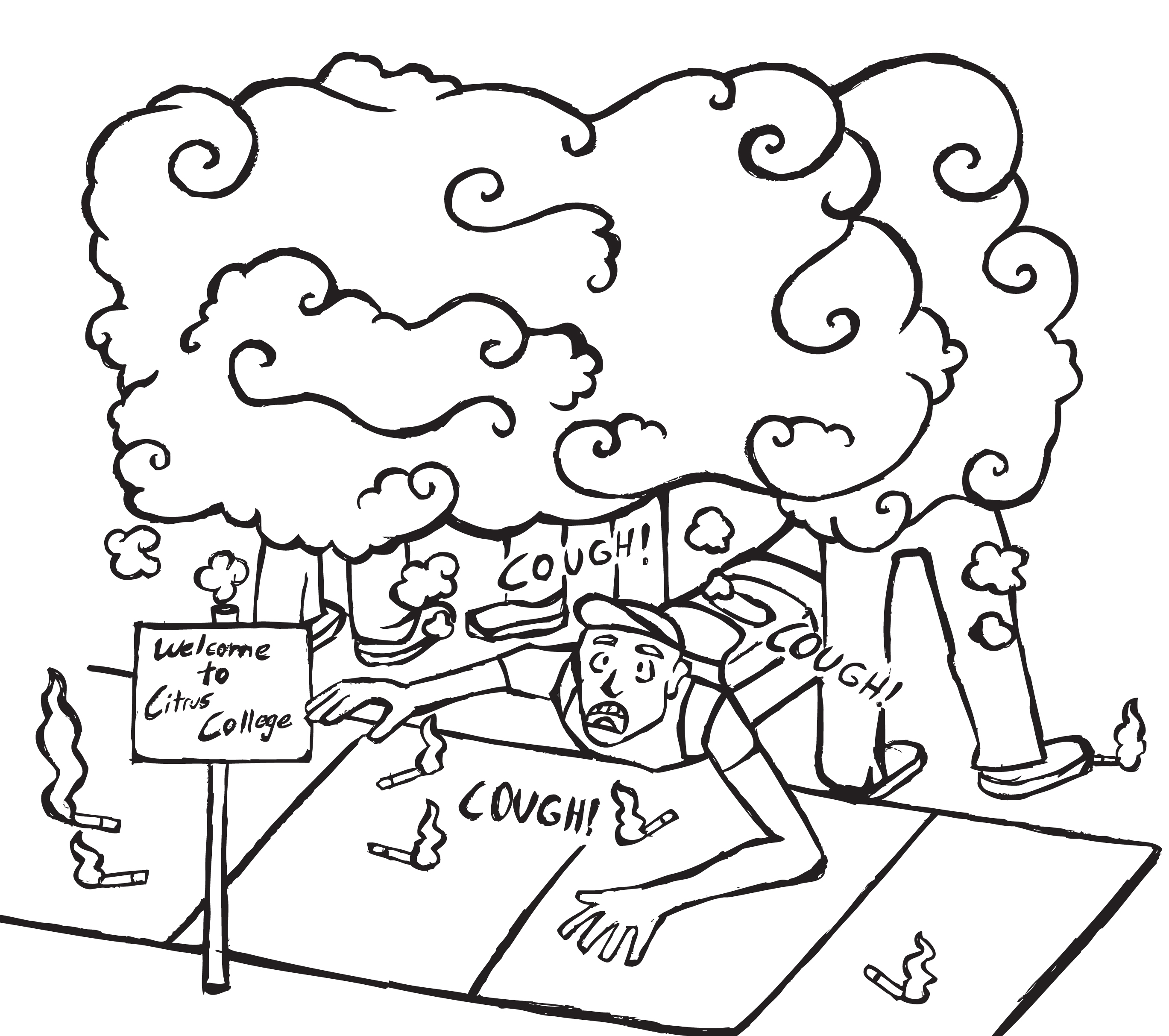 ---
Art Work by: Christian Rodriguez
Smoking should not be tolerated on campus and Citrus must adopt a tobacco-free policy in order to provide a safe environment for all students, staff and faculty.
Citrus's current tobacco use policy states that "While it is universally known that regular use of tobacco products poses a significant health risk, it is important to find some balance between an individual's decision to use tobacco products and the right of the non-smoker to be free from the atmospheric effects of them".
First of all, the only way to ensure the air is free from the atmospheric effects of tobacco smoke is to implement a strict no smoking policy.
Secondly, it is contradictory that the college recognizes smoking is a serious detrimental health risk yet condones the use of tobacco on campus just because one makes the decision to.
Also the college's policy is more of a loose guideline when it states, "If you have decided to smoke or use other tobacco products, plan to use them outside of buildings and remember to keep at least five feet or more from any window, entry way or air vent of any building to prevent smoke from re-entering the building."
While there are a handful of designated smoking areas across the campus, these areas can become so condensed with smoke that either coughing or holding your breath is inevitable.
Not only is smoke a problem, but the cigarette butts carelessly thrown on the ground make the campus look dirty and unkempt.
Since it seems placing the finished cigarette into the provided ashtray is not easy enough, the college needs to take the next step and prohibit all tobacco use on campus.
There is also no enforcement or punishment for those who smoke outside of these areas and those who smoke closer than 5 feet from a building, air vent or open window.
The lack of enforcement is contributing to the campus' sloppy appearance and pollutes the air which raises the risk of second-hand smoke.
Moreover, Fullerton, Glendale, Pierce and Pasadena colleges have already implemented tobacco-free policies.
The Pasadena Community College District smoking policy states that smoking is prohibited anywhere in or around district-owned buildings and property and that a fine of $25 will be issued to violators, the fine increasing in $25 increments with each offense.
Both the University of California and California State University have even adopted no smoking policies in their parking lots.
Citrus can and should introduce similar approaches to take action to ensure a healthy environment and contribute to the shift towards a tobacco-free society.
The ban on smoking also needs to include electronic cigarettes.
There are many unknown side effects to E-cigarettes, and while many have the belief that they are safe for humans to inhale, there has not been approval or evaluation by the Food and Drug Administration proving so.
The e-cigarettes just turn nicotine into vapor which means it still poses a danger to the smoker and can possibly even contribute to second hand smoke.
Furthermore, CVS Pharmacy recently announced its decision to remove tobacco products off the shelves by October.
Now more than ever, smoking and tobacco use are becoming less socially acceptable and it is time Citrus contributed to this change.
The dangers tobacco pose in society is not worth the risk of a smoker and non-smoker's health and should not be tolerated on campus.
Citrus College must ban smoking to promote a healthier environment for all students and employees and adapt to a smoke-free society.
---
---