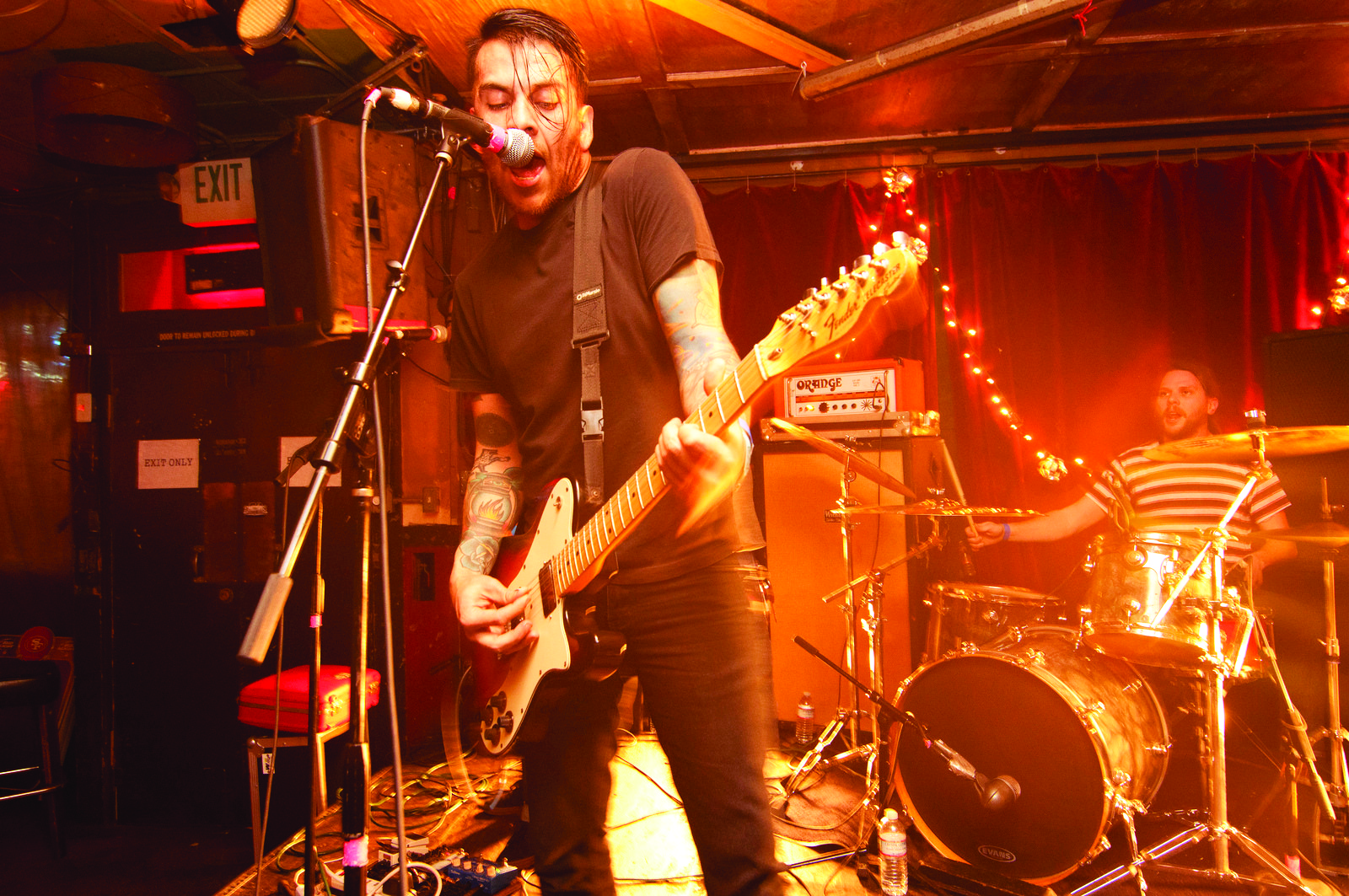 ---
Alex Estrada (guitarist/vocalist), pictured above during Silver Snakes' show at Thee Parkside with Greiver. Silver Snakes is currently on tour with Scale the Summit and The Ocean, they will play at the Lyric Theatre on March. 8. (Joe Calixto theshutterhapppyjose)
Paying the bills is usually the last thing any musician wants to think of before going on tour. However, this is not the case for producer/guitarist Alex Estrada of Silver Snakes. While getting ready to take off on a full U.S. tour, Estrada braves the rainy L.A. traffic to handle last minute business details at his recording studio, The Earth Capital to chat with us.
Q: People familiar with you know your work with Cathedrals and Deadhead, what was your inspiration behind Silver Snakes, how did you guys get started?
A: I actually started Silver Snakes when I first joined Cathedrals. I was doing Cathedrals and I was in a band called Polygraph for a while and at the same time I was doing stuff on the side. It was actually just instrumental at first, it was just me with a guitar and a loop pedal and I called it Silver Snakes. It was just an outlet for the melodic stuff that I was doing. After Cathedrals broke up in 2010 I shifted my focus to turn this into a real band.
Q: There is pretty dynamic difference in your sound between your last album and "Year of The Snake", what were some things you did to enhance your sound?
A: Everything on this record was done on instinct, purely on instinct. The first record, those songs were old, some since 2005. That was the record I had to bring to the table and to work out with the guys, it was the record that we had to make as a band in the sense of staging and where we wanted to be and where we wanted to fit in. When we first started out we were like "cool, we're like a rock band." With that initial record, it was a lot of my riffs; we didn't really have ideas bouncing off of each other. With this one, I feel like I knew the musicians I was playing with a lot better. It was my first time playing in a band with Jared and Mike. It was my first time playing with Daniel as a drummer. Daniel has been my favorite drummer since I was 13-years old so being able to write songs and see the way they blossom with that collection of musicians is really inspiring. I had a sort of preconceived notion in the sense that I wanted to make our second record a more industrial record. I was trying to do this weird Nine Inch Nails sort of thing and I wrote a couple of songs, but it didn't come together. We were six weeks out from recording so I started over and I wrote 90 percent of the record in about six weeks. I brought each song to the table and we all worked them out together. There's still stuff on there that had we sat on those songs longer, I would have added more elements and layers. But I'm glad that it's the way it is because we captured exactly what was fresh. I sit in my room all day, for this record I drove up to the mountains for a couple of weeks and just wrote and demoed up there. Within the first 24 hours of being in Lake Arrowhead, I wrote three songs that ended up being on the record. Those songs are "All Your Eye," "Red," and "Sundance".
Q: You have toured and recorded some pretty heavy bands, what do you think the crossover appeal to your music is?
A: I don't know too well. I mean, there's such a resurgence of the grudge and '90s rock thing. Half of it to me sounds like full pop punk and the other half are on the more authentic side of it, not to put any one down. The younger kids weren't around for those bands that were important when we were younger. It's sort of like they're first experiencing it. I'm so out of touch with the mind of say, an 18-year-old hardcore kid. At this point, I have no idea if we would appeal to them at all. Those show that we played with bands like Harness, Backtrack and Xibalba last year. Those shows were more fun for me than some other shows when we're out on our own because we still play like a hardcore band. We play loud and we play with that energy and we have no desire to be a rock band. We go up there and I want to be heavier than the heavy bands. I feel like kids still appreciate it. I don't know what the appeal is in sense of them buying our records, but who knows.
Q: Tell me about the title of the new album, "Year of the Snake", is it a reference to the Chinese zodiac?
A: It's a record that encompasses Year of the Snake. Those songs sum up that year. It's a lot more personal that the first record. The first record was a lot more observational.
Q: Is there a central theme to YOTS? If so what is it, the songs in YOTD have references in to Native American culture?
A: I grew up listening to that. When I was a little kid I was obsessed with Native American culture. That music in particular, inspired the album. That's why the first song on the album starts off with a drum circle. That's the way that grand entrances are started in a powwow. I just wanted to do something that set the pace for the rest of the record.
Q: You have had a chance to play some of the newer songs live how has the response to the new songs been?
A: It's been cool. It's hard to gauge when we know that people haven't really heard the record yet, but for us it's been a lot of fun. We've been playing the same songs for a long time now. Luckily we've done some releases before this in between records and we've been playing those songs too. This is on another level. These songs are tuned down further. There are a lot of heavy parts and slower parts and specifically, it was intentional for me to simplify the vocals on this record as well.
Q: Tell me a bit about the production process of the album, you had some pretty big names help out production-wise, as a producer yourself, who was it like working with guys like Brian McTernan and Jay Maas?
A: It was no sweat. We didn't know Jay Maas was mastering the record until long after the mix was done. It kind of just happened overnight and it just panned out. We threw a lot of names out there for this record. We were talking to Magnus Lindberg from Cult of Luna and Kurt Ballou (guitarist from the band Converge) about it. We talked to a few different people and either things didn't click or scheduling didn't work out. The idea of Brian McTernan was thrown out there and he's been around forever and he's done records that we look up to and really influenced us as a band. Jay Maas did a really great job mastering it. He had it done in a couple of days and we were really happy with it.
Q: You studied recording at Citrus, what year did you graduate and what inspired you to take on producing?
A: I went for a while. I didn't finish the complete program. I started the program there to learn how to record and then I actually had to leave the program there because I was too busy recording. It's just what I grew up around. My dad's a producer and musician and I grew up going to recording studios with him so it kind of just fell into place. I got my first four track when I was 14 and I recorded my friends in my bedroom. I've been at my studio for 10 years now. It's become the only job I've had for the last decade and its really worked out in a strange and wondrous way.
Q: Since then, you have went on to record some pretty well known bands like Joyce Manor and Touche Amore, What did you do to branch out in the scene to make a name for yourself?
A: It's all been word of mouth mostly. I've known Jeremy Bolm from Touche Amore for at least 12 years. A lot of it is by association. That's what we're all tied into, the San Gabriel Valley music scene. The Touche Amore thing came about because I did the Dead Head demo before I was in the band and then they approached me about doing their first record. Through their drummer Elliot, I found Joyce Manor and they did a demo with me. I've worked with them on every single record they've done since.
Q: What advice would you give for students pursuing a career in the music industry?
A: I would honestly say, do your best to stick it out. I wish I would have. It's one of those things where my studio and the way I record there are very specific to my style.
Q: What do you like to listen to when you are not performing, any artists or bands you have been really into lately?
A: I've been listening to the same stuff for god knows how long. Usually the rotation is Smashing Pumpkins B-sides, 16 Horsepower, Starflyer 59 and lately a lot of Om.
Q: Ok, so I saw a post on your or Mike's [Trujillo, bassist] Instagram about Brew Of The Snake and Beer Of The Snake, what exactly are those, and where will they be available?
A: Our guitarist Jeremiah brews beer. He's a home brewer and he's insanely good. He also does coffee. When we're on tour, everyone goes broke because they spend all of their money on beer. Jeremiah decided that he would brew our own and that we would take it on the road with us to SXSW so that all of our friends could enjoy it. It's incredible. It's a very smooth IPA. It's sort of fruity and its double dry hopped so it should be really bitter, but it's really easy to drink. He also roasted a bunch of coffee and wants to do 72-hour cold brew and sell it at our shows. We've just been really into thinking outside of the box when it comes to merch ideas.
---
---