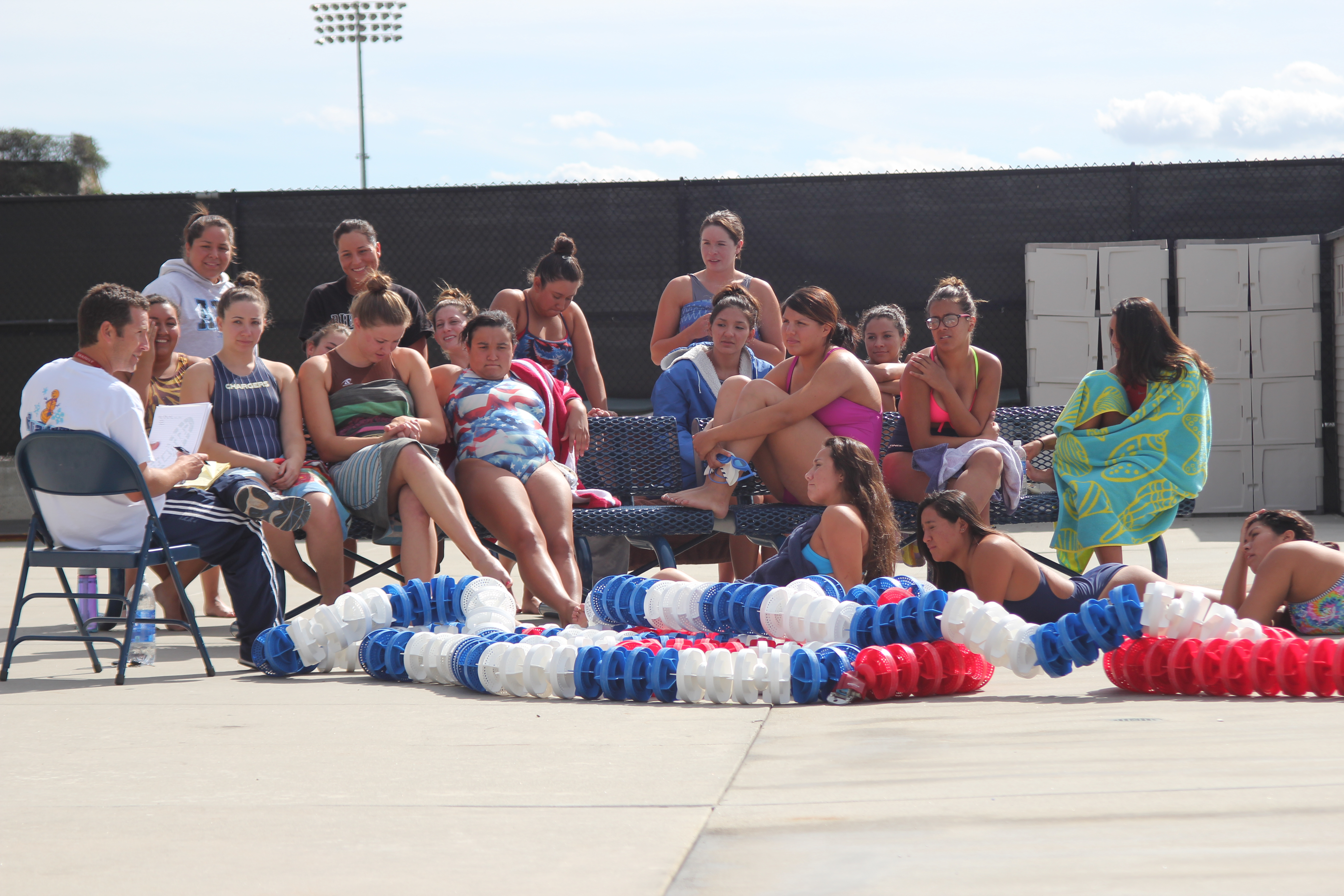 ---
Swim coach Andrew Silva addresses the team at practice on Feb. 27. The Owls next meet will be held at Bakersfield College on Mar. 14. (Anne Marie Miranda/Clarion)
Anne Marie Miranda | Staff Writer
The 2014 Citrus College Women's swim team plunged back into the sunny spring season for the second time after having a three-year dry spell.
"The goal this season is to build on that and be more successful and competitive in all the competitions that we enter," said Coach Andrew Silva.
The well-built 23 person team has had three meets this season and they are already treading above the rest.
On Feb. 19 in Ventura at the 2014 Western State Conference Pentathlon, Sophomore Kirsten Pampu took the highest overall finish in 37th place.
On Feb. 25 Chelsea Fujita-Haffner finished Top 10 in the fly events that featured the top swimmers from Southern California at the 2014 Mt. San Antonio College Invitational.
"I miss my best friend every day of my life…when I jump into that water, I do it for him. All of my worries and doubts are erased as soon as I dive in, that's why I swim," said Anna Benitez, 21, psychology major.
There were a large number of student athletes who participated with the team/program last season and they competed in conference competitions, invitationals and conference championships.
"We have a big group this year. I look forward to seeing the progress they make and how the pre-season is helping them improve," said Sara Zandihn the assistant coach of the women's swim team.
The Citrus College Women's Swim team closed their 2013 season with victories including a 103-85 win over visiting Santa Monica College on April 5 and proving that they were capable of another season of victory.
"Among the goals for this season are to finish higher in conference and to have a team point total put them in the position to finish higher than they did last year as well as having an individual swimmer qualify for state and beyond that get a relay qualify for state," said Silva.
Swimmers practice with high intensity in the weight room and in the pool five days a week for two to three hours.
"We are trying to be as versatile as possible," Silva said. "That's one of the ways we will be successful and competitive is if we have enough athletes that have a number of racing and competing at a high level in all strokes and disciplines."
Even though students compete in individual races, swim is a team sport with heavy emphasis on establishing a culture and tradition of student athletes who want to work hard in the classroom and the pool, Silva said.
"They push each other to do better and train each other to do better and train each other as teammates and not just focus on the individual but on the team's success as well," Silva said.
"When it comes to swim, I try to find a balance between speed and endurance. It's my first season in swim so I am excited to see how far I can go," Christina Tereszczuk, 19, communications major said.
There are 10 more meets this upcoming season so be sure to come show your support for the hard working swimmers.
Their next meet will take place at Bakersfield College on March 14 at 2:30 p.m.
---
---