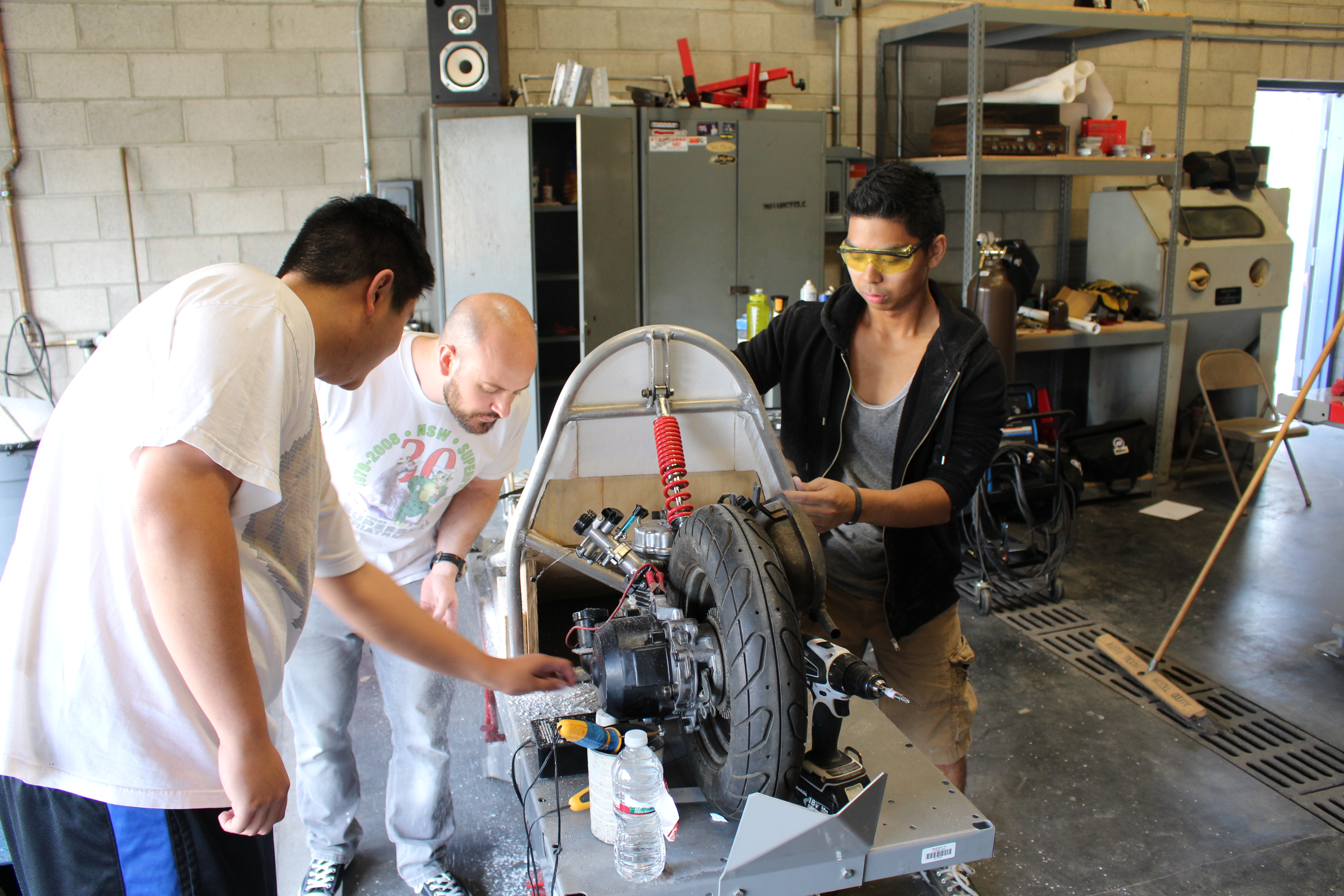 ---
Alex Len, 19, math major (far left), Kyle Beers, 31, mechanical engineering major (middle left) and Enrico Gutierrez, 20, mechanical engineering major (right), work on the seat of their vehicle. The CAPE Owls will compete in the Shell Eco-Marathon in Houston next month. (Joe Moreno/Citrus College Clarion)
Students around the globe are prepping for a marathon – one involving wheels, rather than running shoes – and fueled by gasoline, not Gatorade.
Among those teams of competitors are the Citrus Automotive and Physics Eco-Marathon Owls, the seven student team will participate in the Shell Eco-Marathon Competition in Houston, Texas, April 25-27.
The eco-marathon challenges student teams to design, build and test ultra energy-efficient vehicles. Teams battle it out over three days to determine which vehicle can go the farthest using the least amount of energy.
"It's all student-run, so it's their project," said CAPE Owls adviser Lucia Riderer, Citrus College physics professor.
The competition is split into two classes: the Prototype class, which focuses on maximum efficiency; and the UrbanConcept class, which encourages more practical designs.
Vehicles are entered in one of seven fuel categories and run on either conventional petrol, diesel, biofuels, and fuel made from natural gas, hydrogen, solar or electricity.
The CAPE Owls will participate in the Prototype class with a three-wheeled design running on petrol.
Teams are allowed to make as many attempts as possible to measure how far they can travel on the equivalent of one liter of fuel.
The CAPE Owls are in their inaugural year at the marathon. They are the newest of the three Citrus College teams that comprise the Research In Science and Engineering (RISE) program.
The idea for the CAPE Owls came about last spring when Riderer noticed Alec Nystrom, 20, playing with a toy car in one of her physics labs. Nystrom is now the team's leader.
"I knew about this program in the past, so I really wanted to start it, but I just wanted to find someone to be the leader," Riderer said. "Once I realized I have someone who specialized in cars, and wanted to learn how to build a high efficiency car, it was easy afterwards."
The CAPE Owls are an interdisciplinary team, so students must be involved in either the physics or the automotive department.
Members spent the summer brainstorming, then began fabrication of their car in the fall. None of the students had ever built a car from the ground up, Riderer said.
"We started off with giant metal rods that went to the ceiling. We cut those down and welded them, all from scratch," said CAPE Owls member Alex Len, 19.
The CAPE Owls' vehicle features a three-wheel design which will generate less rolling resistance, a chassis made of aluminum, carbon fiber seat and a small motor which has been converted to fuel injection, Nystrom said.
Learning to weld aluminum, which is more malleable than steel and therefore more difficult to weld, is what many CAPE Owls said they enjoyed the most about their experience building the vehicle.
"It's something we're all going to remember," said Patricia Barrosa, 21. "It's always going to be something we are going to know how to do now."
The CAPE Owls still have a few obstacles to overcome before they finish their vehicle. They have yet to complete their carbon fiber seat and their fiberglass body, Nystrom said.
"It's probably the hardest part," said Enrico Gutierrez, 20. "None of us have any experience doing carbon fiber."
After nearly a year of organizing, fund-raising, designing and building, team members hope to complete their vehicle within the next month.
The CAPE Owls are self-funded and have raised approximately $5,000 towards their project through outreach to parents and local businesses, Riderer said.
The stakes will be at an all-time high next month in Houston. The team hopes their vehicle will travel between 1,500-2,000 miles per gallon of fuel, Riderer said.
By comparison, Alerion Supermileage from Laval University in Canada registered 3,587 mpg to take last year's crown.
To find out more about the CAPE Owls, contact faculty advisers Lucia Riderer at lriderer@citruscollege.edu or Mariano Rubio at mrubio@citruscollege.edu.
---
---