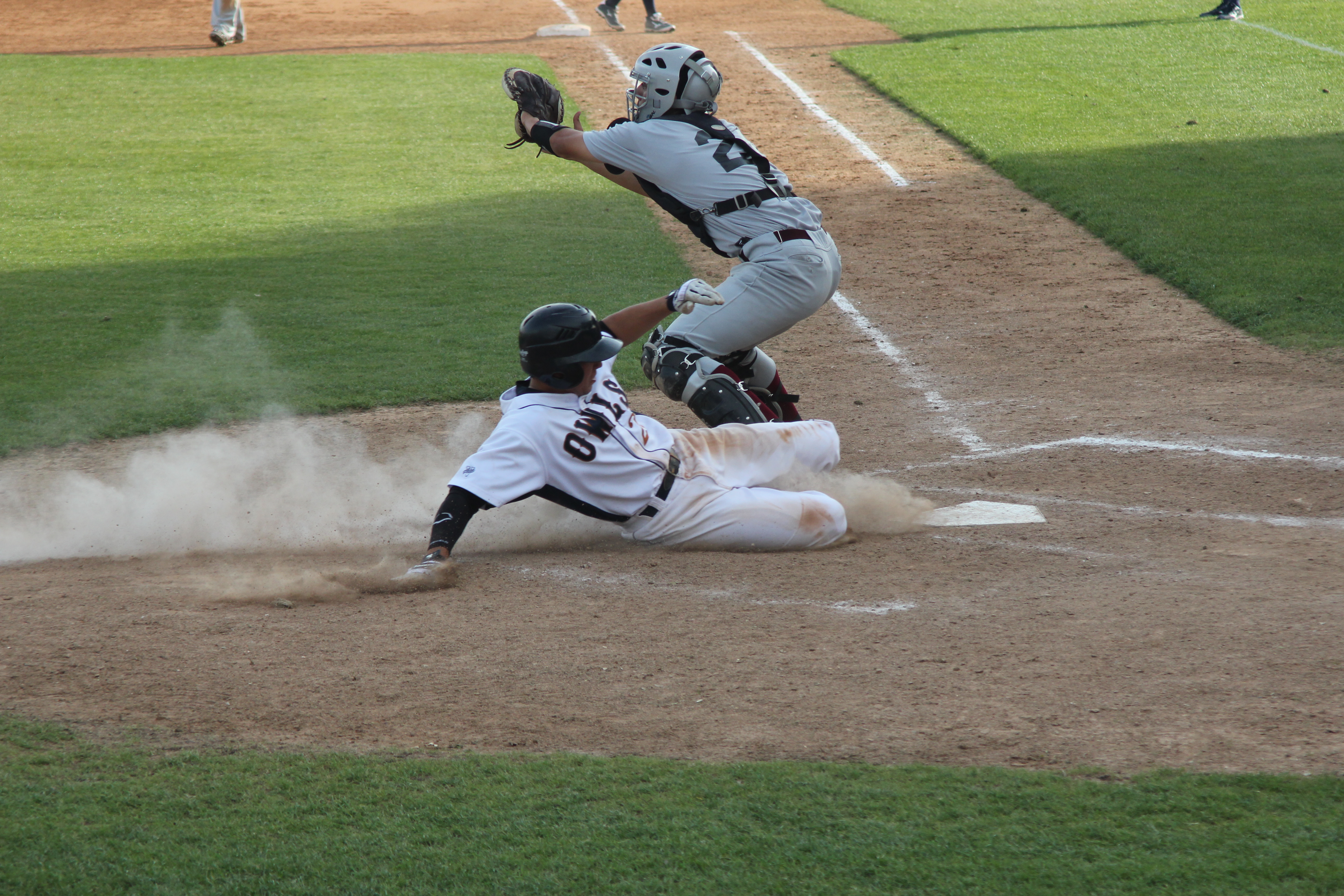 ---
Nathan Virgen, #23, slides into home against Antelope Valley College on March 11. The Owls would lose 6-5.

By Dillon Cooper | Managing Editor
The baseball diamond is a place to escape life's problems, a place where one goes to be one with the bat and the ball.  The sound of the ball hitting the back of a glove is one of life's pleasures.
However, for last season's baseball team, the diamond turned into a place of disappointment and frustration.   The Owls finished spring 2013 with a record of 14-21, 8-16 in the Western State Conference.
Opposing batters hit almost .300 against last season's staff, with a combined earned run average of 4.8. It was a tough season for the Owl pitchers.
Now in his 11th season as the Owls' head coach is Steve Gomez. Gomez entered the season with an overall record of 195-228 and a conference record of 118-145.
Gomez found success in 2003 as the Owls' pitching coach, when Citrus had the second lowest ERA in the state.  Citrus would end up winning the Western State Conference Championship that year.
Freshman knuckleballer Steve Mendoza hopes to replicate the numbers from that dominant year and give a boost to the recently slumping Owls' pitching staff.
"I just have to go in and let my defense go to work," Mendoza said.  "The knuckleball is a ball of physics.  If you command on it, it can do a bunch of crazy things.  It can go up and down and move side to side."
Mendoza has started seven games for the Owls this year, sporting a 1-2 record and a 2.93 ERA.
"Our pitching depth is a lot better," said sophomore outfielder Nathan Virgen.  "We have better overall pitching this year, and our hitting is better too."
As a freshman, Virgen hit .370 in 54 at-bats with a .443 on base percentage while stealing six bases.
In this young season, Virgen leads the team with a .389 batting average over 72 at-bats with a .488 OBP and already has equaled last season's total of six stolen bases.
Sophomore first baseman/designated hitter Michael Bradley, who hit .160 last season and had an OBP of .185 in 50 at-bats, has stepped up his play from his freshman year, batting .360 this season to go with his .418 OBP.
"We are winning the close games this year," Bradley said.  "We are strong top-to-bottom.  We are fast, can get doubles, and we've got some pop up and down the order."
You can catch the Owls (9-11, 2-5) on the diamond March 27 as they host WSC opponent Bakersfield (8-10, 4-2) at 2:30 p.m.
---
---