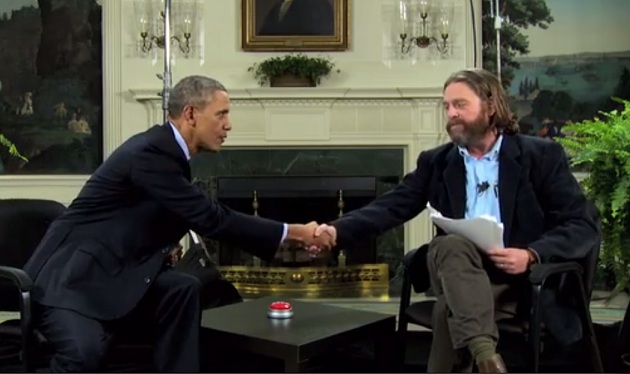 ---
President Barack Obama appeared on the popular Internet show "Between Two Ferns" with host Zach Galifianakis on March 11. The clip is available to view on www.funnyordie.com. (Photo credit: funnyordie.com)

By Evan Solano | Editor-in-Chief
With the March 31 deadline approaching, President Barack Obama hit the web last week in an effort to get young Americans to register for the Affordable Care Act.
On March 11, the pesident was a guest on "Between Two Ferns With Zach Galifianakis," a popular Internet talk show on funnyordie.com hosted by Galifianakis, star of "The Hangover" movies.
The show is mainly ad-libbed and features Galifianakis clumsily asking awkward questions and passive-aggressively berating his guests. Obama was treated no differently.
"Ok, let's get this out of the way. What did you come to plug?" asks a pained-looking Galifianakis in anticipation of the president's response. As Obama goes on to explain what the Affordable Care Act is and how it benefits young Americans, Galifianakis checks his watch. "Is this what they mean by 'drones'?" he quips
Although the show is basically absurd, the message the president was trying to convey was dead serious. He was urging Americans, especially those from ages 18 – 34, to visit the healthcare.gov website for information about the Affordable Care Act.
According to a HuffPost/YouGov poll conducted last week, the interview was seen by only a quarter of the young Americans the White House was targeting.
About a third of Americans overall reported seeing the clip, while 48 percent of Americans ages 65 and older said they saw it, compared to only 25 percent of young adults ages 18 – 29 who watched Obama's "Ferns" appearance.
On March 14, the president appeared on WebMd.com, a popular medical resource website in an interview with Lisa Zamosky, a health columnist for the Los Angeles Times. She asked the president questions directly addressed to him by Americans who were able to submit them online for Obama to answer.
"Well, the first thing is making sure everybody has the right information, because there's been so much politics swirling around this, that I think a lot of folks still aren't sure what exactly is available," Obama said.
Obama's most important recommendation is for individuals to go to the website and look for themselves at what plans are being provided.
"The website helps you calculate whether or not you qualify for a tax credit. If you do qualify for a tax credit, then I think a lot of people may end up being pleasantly surprised because, for a large portion of those folks, health insurance may end up costing $100 or less. It may end up costing less than your cable bill or your cell phone bill," said Obama
The president also addressed the penalties that Americans are subject to if they don't enroll.
"I think it is important for people to understand is that if, in fact, [Americans] still can't afford [health insurance], there is a hardship exemption in the law. That means that they may not be subject to a penalty," Obama said. He went on to address penalties further, "the penalty really applies to folks who clearly can afford health insurance but are choosing not to get it. And then, essentially, they are relying on you and me and others who are paying our insurance premiums to subsidize them when they go to the emergency room if, heaven forbid, something happens."
Officials from Covered California have announced that more than a million individuals have enrolled in health care plans since October, and about 1.5 million people have enrolled or been deemed eligible for an expansion of Medi-Cal, the state's Medicaid program for the poor.
Latino and young adult enrollment has been sluggish, with only about 22 percent of recent health plan enrollees listing themselves as Latino on their application.
The final deadline to enroll for the Affordable Care Act is March 31.
---
---