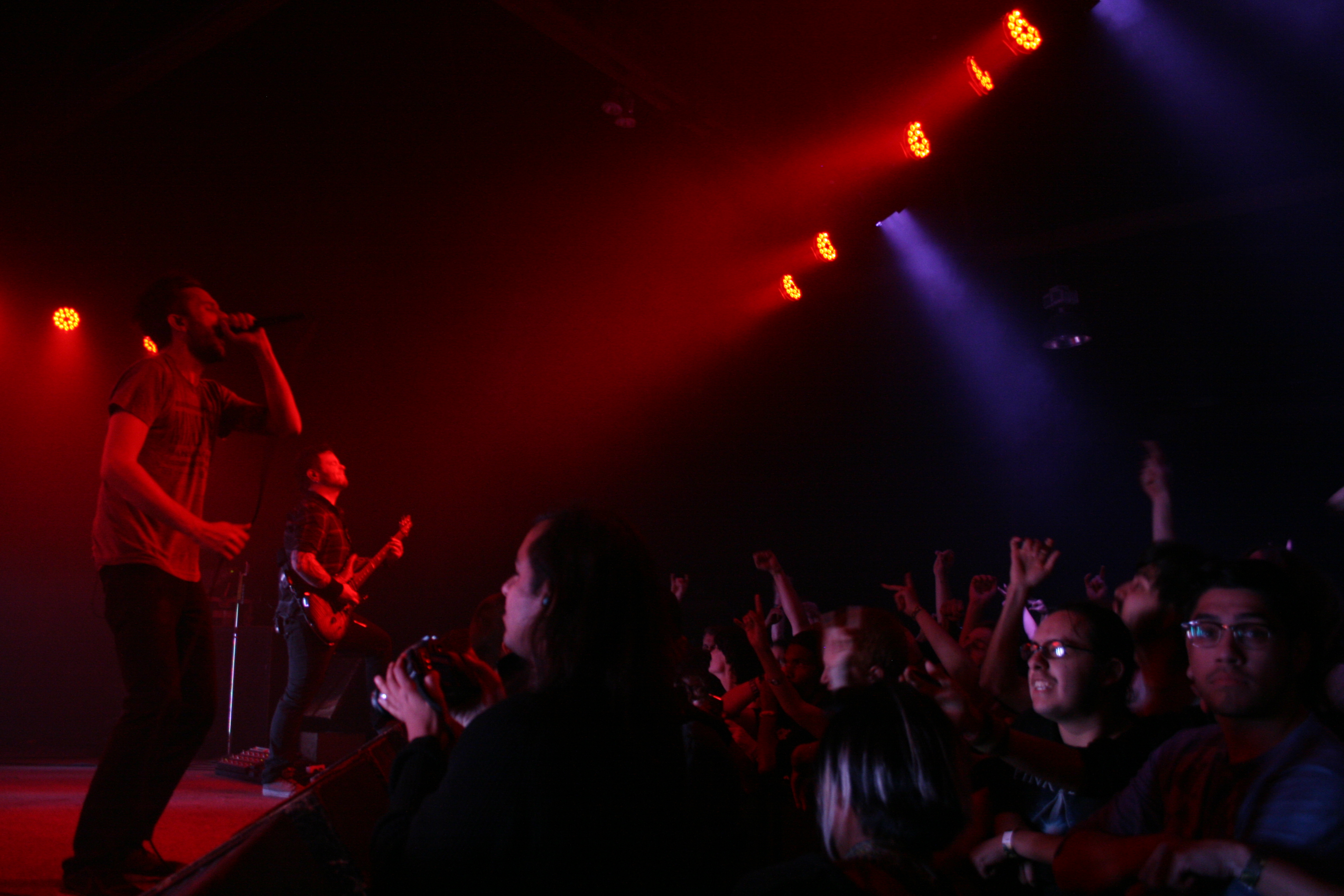 ---
Between The Buried And Me vocalist Tommy Rogers and guitarist Dusty Waring performing to a sold out show in Pomona on March 12 in support of the bands latest album "Parallax II: Future Sequence" out now on Metal Blade Records. 
Photo by: Evan Solano/Clarion
By Evan Solano | Editor-in-Chief
Between the Buried and Me have hurtled on an amazing trajectory over the past 10 years as a band. They have gone from the odd-man-out progressive death metal band that would open almost every hardcore show imaginable, playing in basements to handfuls of open-minded hardcore fans, to becoming one of the most avant-garde and well respected bands in aggressive music today. Their steadfast dedication to their unique sound and artistic integrity culminated into an amazing live performance March 12, to a sold out crowd in Pomona.
The North Carolina band are still riding high on the success of their new album 'Parallax II: Future Sequence' released in 2012 on Metal Blade. On their last headlining run the band played the album in its entirety, but this time around the band decided to focus on a more career-spanning set as well as bringing along a variety of notable support acts: Deafheaven, Intronaut and The Kindred to their ever-growing fan base.
Each band brought an unrivaled level of musicianship that made each band stand out in their unique style while also complimenting each other. It was an arms race of incendiary guitar riffs and boisterous songwriting, with every band bringing their unique blend of progressive technique and metal influence.
The Kindred, from Ottawa, Canada set off the show with a 30-minute set that left the crowd ready for more. The band recently released their latest album "Life in Lucidity" on Sumerian Records, where songs like "An Evolution of Thought" and "A Grand Debate" really shined through live. The bands music fall somewhere between the music of Cynic and improvisation of bands like The Mars Volta and Coheed and Cambria. Vocalist Dave Journeaux's vocals were dead on and overall the band did a tremendous job of starting things off for the evening.
Los Angeles' Intronaut followed and played a good mix of songs from their spanning discography, kicking off their set with "The Literal Black Cloud" from 2008's "Prehistoricisms". Although the band nearly a decade worth of material to cherry-pick from, a majority of the bands half hour set comprised of track from their latest album" Habitual Levitations". Musically, the band features some of the most talented musicians from the L.A. area, rivaled only by southlands most profound band in the progressive scene, the almighty Tool. Bassist Joe Lester once again exhibited himself as one of the most versatile and talented bassists in the scene today. Vocalist/guitarist Sasha Dunable and guitarist Dave Timnick balanced crushing riffs with atmospheric harmonies and intricate guitar melodies. Drummer Danny Walker is one of metal's most revered drummers with his dynamic performance throughout the bands amazing set.
Deafheaven, the San Francisco atmospheric black metal quintet, have enjoyed one of the most meteoric rises in critical praise even before their latest album "Sunbather" was released last year. The album was on the list of countless music publications "best of…" lists the world over. The band's set consisted of cuts from "Sunbather" blazing through songs like "Dream House" and "Sunbather". Co-founder and vocalist George Clarke commanded the stage brandishing the mic stand around like a general's staff, dressed in all black and leather gloves, while main songwriter/guitarist and fellow founding member Kerry McCoy led the remaining band members on a full frontal attack, blasting through a barrage of blackened riffs, machine gun constant drums and soaring melodies. As amazing as "Sunbather" sounds on record, it was only amplified sevenfold by seeing the band live. Often criticized by metal purist, that they are not "true black metal", Deafheaven are as intense live as any so-called extreme or black metal groups. It has been incredible to watch this band progress and to witness their fanbase exponentially grow with every performance.
The evening ultimately belonged to Between The Buried And Me, as the lights dimmed down the audience grew more fervent and overwrought with anticipation. Unlike their previous outing where they played the entirety of their latest album "Parallax II: Future Sequence" the band embarked on a tour-de-force assortment of songs from their diverse discography.  They started their set with the combo of "Foam Born (A) The Backtrack" and "(B) The Decade Of Statues" that opened their critically acclaimed 2007 opus "Colors".  The unremitting level of talent and musicianship that the band played at during their 90 minute set was nothing short of astounding. Guitarists Paul Waggoner and Dusty Waring operate their instruments with machine-like accuracy; it was open-heart surgery set to the most uncompromisingly heavy and beautifully technical songs in metal today.
Vocalist Tommy Rogers' performance was one part Mike Patton and one part hardcore frontman, jumping from behind his keyboard rig all the way to the barrier allowing fans the opportunity to sing along. Rogers was able to command the stage while also not taking away from the visual aspect of the stage show and without overpowering the band in the mix.
Drummer Blake Richardson and bassist Dan Briggs kept the rhythm section dynamic and vivacious, providing a solid backbone of low-end to the bands performance.
They followed their foray into "Colors" with the song "Obfuscation" from their overlooked album "The Great Misdirect". Although the band made an effort to play songs from their wealthy catalog, much of the groups set consisted of cuts from "Parallax" and they ripped through the back-to-back trio of "Astral Body", "Lay Your Ghosts To Rest" and "Autumn" with flawless accuracy.
One of the surprise tracks BTBAM decided to play as "Selkies: The Endless Obsession" the heavily King Crimson influenced song from the album "Alaska" which was released in 2005 and was considered by many to be the album that began the bands rise to recognition. Although it would have been exciting to see the band touch on their earlier body of work "The Silent Circus" or their debut self-titled album, it was humbling to see the band take a trip back to their roots a bit and play some older material.
Overall it was an impeccable performance from one of progressive metal's most revered bands today. Between The Buried And Me paid tribute to their storied past while embracing their "future sequence", as a band who never strayed from their vision and have found a deep appreciation from fellow musicians and critics alike. Their genius lies not only in technique and music theory, but also in their ability to put on a mind-blowing performance while keeping the crowd engrossed and ultimately satiated with the end result.
---
---