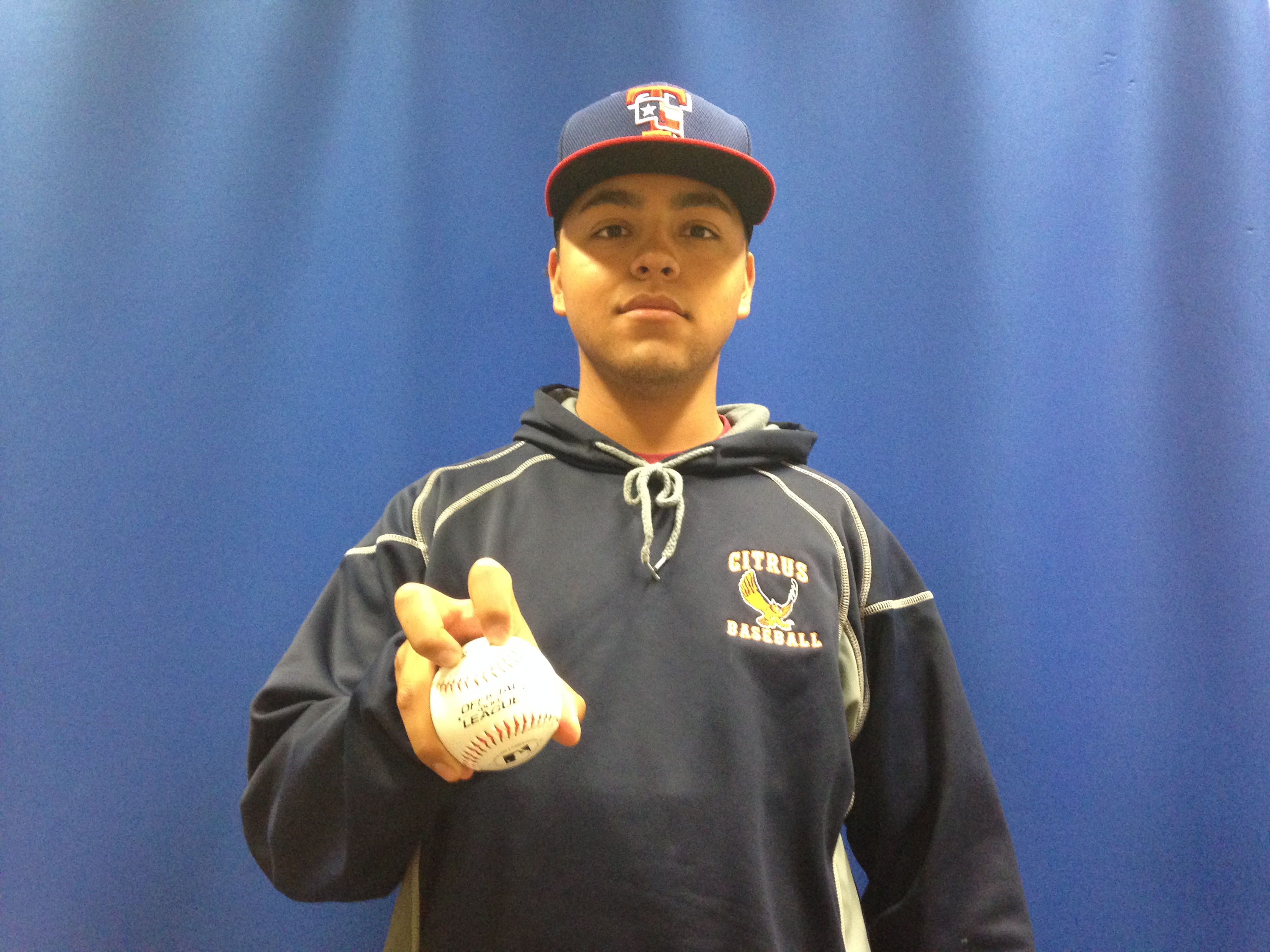 ---
Steve Mendoza, 19, has started nine games for the Owls so far this season, with one appearance from the bullpen. Mendoza has a record of 1-3 with a 3.43 ERA. (Dillon Cooper/Clarion)
By Dillon Cooper | Managing Editor
We all had that teammate.
The kid no one wants at the plate with runners in scoring position.  The kid we all hoped wouldn't get the ball hit to him out in the field. Freshman pitcher Steve Mendoza, was that kid.
"I've heard it," Mendoza said.  "When I'm walking around, I'll hear 'Steve Mendoza is up, here's another strikeout.  Steve Mendoza is going to make a mistake to lose the game,'" "I was that kid, they always doubted me," he said.
Today, Mendoza views baseball as an opportunity to prove the people who doubted him at a young age, wrong. "My brother always told me 'You're wasting your time with your son,'" said Mendoza's father, Raul Mendoza. "I would say back 'No, I'm not wasting my time.'"
Mendoza, 19, started playing baseball at the age of 5.  He never had the newest equipment or the support of his teammates and their families.
"It was always just me, mom and dad," he said. One of Mendoza's goals is to not only make it to The Show, but to inspire his younger brother Kevin Mendoza, 6, to become a better person and a better player than himself.
"He's always at my games, looking at the ways batters swing, and taking notes," Mendoza said.  "He has a great baseball mind.  It just came natural to him."
"I want to do well, so he will know it's possible to overcome the odds and eventually be better than me," Mendoza said.
Mendoza spent his childhood in Covina, getting little opportunity to play baseball.  He was cast aside as the odd one out. No one would give him a chance.
In 2008, the Mendozas packed their bags and moved to Fontana.
Opportunities opened up for Mendoza, who started playing baseball immediately. Growing up, he played outfield a majority of the time, sprinkled in with some appearances behind the plate. Mendoza made the mound his home playing junior-varsity his freshman year at Fontana High School.
"I first saw him as a junior.  To be honest, I wasn't overly impressed when I first saw him," recruiting coordinator Chris Amaya said.
"His coach kept asking me to come back out and give Mendoza another look, so I did."
"The second time around, I really liked what I saw…I believed in Steve Mendoza," Mendoza chose Citrus College over Chaffey, Rio Hondo and Orange Coast Community College. Coming into his first semester at Citrus, head coach Steve Gomez told him he would strictly become a knuckleballer.
One word used to describe the knuckleball is unpredictable. The movement of the pitch. The success of the pitch. The brilliance of the pitch.
"It's very rare that you see a knuckleball pitcher at this level, the collegiate level," said Gomez.  "When he got here, we asked him to throw the knuckle exclusively." "Once that happened, we started to see positive results."
Mendoza has appeared in 10 games for the Owls this season, starting nine of them. He's posting a 1-3 record with a 3.43 earned run average. Despite his record, Mendoza has yet to give up more than five hits in an outing.
"Unfortunately, most of the games he has pitched in, he hasn't got much run support," said Gomez.
At this stage of his career, it's more about development of the knuckle – the command, the ability to make it dance to the plate and fool the batters. Mendoza believes in himself and his knuckleball.
He uses that chip on his shoulder to propel him to new heights, to show his brother that it is possible to chase your dreams.
Even after all the doubt, Mendoza walks on with his head held high, using this opportunity he has been given to better his life, and the life of his future children.
"I'm trying to make my parents proud, to show them that I'm a good kid," Mendoza said. Doubt, dedication and family are fueling Mendoza's fire. "I had an opportunity to be something in my life, but I made mistakes," Raul Mendoza said.  "I don't want my son to make mistakes.  I want him to go out there and play ball and be something in life."
Mendoza will be attending the Major League Baseball tryouts hosted in the summer to see where his knuckleball stands amongst the professionals. You can catch the Owls (18-16, 11-8) in their last home game of the regular season on April 25 at 2:30 p.m. as they host Los Angeles Mission.
---
---