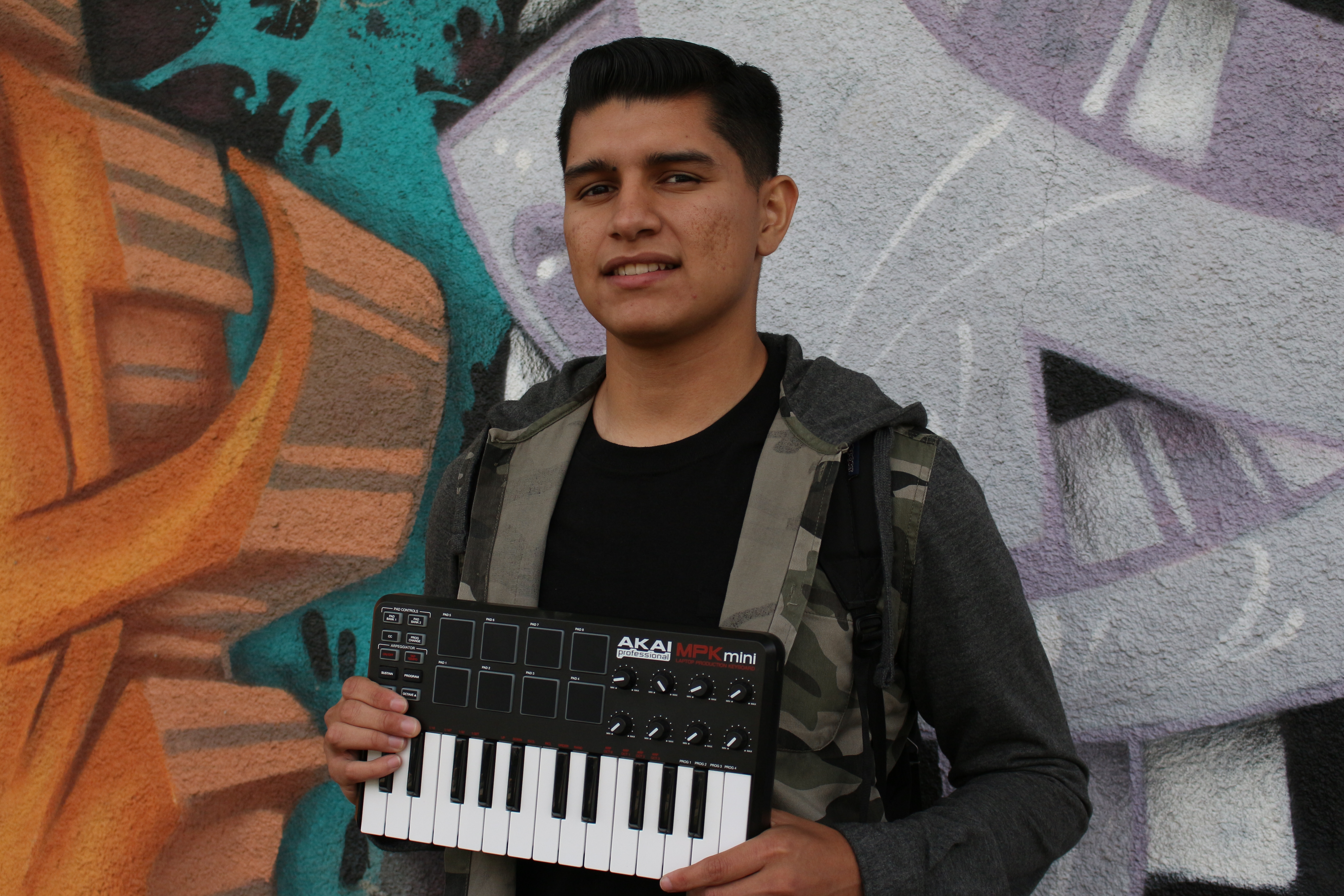 ---
Maruricio Gonzalez (a.k.a. InvokeOne) pictured with his Akai MPK mini keyboard. (Evan Solano/Clarion)
By Julian Flores
Sophomore Mauricio Gonzalez, aka InvokeOne, turns to music as a sanctuary. However, not in the same way that most students do.
While most political science majors think about filling in positions for student government, Gonzalez has other things in mind.
Instead of pressing play on his iPod and just listening to his music, Gonzalez would rather turn on his Akai MPK mini keyboard and let his musical creativity bloom.
"I like making beats, specifically hip hop, hip hop instrumental, and other mellow-sounding things," Gonzalez said.
Gonzalez has more than a thousand downloads from SoundCloud and Bandcamp, he has done live free shows at art galleries in Pomona, and has even had his music played on KSPC, the Pomona College radio station.
While most freelance musicians play to make money, Gonzalez is more than satisfied playing for free.  "He keeps it real. West coast original. like Kanye," said junior Darathy Cheang, 20, art major.
When finished creating one of his beats, Gonzalez, also known as InvokeOne, will then upload it onto his Soundcloud, an audio platform that allows music connoisseurs to upload, record, and promote their own sounds. While on Soundcloud, his beats are admired and shared by his friends and by many of the Soundcloud community.
Although his beats typically range from only one to two minutes long, creating his beats is no simple process. The first step requires him to play chords on his keyboard while using Ableton, an online software used to make music. After that, he will then transfer the sounds to Fruity Loops (FL) Studio and add more sounds from his drum set. Finally, when the music is complete, he will upload it to Soundcloud and other music-sharing sites such as Bandcamp and Last.fm.
Gonzalez takes a critical approach to his work.
"I won't upload it if I don't like the beat," said Gonzalez. "If I hear chords I like, I'll mess around with them. Sometimes, as I'm hitting certain chords, I'll also hit certain emotions of mine that will reflect what the overall beat will sound like."
His musical prowess began during his freshman year of high school when his friend introduced him to his own beats.
"I heard his stuff through his phone and asked how he made them," said Gonzalez. "He told me Fruity Loops, I asked him if he could send me the link, and from there I started making my own stuff."
Musicians like J Dilla, Kid Cudi, Flying Lotus, and Ahmad Jamal help provide some of Gonzalez's drive to continue his musical artwork. But ultimately, it is the encouragement and support from his friends that amplifies his motivation to carry on with his passion.
"I really dig Mauricio's stuff," said junior Jose Aldana, 20, English major. "His music is innovative and when he gets into beast mode, he can do anything."
Besides predominantly creating music in the style of hip hop, neo soul, and chillwave, Gonzalez has also made electronic dance music (EDM).
"I've done other things besides hip hop," said Gonzalez.
"But the reason I stick to it is because it's my favorite genre. The hip hop culture has intrigued me ever since I was small."
Even with over a thousand downloads on music sharing websites, live performances, and a diverse palette of genres, Gonzalez still wants his listeners to turn to his music, free of charge, when life becomes dreary.
"I would like to do more shows in the future. Free ones though," Gonzalez said. "I don't really care about the money, I would just like for people to see music as a safe haven like I do."
---
---