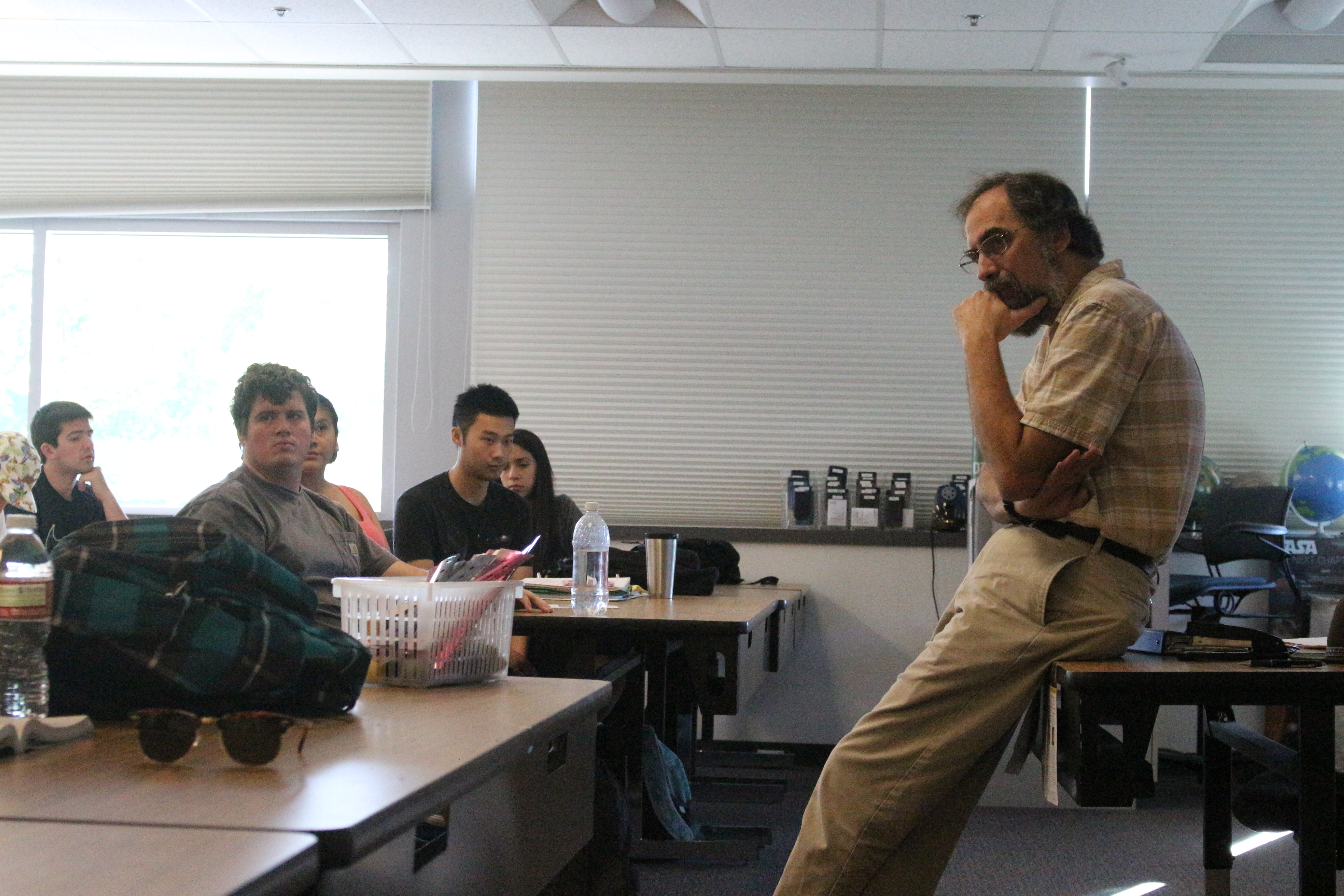 ---
Astronomy professor David Kary, Ph.D. carefully listens as one of his students speaks during his honors Planetary Astronomy class. Students in the class are challenged with engaging lesson plans and coursework developed by Kary in the effort to promote critical-thinking and problem solving proficiency. (Cameron Wisdom/Clarion)
By Cameron Wisdom | Staff Writer
The Distinguished Faculty Award recipient for 2014 is David Kary, Ph. D., professor of astronomy.
The Faculty Learning Institute annually recognizes a member of the Citrus College faculty who has been nominated by their peers. The criteria considered by the committee for each nominee include service to students, contribution to his/her field and contribution to Citrus College.
A faculty member since 1999, Kary has been deeply involved in various efforts to improve the quality and standards of education offered at Citrus.
Kary is a former chair of the Curriculum Committee. During his tenure, he oversaw the implementation and transition to CurricUNET, a software program designed to organize and manage curricula.
Kary also assisted the Curriculum Committee in developing the Associate Degree for Transfer curricula, a recent major success for the college.
"We are way ahead of most other colleges in the state in terms of getting these degrees developed and getting them approved," Kary said.  "We did a lot of work to get those degrees put together in divisions all across campus."
Kary believes the transfer degrees developed during his five and a half years as chair of the Curriculum Committee offer students a considerable advantage when applying to CSU campuses. The curricula were designed so that transfer students would not have to repeat classes once they reach the four-year level.
In the field of astronomy, Kary has played a major role in redesigning the classes from focusing primarily on memorization of facts to courses that generate student engagement.
In Kary's classroom, students can be found working closely with the professor and with each other on lesson plans that encourage them to be thoughtful and creative.
The students are often put into groups and instructed to create a plan to present to the other groups on how to adapt to a given theoretical or real-world situation relating to astronomy.
Charles Fisher, 29, a philosophy major, is enrolled in one of Kary's honors astronomy courses.
"He totally deserves this award," Fisher said. "I've already taken three honors classes, and this class set the standards for what I expected an honors class to be as far as the rigor, the depth of research, and his expectations and standards."
Even with Kary's high expectations for his students, his lessons are more challenging than they are intimidating, Fisher said.
Denise Kaisler, Ph.D, professor of astronomy, has been working with Kary since 2004. During those 10 years as the only two full-time astronomy professors at Citrus College, Kaisler has worked with Kary to develop learning programs that benefit their students.
"I'm actually really happy to follow his lead and learn from what he's doing," Kaisler said.  "One thing Dave and I are really on the same page about is student-centered learning… we want the students to discuss with each other, to do work, and to give presentations all inside the classroom."
"In astronomy and a lot of the other sciences here [at Citrus] we have really moved ahead to where we require students to do some critical thinking and be to able to  apply their ideas to things they may not have thought of before," Kary said.
Kary is known on campus for his diligent efforts to help students and faculty alike better understand certain aspects of the curriculum they might be working on.
"He's really generous with his time. So if somebody doesn't understand something, whether it's a student or another faculty member, he will patiently sit with them and explain to them in a way to help them better understand the topic," Kaisler said.
Kary is a positive, humble and dedicated teacher who consistently finds ways to make Citrus a better place to receive an education, Kaisler said.
Kary is recognizable for his Indiana Jones-like attire, especially his hat that looks vaguely similar to the one worn by the iconic professor from the Hollywood movie series.
Kary grew up in Vancouver, Canada. In the third grade he learned about the solar system and became fascinated with the subject.
As an undergraduate he studied at the University of British Columbia, and received his Ph. D. in astronomy from Stony Brook University in New York.
"Until I was well into college, I don't think I really knew what an astronomer's job really was as far as the career options go," Kary said. "It's pretty common for astronomers to teach unless you are involved with a major lab."
After graduating from the doctoral program at Stony Brook in 1993, Kary began to conduct research on planetary mechanics.
He also ran the Gladwin Planetarium in Santa Barbara before finally landing at Citrus 15 years ago.
"During that time [at the planetarium] we were doing lots of shows and community events and it was a lot of fun," Kary said.
Kary enjoys tending to his garden full of plant species native to California.  He decided to start the garden with his family to reduce the amount of water they use, a decision that reflects his environmentally conscious perspective.
Kary has recently developed an interest in astronomy-related music and often plays some for his students before class.
"Sometimes it even ties into the lesson plan for that day," Kary said with a proud smile.
He enjoys photography, and takes a great number of photos of his travels. He once planned a trip to take a cruise in the South Pacific to view a solar eclipse in the middle of the ocean.
Kary has spent his time at Citrus College not only shaping eager minds but also helping the campus and community grow and adapt to an evolving digital age. His persistence and relentless diligence in the art of teaching has benefitted thousands of students along the way.
His selection as the Distinguished Faculty Award recipient will be announced at the June 14 graduation ceremony, and his photo and biography will be printed in the commencement program. Kary will receive a plaque and his portrait and nameplate will be on permanent display in the Hayden Memorial Library.
---
---