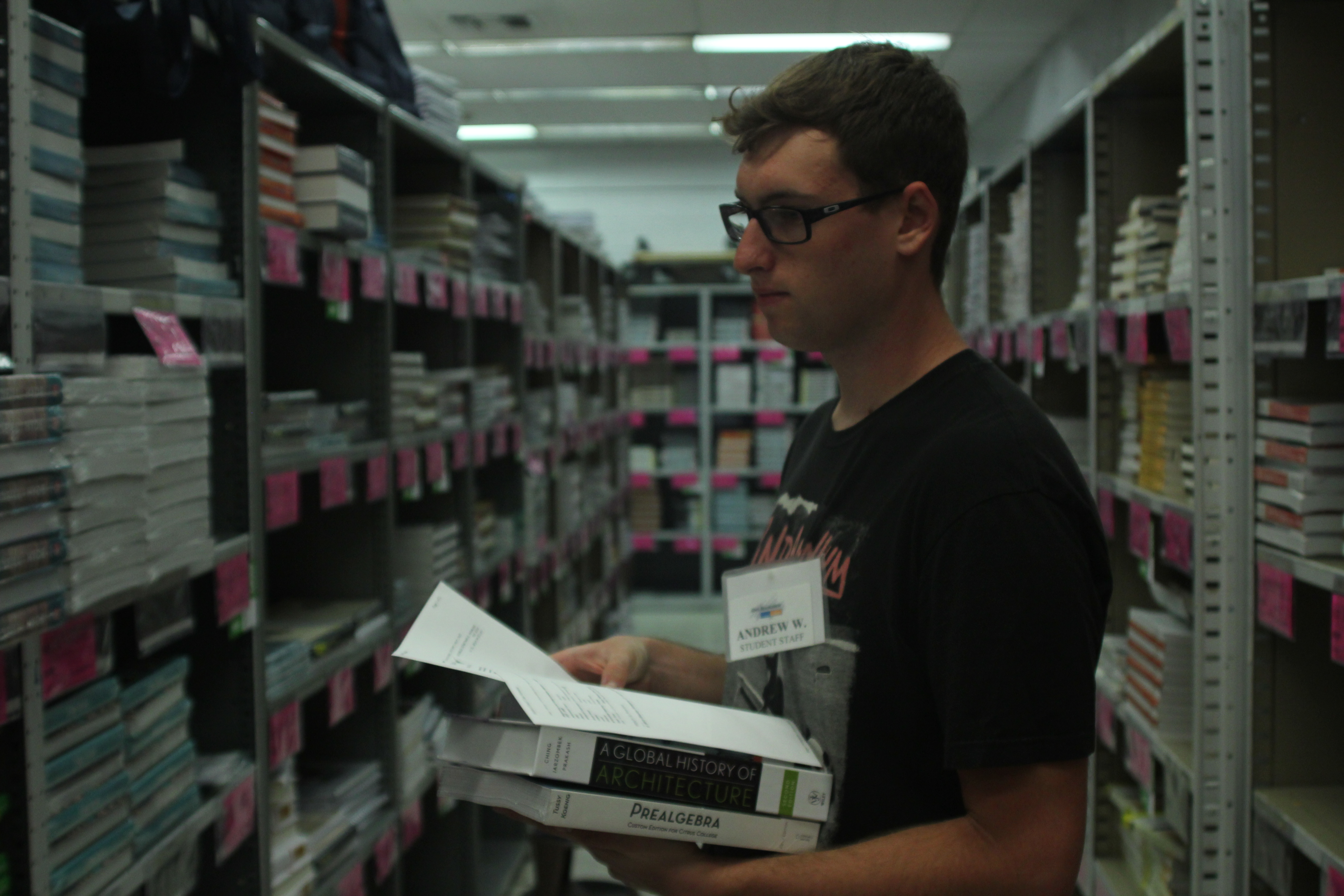 ---
Liberal Studies major Andrew Worley serves as a student worker stocking in the Owl Bookstore for the new semester. Student workers, like Worley will now be limited to a maximum salary cap of $9 per hour. (Macy Olivas/Clarion)
By Dillon Cooper | Sports Editor
The minimum wage in California was raised from $8 to $9 on July 1, 2014. With that change, the administration at Citrus made a change of their own.
Student workers at Citrus College will now be limited to earning a maximum of $9 an hour and will no longer receive raises.
Meanwhile, student workers currently making $9.25 will continue to do so until they are no longer employed at Citrus College.
"With the increase in the minimum wage, we decided it would be better just to pay one rate for all of our student workers," said Robert Sammis, director of human resources. "That way, beginning student workers don't have to work here three to four semesters to make more money."
Previously, student workers were able to receive raises based on how many semesters worked. Wages were also adjusted according to the skills and responsibilities of the position held.
Workers were able to make anywhere from $8 to $9.25 an hour.
"I understand that they can't really pay that much to student workers," said Campus Center host, Grant Wong. " Yet I feel like the longer you've been here it would be nice to get a raise."
"Part of our thinking was that it made no sense to have these different levels to the workers," Sammis said. "Most of the work that the students do across campus is fairly consistent in terms of levels of responsibility and duties." The minimum wage in California will increase to $10 an hour on Jan. 1, 2016. Meanwhile, Citrus plans to keep the freeze in effect for the
foreseeable future.
With the administration eliminating the possibility of raises, some students argue that the freeze will give them less incentive to work harder.
"Hearing that a raise cannot be given is disappointing," said former student worker Thomas Galapin.
"Mostly due to the fact that a person's work ethic is no longer going to be noticed, which could cause a lack of moral in the workplace."
While incentive to work hard may go down, Sammis said that he thinks students should work at Citrus for other reasons.
"The primary purpose of being a student employee is to gain some insight into what it's like to work and hopefully align somewhat with their educational plans," Sammis said.
"I hope the student workers know that we provide a good place to work at a fair wage, and hopefully it contributes to their knowledge and growth as a student."
Student workers use timecards, which are signed by workplace supervisors.
Citrus students can work no more than 20 hours a week.
While using timecards may seem outdated, Sammis states the administration thinks the system is working very well and that they have no plans to change it.
"Our students are a very valuable part of the campus, both as students and employees," Sammis said.
"We value giving an opportunity to students to earn money. We encourage as much student employment as we can."
---
---