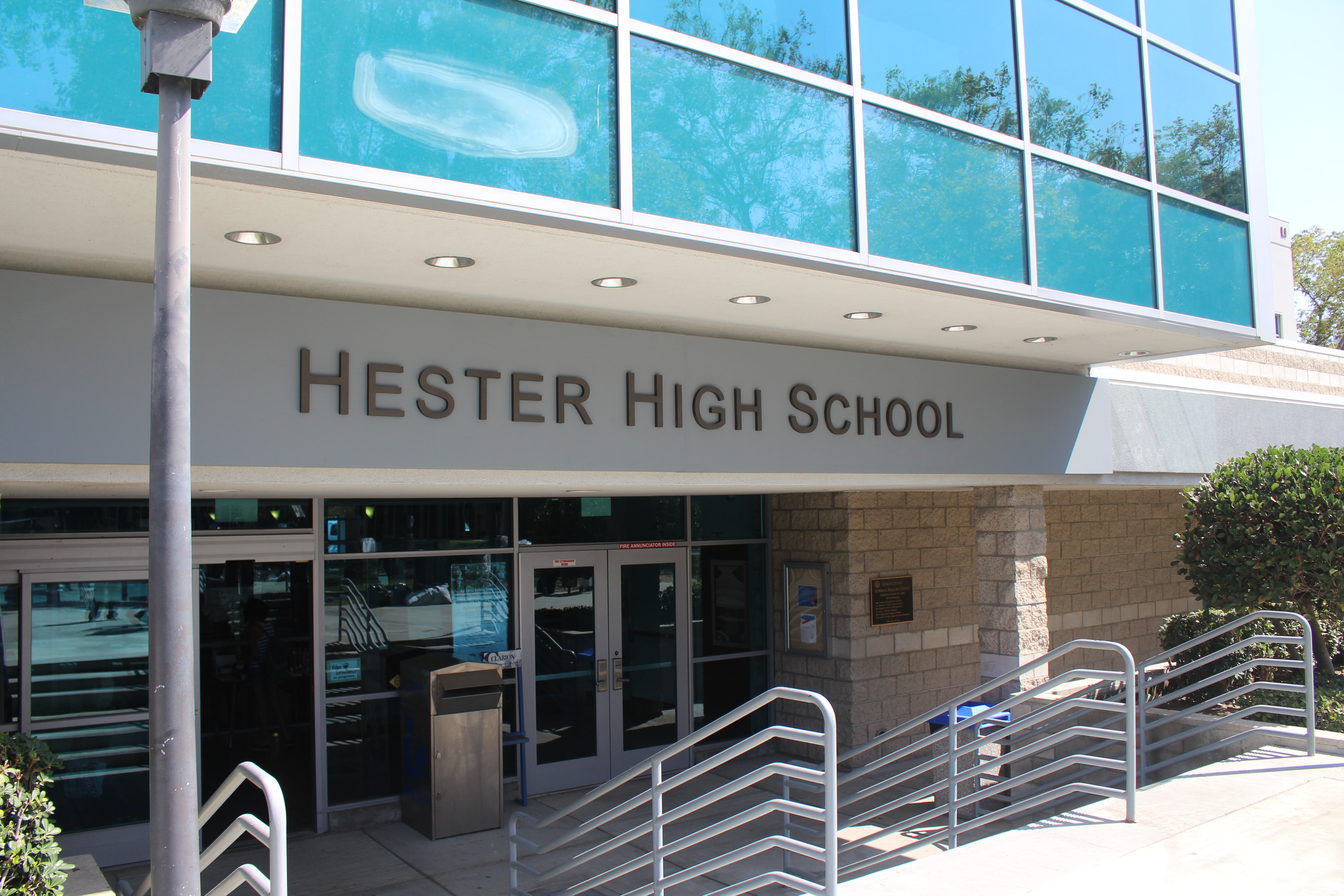 ---
The Hayden Memorial Library is known as the main building of Hester High School in the television show "Faking It." Filming for season 2 took place in the Campus Center Mall on August 22. (Evan Solano/Citrus)
By Sylvia Aparicio | Online Editor
Citrus College was once again transformed into Hester High School as production crews shot scenes last week for the second season of MTV's hit comedy "Faking It."
Katie Stevens (Karma), Rita Volk (Amy) and Gregg Sulkin (Liam) were among the cast members on location for the shoot.
"I like that the show is being filmed at Citrus College," said Matthew Lozano, 21, an early childhood education major. "It gives us, the students, a chance to see that our school is a high rated school for just about anything."
In season one, viewers watched Karma (Katie Stevens) and Amy (Rita Volk) pretend to be lesbians in order to gain popularity. However, as the lie progressed, so did Amy's realization that she wasn't just faking it. She had developed feelings for her best friend. The season ended with Amy confessing her attraction to Karma.
"Season one definitely left me hanging, so I will for sure be tuning in for season two," Lozano said.
"I am a huge fan of the show. Being different is popular at Hester High, but in the real world, being different is unique, and being like everyone else isn't really going to get you anywhere," Lozano said.
The Campus Center quad area and the faculty/staff lounge were rented for a one-day fee of $2,800.
"Interest has been expressed in shooting other days, but nothing has been finalized yet," said Judy Rojas, administrative services/facility rental supervisor.
Facilities rentals often are finalized only a week or so before the filming date, she said.
There is no estimate as to film rental income for the fall semester as rates vary based on location and time frame Rojas said.
"Faking It," which is set in Austin, was first shot on the Citrus College campus in late January and mid-February. The filming brought in $17,825 for the college.
Theater major Melissa Carmona, 20, met Sulkin during the filming of season one and met Stevens and Volk this time around.
"I love it," Carmona said. "It's such an experience seeing the cast and crew at our campus."
Since its debut in April, the show has gained popularity and won the Choice TV: Break-Out Show award at the 2014 Teen Choice Awards.
So far in 2014, "Faking It" has been the highest-rated new series for the network averaging with 1.4 million viewers each week, according to deadline.com.
"'Faking It' is so funny and real," Carmona said. "The two main characters are really likable characters, two teenagers going through real life issues that most high school students have to go through."
"They have a wonderful cast and overall the show is just quirky and original," Carmona said.
The 10-episode second season is set to premiere Sept. 23 on MTV.
---
---