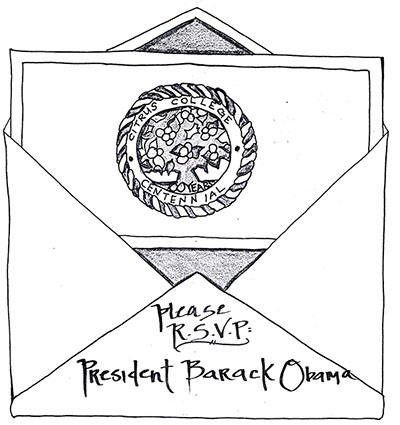 ---
(Stacy Slaughter/Clarion)
As Citrus College's centennial anniversary approaches, the college should celebrate in a big way… by inviting President Barack Obama to speak at commencement.
As the oldest community college in Los Angeles County and fifth oldest in California, Citrus College represents 100 years of dedication to educating its students and preparing them to graduate with the essential skills for a career.
Since taking office, the Obama administration has stressed the importance of community colleges as an affordable way for adult learners to build skills and earn credentials that will help us succeed in the workforce.
We are proud of our institution because it represents all aspects of the administration's expectations for community colleges.
In 2012, the administration announced $500 million in community college grants to expand job training in local businesses.
In July 2013, the White House proposed the American Graduate Initiative as a way to help community colleges create partnerships with local employers and other educational programs to build essential skills.
Citrus has successfully created career technical programs aimed at specific skill development in careers such as nursing, automotive technology and cosmetology to quickly and effectively prepare students for immediate employment opportunities.The college also opens doors for student opportunity through facilities such as the Veteran Center, Disabled Students Programs & Services and study abroad programs.
As a Hispanic Serving Institute with an ethnically diverse student population, Citrus makes the perfect venue for the president to speak.
Having spoken at UC Irvine's commencement ceremony for its 50th anniversary as well as Los Angeles Trade–Technical College to address the importance of skills training for future career opportunities, it is time for the president to make a much-deserved trip to Citrus College and celebrate our 100-year anniversary with us.
---
---