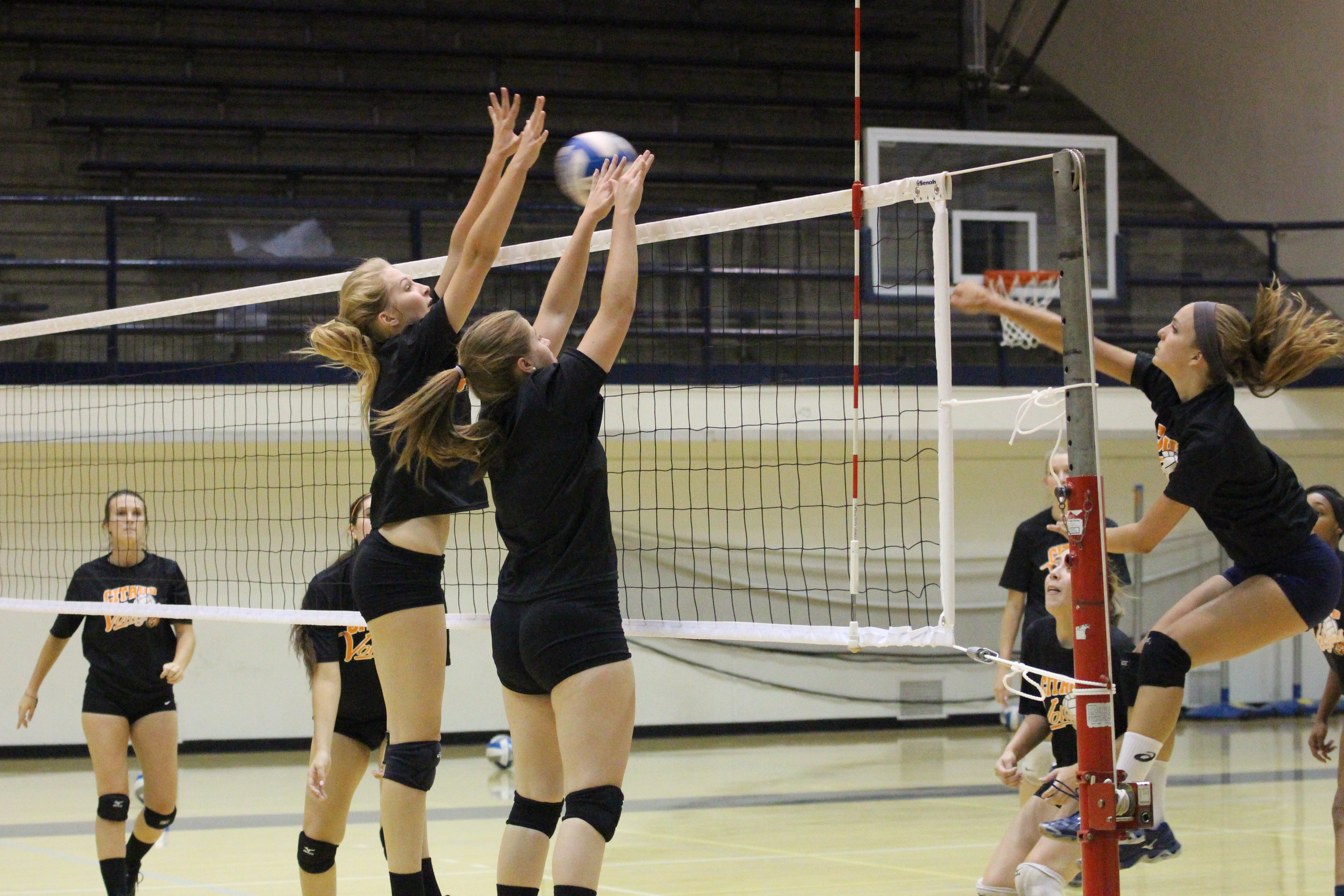 ---
Middle blocker Cassandra Freitag and freshman setter Jackie Hall block the ball during a practice scrimmage. The Owls first home game is today at 6 p.m. (Evan Solano/Clarion)
By Careesa Campbell | News Editor
By Danielle Carlson | Staff Writer
The Owls volleyball team takes on their first pre-season match against Cypress College today at 6 p.m. in the gym.
Now in his 8th season with the women's volleyball team, Coach Shin Jung described this team of 12 players as seasoned, with most having several years of club volleyball experience prior to entering college.
Jung said his players have been working on consistency and assertiveness.
"Slowly but surely we have improved in all aspects of volleyball," he said.
"I'm expecting this team to be more consistent than last year's team."
In fall 2013, the Owls had a 15-9 overall win-lose record, compared to a 14-9 overall in fall 2012.
Freshman setter Kristen Fox, 18, said she likes how hardworking the team is.
"I think we get the job done," Fox said. "We're still pretty new, but we're getting a lot better at working together."
Four players from the fall 2013 season are returning to the fighting Owls.
Sophomore Kaylee Johnson, an outside hitter, said she has high expectations for this season.
"We gel really well as a team," she said. "Hopefully this year we can get some big wins."
Returning middle blocker Cassandra Freitag, 19, said her teammates are connecting on and off the court.
"We have gotten closer this year faster than we did last year," Freitag said. "We actually trust each other more on the court, so we've gotten a lot more team chemistry."
Freitag said that the team's devotion to the sport is apparent.
"I love the intensity," she said. "People actually want to be here and love the sport. It's really refreshing to be around people who share the same passion as you."
Freitag said that the team has the skills to make it to state, but lack of motivation can sometimes get the better of them.
"With volleyball you just have to force yourself…to do anything it takes and have that will to win," she said.
Although the team has a strong offense, the women are struggling with their offensive serve-receive, Johnson said.  Jung agrees.
"Every year, the most important thing about a volleyball team is serve-receive," he said. "That is something we have to improve by a thousand percent."
Last season, the Owls averaged 14.2 points per set; lower than the fall 2012 season's average of 14.6 points per set. Jung said that every season, he has two expectations: winning conference and going to playoffs.
For the second year in a row, the fall 2013 Owls made it to the California Community College Athletic Association Southern California Playoffs but they lost to host Santa Barbara City College after four close-point sets in the first round of the CCCAA playoffs.
"I think we'll be able to get to the second round, and maybe get to state this year," Jung said. "This is a very good team."
The Cypress Chargers began their season Sept. 3 with a win against Mira Costa College.
The fall 2013 Chargers had a 16-8 overall win-lose record, averaging an overall 17.4 points per set.
Jung said he is looking forward to seeing how well these women will compete against another team in a game setting.
"This season is all about them. It's not about anybody else," Jung said. "They cannot have any fear of winning." The volleyball team has 11 home games this season.
The Owls first home game is Sept. 10 at 6 p.m. against Cypress College.
---
---