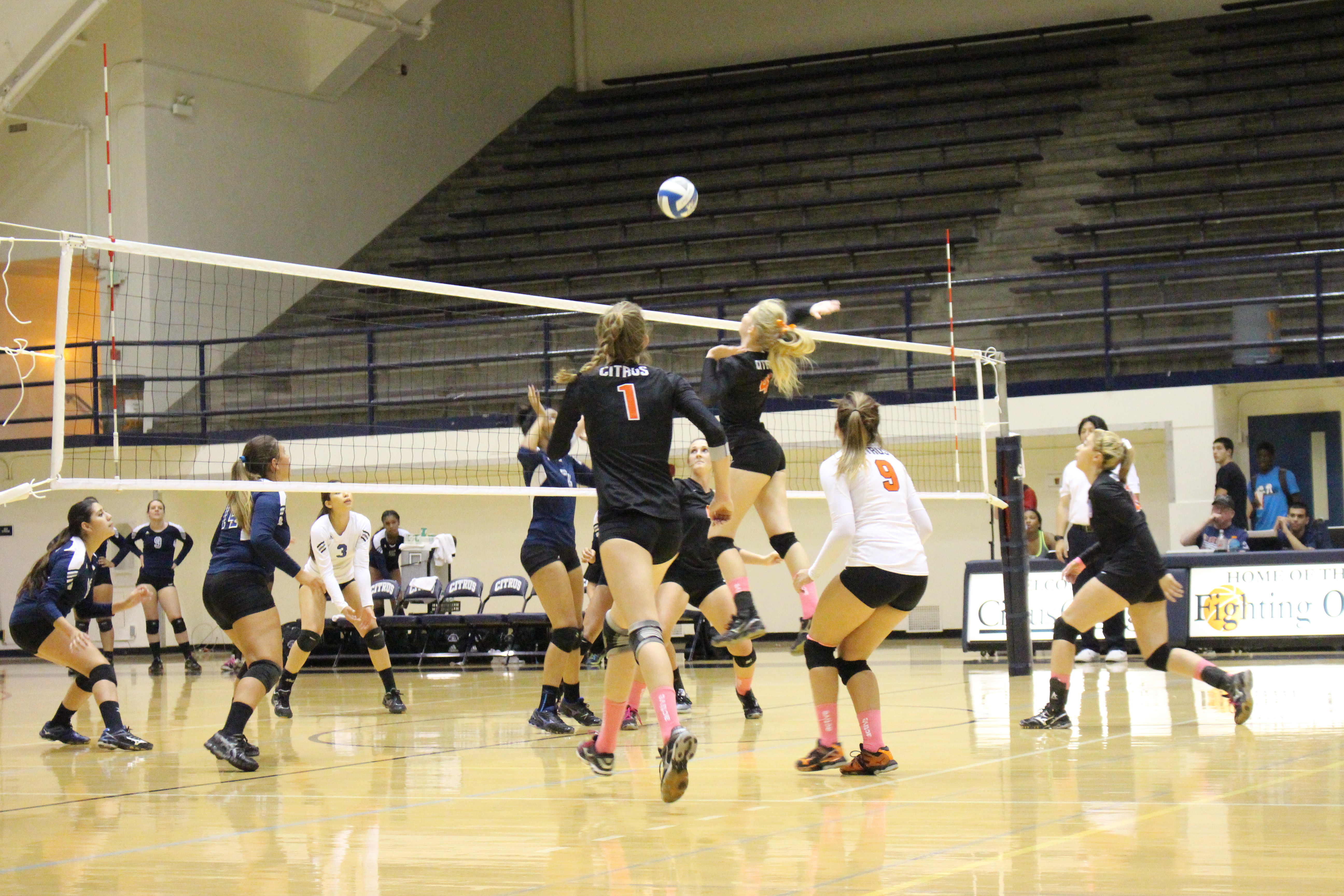 ---
Cassandra Freitag sets a serve up as the Citrus Owls took on the Santa Monica Corsairs.
(Stacy Slaughter/Clarion)
By Mercedes Del Real | Staff Writer
Tough night for the fighting Owls resulting in a loss against the Santa Monica Corsairs with scores of 19-25, 27-29 and 20-25.
The beginnings of the first match started off well with the Owls in the lead 3-0, but as the match continued on continuous rallies were fought back and forth from both teams.
Our Owls toward the end of the match struggled with getting side outs and unable to get passed one serve.
Leaving themselves hanging with a score of 19-24, Owls outside hitter Kaylee Johnson serves the ball over where the Corsairs setter, Aybike Topuz, sets the ball up for Greta Schmittdiel, the Corsairs outside hitter, for a kill leaving match one with a score of 19-25.
Match 2 was just as stressful for both teams.
At the end of the match the Owls and Corsairs were neck and neck with back-to-back side outs restricting either team from coming up with the two-point lead they needed.
The Owls right side hitter hits the ball out of the lines ending the match 27-29 with the Corsairs for the win.
The third match was the roughest for the Owls.
They were left behind trying to catch up to the Corsairs, but couldn't pull it off in the end leaving the third match to the Corsairs with a score of 20-25.
There is no doubt that our fighting Owls had a tough night, but head coach Shin Jung has faith that his team can pull off a split when they come to face Santa Monica again.
"We have to get ready for the next match and see what we can do as far as split with them. Overall we fought well, but they were better than us tonight," said Jung.
As for the Corsairs head coach Nicole Ryan is very pleased with the outcome of tonight's game for her team.
"We're on a wonderful winning streak right now. We're working hard. They deserve it and I am happy for them," said Ryan.
In order to prepare for their next match Jung said that the team needs to work on sustaining the mistakes they make and working hard and practicing.
The Owls next match is away Friday Oct. 17 against Bakersfield College at 6 p.m.
---
---