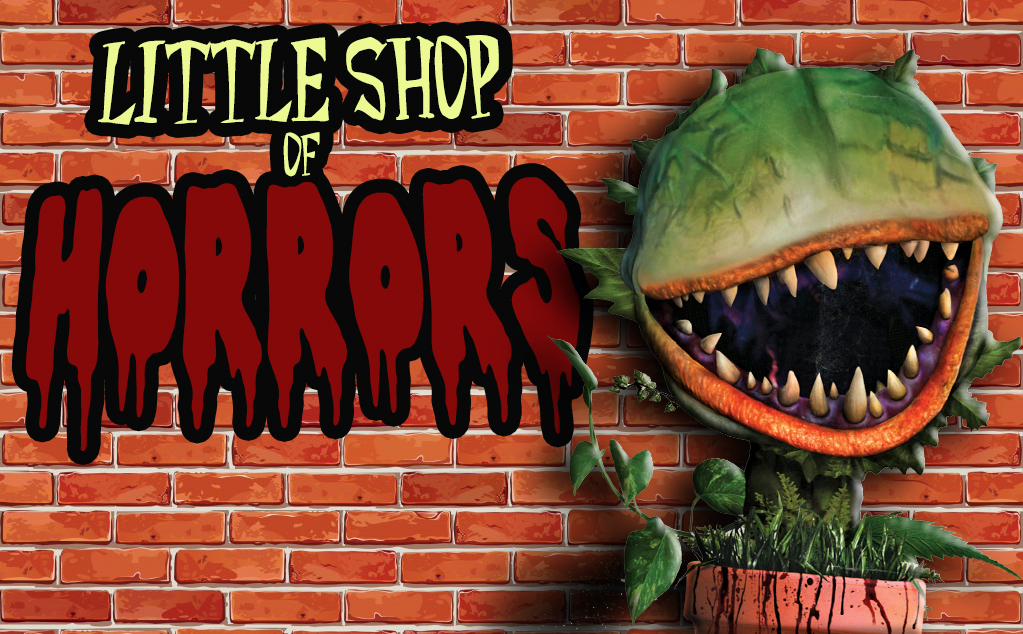 ---
Audrey II is the "star" of the hit musical "Little Shop of Horrors."
The people-eating Venus flytrap belongs to plant shop employee, Seymour Krelborn. (Photo illustration by: Evan Solano/Clarion)
By Katie Jolgren | Staff Writer
There is no better way to spend Halloween night than by watching a campy, gore-filled musical about a flesh-eating plant that poses a deadly threat to the human race. So goes the delightfully gruesome tale of "Little Shop of Horrors," written by Howard Ashman and composed by Alan Menken.
A hapless florist shop worker on skid row accidentally raises a flesh-and-blood eating plant. Dazzled by the possibility of fame and fortune, the shopworker leads many unsuspecting individuals to their untimely deaths. The story takes the audience through the life of Seymour Krelborn, a down-and-out orphan working in Mushnik's flower shop with Audrey, his tacky-yet-pretty love interest. Seymour has no hopes for a bright future until the day he stumbles upon a strange looking plant and decides to raise it, naming it Audrey II. "Seymour is very self-conscious and a geeky stereotype who doesn't want to step on anyone's toes," said Brandon Jenkins, a third-year Citrus Singer who plays Seymour. "But as the show progresses, we see Seymour gets backed into a corner."
This dark comedy plays off the gritty vibe of its setting with doo-wop inspired musical numbers, including "Little Shop of Horrors" and "Skid Row (Downtown)". The show opens with Chiffon, Crystal and Ronnette, the street urchin members of a 1960s girl group trio. Perhaps the most interesting part of the show is when the use of the puppets as Audrey II, start growing. Operated by several puppeteers during its growth stages, the plant eventually becomes large enough to swallow a man whole. Actor Jeramiah Calhoun, third-year Citrus Singer, is the voice of Audrey II. While he plays one of the most significant characters onstage, the audience never sees Calhoun. "It's weird to be singing for a puppet, to be the voice of something else," Calhoun said.
"You don't need to be shy, the audience doesn't see you, only the plant. "You really need to put all your passion and focus into your voice," Calhoun continued. "It's not easy. You have to do the part justice." With fewer than 30 members in a cast comprised solely of Citrus Singer students, professor John Vaughan, the show's choreographer, said the quality of the performance will be top-notch. "I was very lucky in that I was able to secure the Broadway set and costumes for this show," Vaughan said.
"We're really saved by the Broadway set. In 2003 there was a Broadway revival where everything got bigger and better so it fits perfectly on the Haugh stage. Production value is going to be out of the ballpark." The show delivers its fair share of laughs, and the actors appear to be enjoying themselves onstage. "Despite the endless dark references and the negative aspects of the show, it's truly fun and funny," Jenkins said. "It's been a really cool experience to be a part of."
To round out Halloween weekend, catch "Little Shop of Horrors" on the Haugh stage Friday, Oct. 31, at 8 p.m. and Sunday, Nov. 2, at 2 p.m. Tickets may be purchased at the Haugh box office or at www.haughpac.com for $22 for the public, $20 for students/seniors and $15 for ages 16 and under. "This show is over-the-top, campy and fun," Vaughan said. "Even though it has a dark story line to it, it's perfect for your Halloween."
---
---