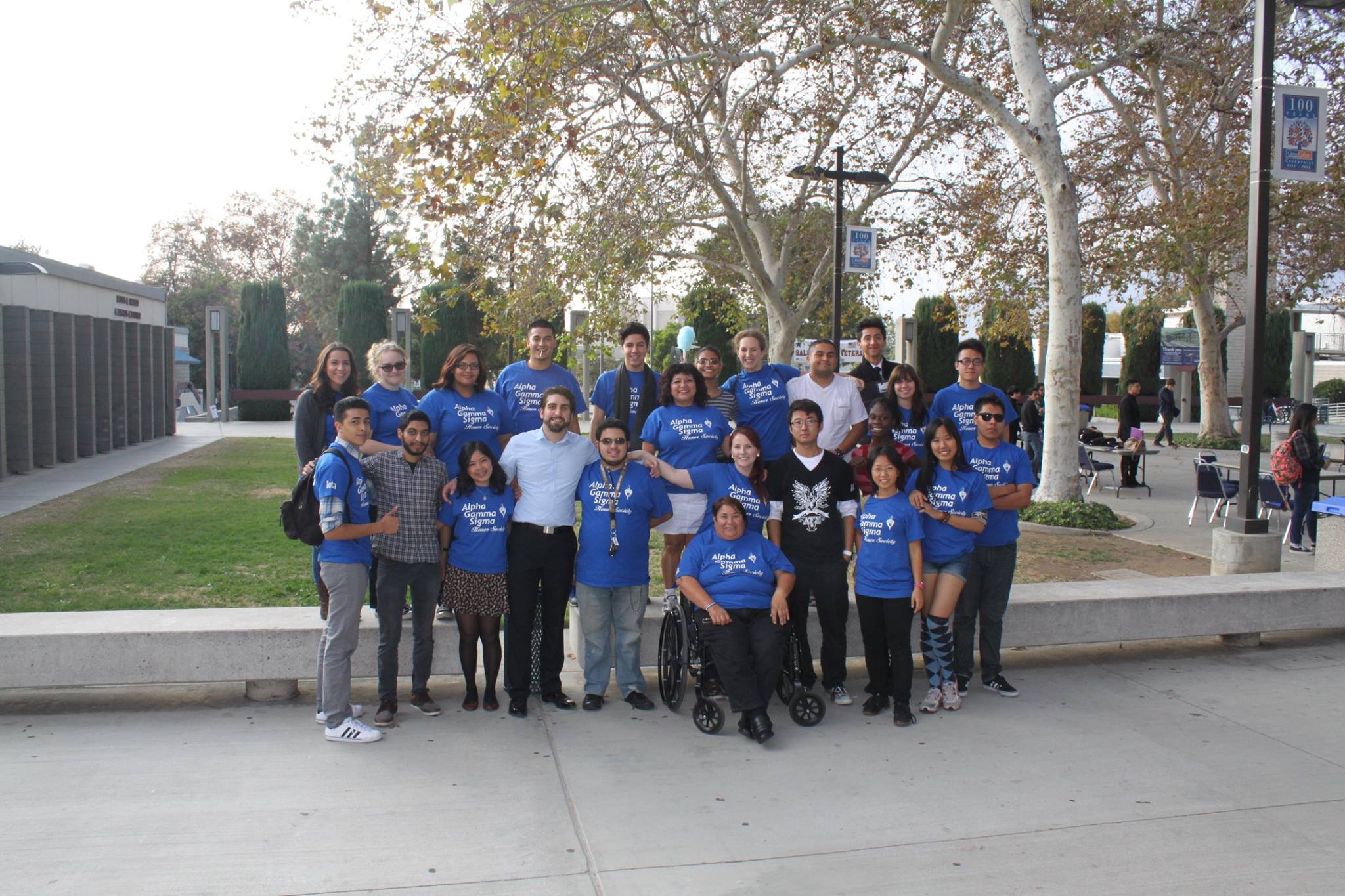 ---
Citrus College's Iota Chapter takes a group photo before their Fall Regional Southern Conference. (Facebook)
By Danielle Carlson | Staff Writer
Around 300 honor society students came to Citrus to network and exchange ideas at their annual Southern California conference.
The Citrus chapter of the Alpha Gamma Sigma honor society hosted the Fall 2014 Southern Regional Conference Nov. 15 to acquaint its members with students from other community college chapters.
Students from Mt. San Antonio, Pasadena City, Golden West and Santa Monica colleges were represented at the event.
Since its founding in 1926, the AGS honor society has encouraged the development of community college students through programs that offer cultural, social, or enrichment experiences. The conference provided all three opportunities.
"It is an exciting day," said club adviser Andrea Mullen "It is a tradition. They have been holding conferences and conventions since 1936."
Citrus College's own Iota Chapter sponsored workshops on topics such as: PC vs Mac, hosted by club advisers Art Corral and Jennifer Jennings; mental health hosted by Citrus crisis counselor Steve Avalos; and a hip-hop workshop hosted by Citrus student Julie Gongwer.
"We send members to network about what they do, how they raise money and how they run their chapters," Mullen said.
The theme of this year's convention was, "We've Got An App For That," said Citrus College finance major Jack Liu, president of AGS.
"This theme focuses on social media and the importance of protecting yourself from the Internet and untrustworthy sources," said Liu, 23.
At the conference students from various chapters shared their goals and exchanged community service ideas.
"After this convention, I'd like us to go back to focusing on community service," Mullen said, "I'd like very much to get involved with the special Olympics or maybe Habitat for Humanity."
Matthew Garcia, public relation director of AGS, said his goal is to raise awareness of homelessness and create 1,000 emergency backpack kits for the homeless.
A secondary goal is helping the AGS crew feel more like a family than a club.
"I want students to know how AGS will help them transfer to a university instead of just seeing it as a club on campus." Liu said.
What distinguishes AGS at Citrus is the emphasis on community service and giving back to the general public, in addition to scholarly activities.
To join the AGS students you must have earned at least a 3.0 GPA. To graduate as a permanent member, students need a GPA of 3.25 or higher.
"I like AGS because it allows people to have a voice," Garcia said, "You can come in with your interests and your passions, and people will hear you. It also gives you a medium so people can help you. It is a resourceful club."
Alpha Gamma Sigma general meetings are held Fridays at noon in the Executive Board Room in the Ross L. Handy Campus Center.
For more information, go to the AGS Iota Chapter website: http://www.agsiotacitrus.org
---
---