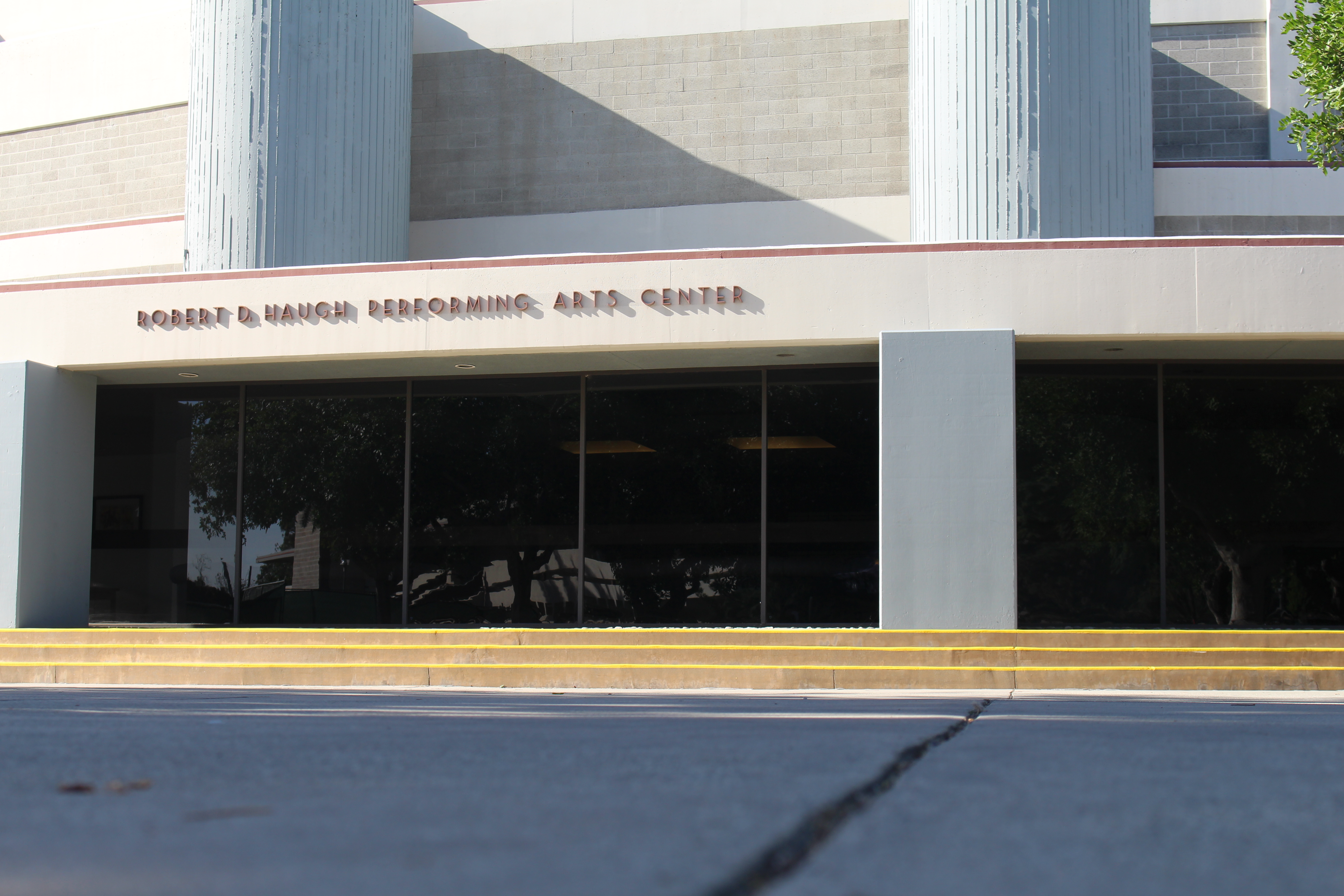 ---
California officials have released the finalized map of the Sierra Madre fault zone and estimated fault lines. The estimated fault line goes under the 1,400-seat Haugh Performing Arts Center, which was built more that 40 years ago. (Evan Solano/Clarion)
State geologists have redrawn the earthquake fault maps for Los Angeles County, placing Citrus College directly over the Sierra Madre fault line.
By Katie Jolgren | Staff Writer
Construction projects at Citrus College may be impacted by earthquake restrictions on development with the recent release of maps of the Sierra Madre fault zone.
The California Geological Survey released its official final mappings of earthquake fault zones in the Azusa Quadrangle on Nov. 6.
The maps detail the approximate locations of the Sierra Madre fault zone and the Duarte fault.
The Azusa Quadrangle is the geomorphic boundary between the San Gabriel Mountains and the valleys to the south, including the cities of Duarte, Azusa and Glendora. The Sierra Madre fault zone stretches 125 km along the base of the mountains.
"You can't predict what is going to happen so you do the best you can and you follow all the rules which is exactly what Citrus does. Safety is number one."

-Fred Diamond
director of facilities and construction
Under the Alquist-Priolo Earthquake Fault Zoning Act, earthquake fault zones encompass hazardous faults, which are defined as sufficiently active and well-defined.
For a fault to be considered hazardous, a fault must have exhibited displacement within the last 11,000 years and be traceable by a trained geologist.
Under the APEFZA, a setback or no-build zone must be delineated around an active fault. The no-build zone is set at a minimum standard of 50 feet.
"The point of these studies is to ensure that buildings are not directly on the surface where a fault may rupture," state senior engineering geologist Jerry Treiman said.
"The fault has been mapped and may be active, we know it moved in the last 100,000 years though it was likely in the last 12,000."
The final mappings from the CGS demarcate that the Sierra Madre Fault may run directly beneath the Haugh Performing Arts Center.
Completed in 1971, the HPAC was not subject to regulation under the Alquist-Priolo fault zoning program, which became law in 1972.
While the Haugh was not subject to the Alquist-Priolo program, it was under regulation of the Field Act, which was one of the first pieces of legislation that mandated earthquake-resistant construction, specifically for schools in California.
"That's the point of requiring geological projects for schools, it goes back to the Field Act of 1933," Treiman said. "All schools are required to invest in research specifically for surface rupture."
In a report published by the CGS in December 2013 detailing a study from 2007, trenches were dug east and west of Barranca Avenue in search of discovering evidence of a fault.
"A California Geological Study was done at Citrus in 2007," said Patricia Rasmussen, Ph.D., president of the Board of Trustees. "An independent geotechnical engineering firm concluded that 'no evidence of tectonic deformation was observed.'"
"Before Student Services was built, a very large trench was dug to observe fault activity. None was found," Rasmussen said.
"A study…west of Barranca found no evidence for a fault," the California Geological Survey report stated. "These trenches crossed the approximate projection of the groundwater barrier found to the southwest at Citrus College."
However, the report also says that the "principle traces of the Sierra Madre Fault…are recommended for zoning as they are well-defined…and active." Nevertheless, construction of the Fine Arts and Communications Building are underway.
In order for Citrus to be permitted to construct new buildings on campus, there must first be approval from the California Geological Survey and the State Geologist. Citrus must then go through the Division of the State Architect and incorporate any findings into the structural engineering of a new building.
"As a public agency, Citrus College obtains all necessary approvals from the California Geological Survey and the Division of the State Architect prior to engaging in any significant construction project," said Paula Green, a spokeswoman for the college. "Citrus College continues to ensure that it is compliant with all DSA building and safety standards."
The release of the mapping will not affect the current construction of the Fine Arts and Communications Building as it does not directly lie on a fault and is clear of the 50-foot no-build zone.
"There won't be any change on the Art Center whatsoever," said Fred Diamond, director of facilities and construction. "All of the new building had to go through CGS in order for us to get approved to build anything on campus."
Until further evidence of a fault is found, there will be no effect of the mappings felt at Citrus. "You can't predict what is going to happen so you do the best you can and you follow all the rules which is exactly what Citrus does," Diamond said. "Safety is number one."
---
---