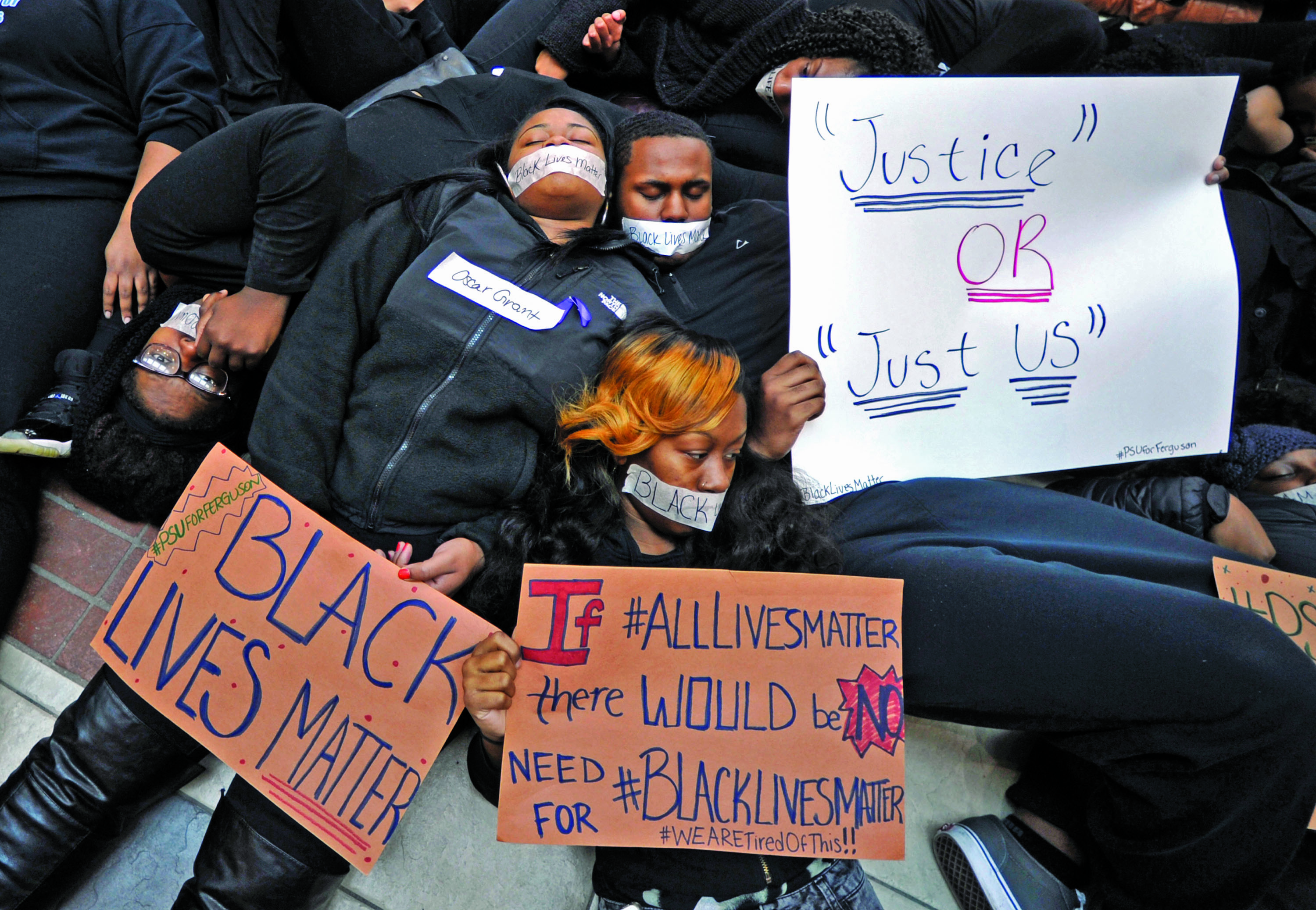 ---
Penn State students unite for a civil protest following the events in Ferguson, MI., on Dec. 2. Dressed in black, the students laid across the floor of the HUB building holding posters that read "Black Lives Matter." (Courtesy of Tribune News Service)
By Pat Cordova-Goff | Staff Writer
A quick look back of 2014 brings to mind stories, memories, laughs, and always many lessons that can be interpreted in many ways.
Musical artists of all genres kept viewers on the edge of their seats, continuously battling to boost sales, fill headlines, and "one-up" each other.
From catchy tunes, to jaw-dropping music videos, YouTube became the platform of record-breaking performances. In late May, Psy's "Gangnam Style" became the first YouTube video to hit 2 billion views. Nicki Minaj, award-winning female rapper, would later take on VEVO record-holding Miley Cyrus with Minaj's release of "Anaconda," racking up 19.6 million views within 24-hours.
Musical power-couple Beyonce and Jay-Z shattered their own records with the 19 show "On the Run" tour grossing approximately $100 million in ticket sales, selling at more than 90 percent capacity, according to tour producer Omar Al-Joulani.
Individually, Beyonce also shook the music industry releasing her self-titled album, with no prior publicity, late last year. Columbia Records reported the total album sales within the first three days peaked at over 820,000 downloads.
The only clear lesson we can take away from 2014's musical record breakers is that when it comes to creativity, today's artists continue to shock but also entertain millions, sometimes billions of viewers.
The entertainment industry's past year has not been without usual run-ins with the law. Bill Cosby, star of The Cosby Show, has been recently accused by multiple women, including model Janice Dickinson, of sexual abuse. Allegations have included mention of Cosby drugging victims, and proceeding to rape. To date, 16 women have come forward to accuse Cosby of sexual abuse.
Cosby has since resigned from the Temple University Board of Trustees. TV Land has pulled all reruns of The Cosby Show, and NBC reportedly halted the developing of a sitcom that had been in process with Cosby,
In sports, Germany's soccer players showed that "home field advantage" is not enough to ensure victory. With the Brazilian soccer team claiming that they were "destined to win" the 2014 World Cup hosted by their country, they were publicly humiliated in a 7-0 defeat. Their German opponents scored three goals within a six-minute span, and two more goals within the first 30 minutes.
The world took note that over confidence on any field of play can lead to disaster.
Germany would go on to win the FIFA World Cup after a championship victory over Argentina, 1-0.
In international relations, 2014 demonstrated that terrorism is not only still alive, but also on the rise. President Obama led the charge against the Islamic State of Iraq and the Levant. In a Sept. speech, he outlined his decision to increase US military involvement against ISIL in Iraq and Syria.
"I have made it clear that we will hunt down terrorists who threaten our country, wherever they are," Obama said.
"That means I will not hesitate to take action against ISIL in Syria, as well as Iraq. This is a core principle of my presidency: if you threaten America, you will find no safe haven."
Violence in 2014 also occurred on the home front. The Aug. 9 killing of Michael Brown in Ferguson, MI. sparked protests against excessive police force throughout the country. The grand jury's decision not to indict police officer Darren Wilson intensified the violence and unrest.
Brown's death, as well as similar cases, demonstrates the continued divide between the experiences of white Americans and that of people of color, particularly black Americans.
The queer civil rights movement made headlines, with 19 additional states now legalizing marriage of gay and lesbian couples. Internationally, Mexican states have also begun to recognize same-sex marriage, alongside Luxembourg, the 17th country to legalize it globally.
The international headlines were not just filled with progressive stories however.
In fall of 2014, the outbreak of the Ebola virus in West Africa put all medical examiners on watch. The spread of the deadly disease resulted in history's largest Ebola epidemic affecting multiple countries.
The virus was transported into the United States on Sept. 30 with the first diagnosed case in Dallas, TX. By Oct. 23, only four Americans had tested positive for the virus, with the first case being the US's only death.
In total, Ebola has claimed the lives of nearly 6,000 individuals.
On a national level, Republican party candidates swept the Nov. 4 midterm elections taking control of the Senate, and retaining control of the House of Representatives, winning nearly every contested race across the country.
California voters however, used the midterm elections to re-elect Governor Jerry Brown for an unprecedented fourth term; this was the first time in the state's history. California Democrats also retained control of the senate and legislature.
For Citrus College, 2014 was also a milestone, as the Centennial celebrations officially began. The Oct. 11 Homecoming Game was the first of several events devoted to recognizing the college's first 100 years.
As the 2014 countdown continues, we remain conscious of the moving society we live in and its daily events.
Those mentioned here and not, serve to act as memories of good times, lessons from not so good times, and an overall collage of the last year of our lives.
---
---