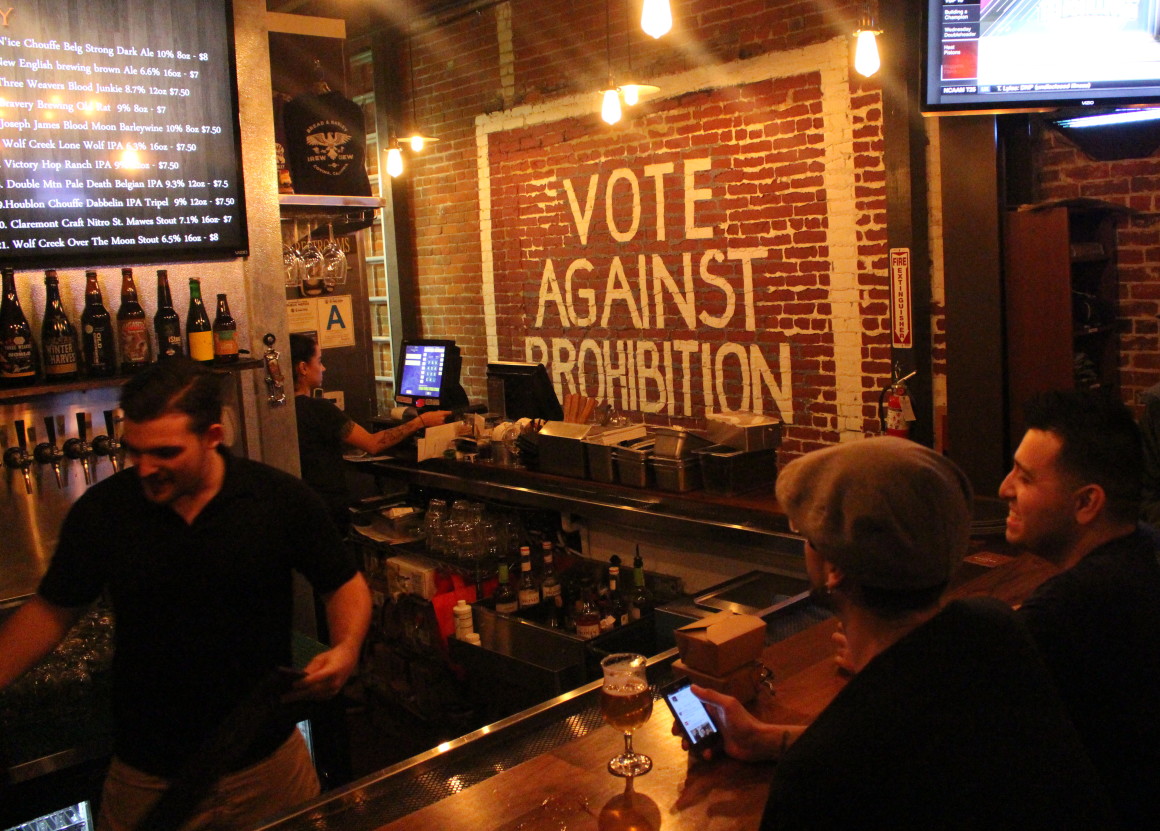 ---
Travis Johnston, server at Bread & Barley attentlively tends to guests sitting at the bar area of the restaraunt on "Trivia Night." Bread & Barley has six stools in the bar where guests get a close-up view of the electronic menu and freshly poured brews. (Evan Solano/Clarion)
Gastropub Bread & Barley has brought life to the quiet streets of Downtown Covina on Trivia Nights with the intent to educate and expose the public to craft beer.
Every Tuesday at 8 p.m., the Bread & Barley "Trivia Night" brews up friendly competition among locals, foodies and beer connoisseurs. Quizmaster Austin Floyd of bar trivia experts "King Trivia" provides the night's entertainment making this free-to-enter experience both fun and informational.
Trivia questions range from general knowledge, geography, celebrity facts and pop culture. The race to pub glory and prizes varying from gift cards to free rounds of beer, becomes much more interesting with some of the finest craft beer Bread & Barley has to offer.
Beers not to be overlooked are the Houblon Chouffe Dobbelen Tripel, a well-balanced Belgian-style IPA with an expressive fruitiness and Fall Brewing Company's "2 a.m. Bike Ride," a coffee and vanilla bean stout, recommended for any coffee lover.
Bread & Barley offers guests more than 20 beers on tap rotated frequently in addition to a number of bottled brews. From various types of barley wines, ales to stouts and porters to choose from, Trivia Night at Bread & Barley will surely change anybody's idea of a typical Tuesday night, especially with the quality that can be savored in every sip at no more than $9.
Bread & Barley not only caters to the beer snobs chasing after the hoppiest, richest or rarest brews to satisfy their palettes but it also offers a decent selection of red and white wines that would complement any of their gourmet dishes. Guests have the option to try various dishes like the "Bread and Barley Burger" made with house-made mustard aioli and Gruyere cheese starting at $12, to starters such as the Papas Bravas, (sautéed potatoes served with chili paste & lemon) that are so satisfying they might as well be the main course item.
Bread & Barley has a rustic ambiance that takes guests back to 1920s Old Town Covina with its interior of exposed brick walls and salvaged wood tables. The venue commemorates a piece of the United States' history with Prohibition era propaganda such as the "Vote Against Prohibition" slogan, posters and a huge antique American flag that cannot be missed.
No gastropub is complete without some great tunes and Bread & Barley does not fall behind on this. While contestants ponder on "King Trivia's" questions, guests can indulge in the sounds of the likes of Phantogram, Of Monsters and Men, Ratatat and MGMT, all the while three large television screens play the latest in sports and news.
Since its inception in 2013, Bread & Barley has catered to beer enthusiasts while educating those new to the burgeoning craft beer culture and created a unique piece of Americana in the heart of Covina.
Bread & Barley also hosts live music, monthly bottle shares and "tap takeover" events by craft breweries. They also plan on adding a Thursday college night where students may play board games and get discounts upon presentation of a valid student ID.
Bread & Barley's next event is "Abita Brewing Mardi Gras," a New Orleans themed masquerade contest taking place on Feb. 19 at 6 p.m.
---
---