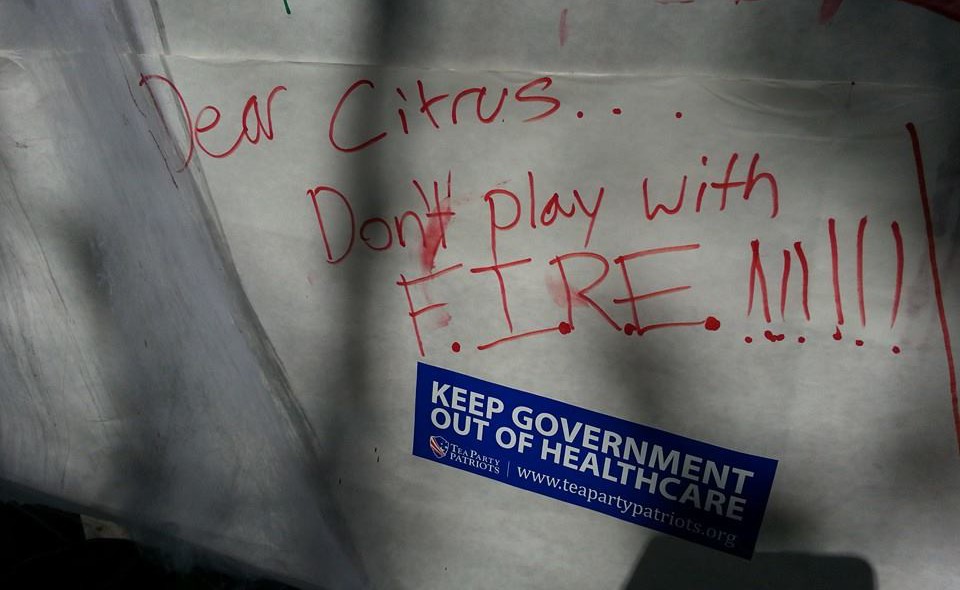 ---
Students were encouraged to sound off on the "Free Speech Wall" set up by Young Americans for Liberty during Club Rush on Sept. 16 – 17, 2014. (YAL Facebook page)
After a recent lawsuit from a free speech advocacy group on behalf of a Citrus student, the college has decided to pay an $110,000 settlement and have been forced to change its free speech policy for the second time in a decade.
Vincenzo Sinapi-Riddle, a computer science major and president of the Citrus College chapter of Young Americans for Liberty with the help of  free speech advocacy group Foundation of Individual Rights in Education filed the lawsuit in July of 2014 after Sinapi-Riddle was threatened with removal from campus for soliciting signatures outside the campus free speech area in September 2013.
"I wasn't aware of how [the free speech area] was being enforced until that moment," said Sinapi-Riddle recalling the moment when an administrator confronted him and threatened to kick him off campus.
This recent lawsuit filed by Sinapi-Riddle as part of FIRE's "Stand Up For Speech" litigation project, marks the second time Citrus College has been embattled with the nonprofit organization.
"Citrus College agreed to eliminate its restrictive 'free speech zone' in the face of a FIRE lawsuit back in 2003, but later reinstated its speech quarantine when it thought no one was watching," the president of FIRE, Greg Lukianoff, said in a statement.
The lawsuit was one of seven filed by the nonprofit as part of the project. Other colleges and universities targeted by FIRE were Modesto Junior College, Ohio University, Chicago State University and Iowa State University.
In addition to the monetary settlement, which was announced on FIRE's website on Dec. 3, there have been new revisions to three administrative procedures:AP 5450 "Student Clubs and Organizations"; AP 7102.1 "Prohibition of Harassment: Students and Employees; and in regards to the free speech zone, AP 3900 "Time, Place, and Manner."
"When we made the final agreement with the plaintiffs attorneys, [the changes] had to be implemented immediately, so we had to go before shared governance committees, so that they were aware of the changes," said Arvid Spor, Ed.D, vice president of academic affairs and interim vice president of student services.
According to Spor, administrative procedures do not require the approval of the board of trustees. However, the practice at the Citrus has been to bring administrative procedures before the board of trustees to keep board members informed of changes.
The Community College League of California is a nonprofit organization that provides legal advice on administrative procedures for most community colleges in California, including Citrus College.
"Most colleges subscribe to the service the CCLC has, but in the case of AP 3900, some colleges have modified it," Spor said. "[CCLC] have lawyers that work on all the administrative and board procedures  that are out there."
All BPs and APs are looked at and revised approximately every three years unless an issue arises, to which Spor claims that Shared Governance committees would then begin the process of reviewing the BP and AP to make the necessary changes.
"Had there been any, then that would have been looked at and addressed," Spor said.
"There are free speech advocates that believe that anything that's paid for by public dollars should be able to have the right to free speech anywhere within that domain, whether that be a park or school, but the reality is, that doesn't always occur."
According to Spor, since the 2003 lawsuit, the administration went back and forth on the idea, but eventually re-established the free speech zone to the Campus Center Mall located between the Hayden Memorial Library and the Student Center, which is one of the heaviest trafficked areas on campus.
"Students come here for the educational process. They want to be able to learn. If someone is right outside their window or door causing a disturbance, that's not really appropriate for the students," Spor said.
"I've seen it at other campuses where verbal altercations can arise, fist fights can arise, and where people feel threatened by the person by the way they're being harassed."
As of September 2014, when a moratorium was placed on AP 3900, the district has ceased enforcing the provisions of the procedure that limited the exercise of free speech to the free speech zone to now include the entire campus with some restrictions.
"In working with the plaintiffs attorneys, we expanded the area greatly to pretty much include any of the greenbelt areas," Spor said. "It dramatically expanded the space with some limitations."
The administration will continue to enforce AP 3900 within 25 feet of doorways opening to outdoor areas of campus, all indoor areas and anytime free speech disrupts the normal educational process.
According to Gabriel Nadales, 21, a political science major who serves as vice president of YAL, Sinapi-Riddle and other members of YAL were collecting signatures for an anti-NSA resolution he was hoping to bring to the executive board of the Associated Students of Citrus College.
"Vinny, along with other students in YAL, were strongly pushing for this and petitioning," Nadales said. "Vinny was outside of the free speech zone and he was confronted by an administrator to leave or get kicked out of campus."
"It was unfortunate we had to go down that route, but we did it and we're complying."
-Arvid Spor, Ed.D, V.P. of academic affairs and interim V.P. of student services
Nadales, who was also serving as Legislative Liaison for ASCC at the time of Sinapi-Riddle's clash with the administration, began drafting a resolution with the aid of FIRE to rescind free speech policies on California Community College Campuses.
"I worked with FIRE to draft the resolutions. They offered me legal advice and pointed me to legal cases to strengthen the resolution."
The resolutions were to be presented to the Student Senate for California Community Colleges Region VIII assembly were not successful.
After the resolution failed in the student senate, Nadales mentioned some of the run-ins he had with the administration and Executive Board of ASCC in filing the resolution. Although FIRE advised him to pursue legal action, Nadales did not follow that course of action.
"I mentioned this to Vinny, to which he took it upon himself to contact FIRE and sue for the mistreatment he had personally received from the school," Nadales said.
Spor argues that the situation could have been handled through a series of meetings between Sinapi-Riddle and FIRE rather than through litigation.
"I think it was something that we would of like to have handled differently," Spor said. "It was unfortunate we had to go down that route, but we did it and we're complying."
Although it was never Nadales' intent to go to court over the matter, he is ultimately pleased with the changes to the free speech area policy.
"It's about time the policies were rescinded and we have some new policies that are consistent with the constitution," Nadales said.
"This does not benefit one side, but benefits anyone with an idea and the will to share it."
---
---