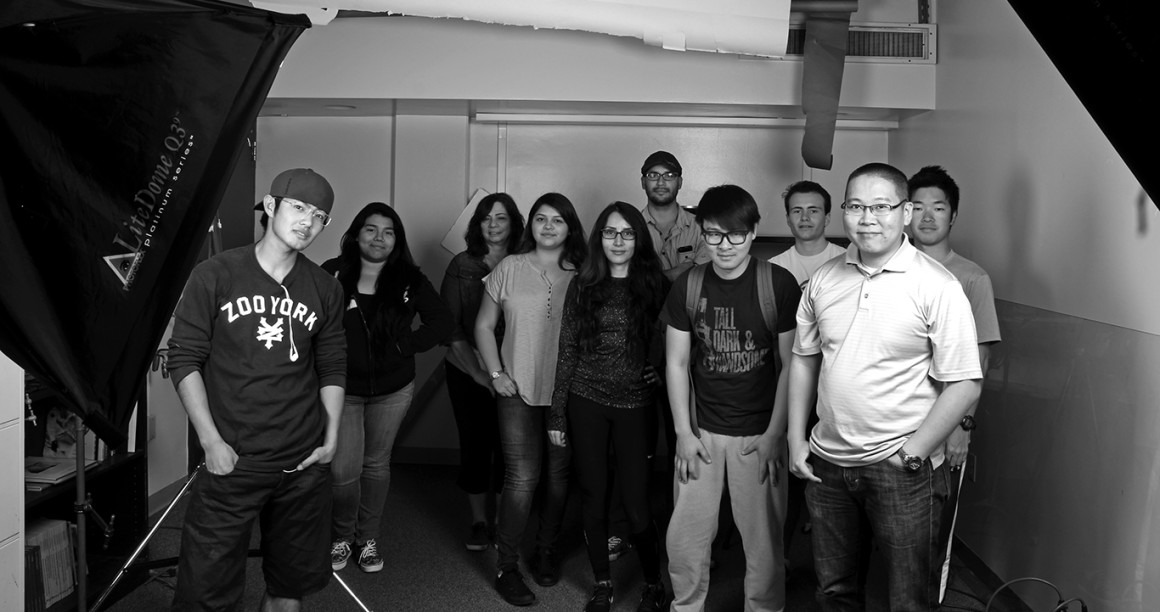 ---
Aspiring photographers honing in on their artistic and technical skills find common ground with like-minded students in the Photography Club.
This well established campus club is active both on and off campus, photographing college activities, local events and group trips.
Bob Orso, a fine arts professor who teaches Photo 101, is the faculty adviser. Ricky Lin, a contract photographer with the Office of External Relations, oversees the club's meetings and activities.
Lin joined the Photo Club in 2009 while working for Darrell Carr, veteran photography professor, and became the club's president two years ago. Carr retired in spring 2014 but has since returned to Citrus to teach part-time. "Nobody wanted to be president, and at the time, I was the oldest member who stuck around the most, so I said, 'Ok, I'll become president,'" Lin said.
Lin works with digital formats to shoot landscape images, which is his photo type of choice.
But, he said, if he could have it his way, he would prefer to work in a dark room and develop film, like his favorite photographer Ansel Adams, who was highly regarded for his landscape photographs of the American West.
Club members experiment with different types of cameras, lenses and filters to create perfect images, using their own equipment or equipment supplied by the club.
Students may use their phones for some club projects, but DSLR and mirrorless cameras with interchangeable lenses are the equipment of choice. If a student does not own this equipment, he or she may borrow equipment from the club with a valid student ID and a personal SD card.
"I wanted to learn about photography and have more opportunities to take the pictures," said Crunk Li, a 20-year old San Dimas resident who joined the club in spring 2014.
A photography major, Li strives to use the camera to communicate with people through images. His favorite subject is landscape photography because he can take his time trying to achieve the perfect angle and lighting. The Photo Club attends many local events, including the Covina Art Walk. They have also traveled around the state on field trips to San Francisco, Joshua Tree and Santa Barbara.
"Shooting in San Francisco, shooting at the Golden Gate Bridge, all of those, the field trips were fun," Orso said, recalling his favorite field trip of spring 2014.
The cost of the field trips typically vary from $20 to $80 and depends the number of members participating, not including what each member will spend during the trip.
The club's next field trip will likely be to the Valley of Fire, the oldest state park in Nevada located 50 miles northeast of Las Vegas. The trip is tentatively planned to take place during spring break over the course of three to four days.
Orso said that he and the student photographers are eagerly anticipating completion of the Fine Arts Building now under construction.
"When we have the new building, we should have better facilities, better computers, new equipment," he said. "Expanding the photo club would be part of that whole change."
Student photographers display their work in the library gallery each semester. The most recent showcase will take place on April 23, where photos will be up for display and, at the discretion of the photographer, for sale.
The Photo Club meets every Tuesday at noon in LB 204.  All interested students are welcome to attend. For more information, contact Orso via email at 99pets@gmail.com, or visit the Photo Club's Facebook page, Citrus College Photography Club.
---
---