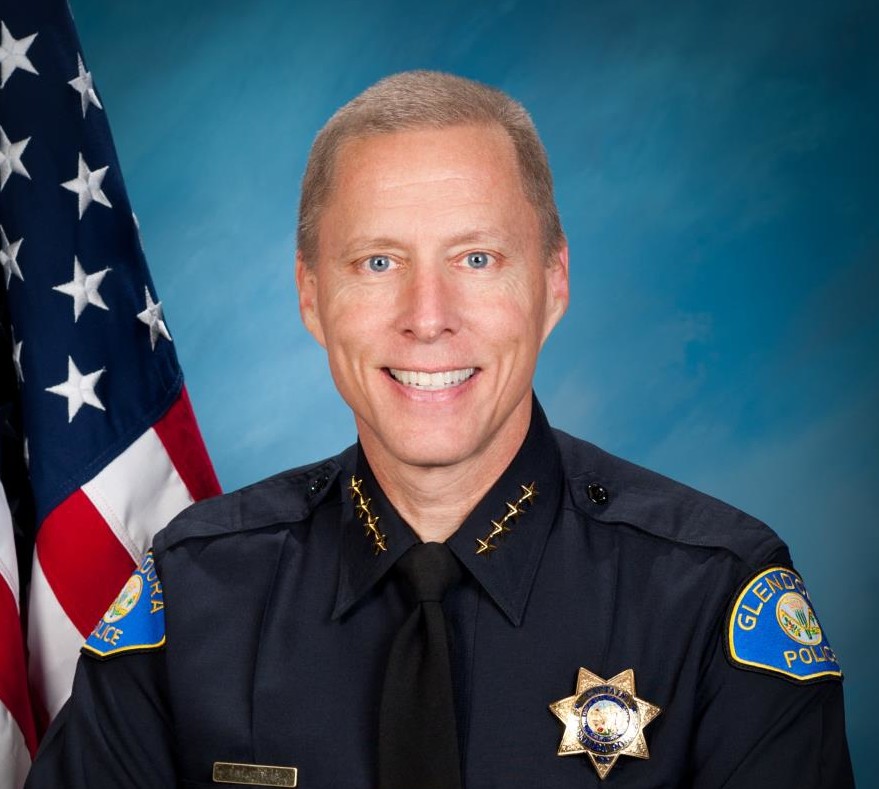 ---
Glendora Police Chief Timothy Staab (Glendora Police Dept. file photo)
Two sides of the law came together on Tuesday in the Police Procedures and Civil Liberties forum.
The topic of focus was transparency, regarding how police should behave and what is expected of them.
Present at the forum were leaders from both American Civil Liberties Union and Glendora Police Department.
Dave Milbrandt, political science professor, organizes these forums every spring semester that informs students of their rights and police procedures.
"We want to find out if we have two sides of the same coin, looking at [these] important issues," Milbrandt said.
Milbrandt directly addressed Peter Bibring, staff attorney at ACLU and Tim Staab, Chief of Glendora Police, on whether or not it is legal to search your cell phone when detained by law enforcement.
Bibring and Staab made it clear that an officer can take your phone away from you; however, without a warrant they cannot search through it.
"When you're arrested you have no expectation of privacy," said Staab. "When we look at your phone we have to do it as if we were searching your house."
Staab brought up the fact that officers of the law are willing to comply with the needs of the public so long as they know where their line is drawn.
"We'll get a search warrant if need be and your cell phone privacy will be maintained, that line needs to be drawn," Staab said. "Please don't blame us if we go right up to that line without crossing over it."
Milbrandt moved the forum onto the subject of DNA samples and racial profiling. Bibring expressed concern over the limitations of this database of DNA samples that holds onto the samples indefinitely.
"Maryland law allowed swabbing for DNA for the most dangerous of felony offenses," said Bibring. "California law is much broader and allows swabbing for any felony such as writing a bad check."
Staab was in agreement that DNA samples should only be relevant to criminal investigations, but believes they should be held for future use.
Milbrandt pointed out officers are always looking at people to determine if they are good or bad people. He asked where the line should be drawn to address racial profiling.
"The problem with profiling is not in the police department hiring racists," Bibring said. "But in hiring people who have biases as a product of growing up in America."
Staab confirmed that these situations are behavior based and not colored based. It is illegal to stop and frisk someone at random as a police officer.
The next subject introduced was the ability of the police force being able to use drones for surveillance.
Similar to cell phone searches, a warrant would be required in order to use a drone. As of now, using drones is illegal because of the intrusiveness of the technology.
"Drones are another technologies where the law needs to catch up," Staab said. "It's those rules that have to be defined for us. Write the rules and we will follow. We want to do things the
right way."
Milbrandt introduced police brutality events for the next subject up for discussion.
Bibring called for more data to be collected on incidents of police brutality and killings.
According to Bibring there is no mandatory reporting requirement for people killed by the police.
"One of the reasons we are having this dialogue now is because we are getting the ultimate transparency," Bibring said.
In the wake of Ferguson events, a federal bill was introduced to address police killings. In addition, another bill was passed requiring body cameras for police officers.
"We are still getting used to seeing how violent those confrontations are," Staab said. "We have lots of equipment available to try to take people into custody. Tasers are the most effective in taking someone into custody without killing them."
For final discussion, Milbrandt questioned both sides on how to soften the current relationship between the public and law enforcement.
"In law enforcement, it is our responsibility to tell the public what we do and how we do it," Staab said. "The citizens dictate what kind of police work we are going to provide for them."
Transparency has a slightly different meaning, for Bibring, than that of law enforcement.
"Increasing independent oversight will provide communities with insurance that there is unbiased oversight of law enforcement." Bibring said. "Particular oversight that involves community complaint review boards and investigators, who are looking into policies over time."
Overall Bibring and Staab had different ideas of why the law enforcement has certain powers and why it is not allowed others. However, both sides agreed the solution has to come from transparency between the law enforcement and the public.
Creating direct line of open communication between police officers and the public is necessary to reduce intrusiveness and increase safety.
---
---