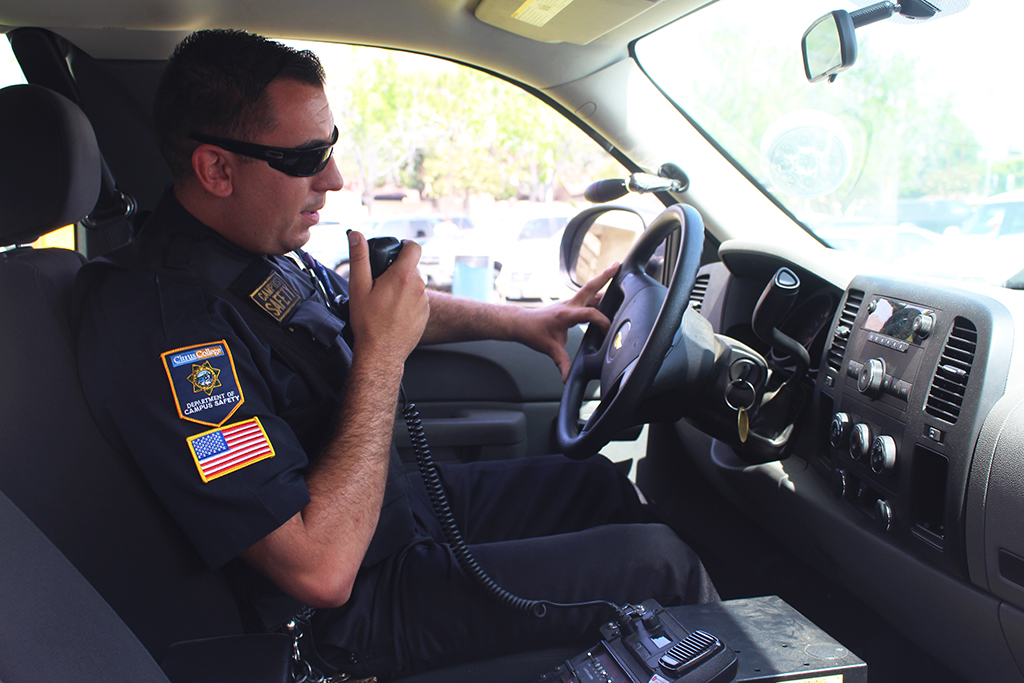 ---
Campus Safety officer Brian Harsha patrolling the northwest section of campus. During the lockdown/shelter and place drill on March 19, campus safety utilized siren systems in their vehicles to a direct people towards classrooms as well as contact officials inside classrooms from their dispatch office. (Jaclyn Spencer/Clarion)
A safety drill on March 19 marked the second lockdown/shelter and place drill to be simulated on campus.
Unlike the 2011 lockdown drill that counted 973 "potential victims" from unsecure classrooms, this drill evaluated how people in classrooms, buildings and outside follow emergency response protocols.
"The drill went off very well," said James Lancaster, Ed. D., dean of curriculum, career, technical and continuing education, who serves as the planning coordinator for the Emergency Operations Centers on campus.
"We were able to basically get the campus lockdown and give an all clear within 15 minutes," Lancaster said.
Officials from Citrus College EOC's planning committee, the office of campus safety and Glendora Police Department led the operation plans of directing and securing safe areas throughout campus.
Ben Macias, supervisor of Campus Safety, outlined the efforts made by Campus Safety and emergency information officers that lead to the quick response time.
"Our emergency information officers had already locked the doors and we were able to use our keys and get [students] inside and get [students] into a place where they were able to seek shelter and be out of harms way," Macias said.
During the short drill, campus safety utilized siren systems in their vehicles to a direct people towards classrooms as well as contact officials inside classrooms from their dispatch office.
"Each area of campus was covered by a team of campus safety personnel and each area was clear in no more than four minutes, said Macias. "Some were even quicker than that."
Hayden Memorial Library recently updated policies in preparation for the drill.
"We met together with the staff and we decided which rooms would be good safe rooms for this kind of drill," librarian Sarah Bosler said.
"Our goal was to plan spaces that were in different parts of the library."
"The drills are intended to see what we are doing right and see some things we need to improve on,"
-Ben Macias, supervisor of Campus Safety
The Hayden staff estimated within five minutes roughly 200-250 students were sheltered in safe spaces with room to spare.
"The students were really cooperative and they follow the directions of the staff to the safe rooms we have already planned," Bosler said. "They reacted very quickly, nobody gave us any issues or problems and they were very cooperative."
Event officials met for debrief and compile evaluations that further discuss safety outcomes and areas of improvements.
"The drills are intended to see what we are doing right and see some things we need to improve on," Macias said.
"There were suggestions and recommendations that we anticipate to improve on for the next drill." Improvements dealt with fixing "technical hiccups" within some of the alert systems as well as providing additional emergency information officers in large areas like the library.
Officials all agree that students contribute by updating their wingspan information and signing up for Citrus Alert.
"Students who had signed up for [Citrus Alert] had it on their phones. They weren't just listening to us telling them where to go, they already knew what the message was," Bosler said.
"Having all their information up-to-date and accurate is important I think and did help it go smoothly."
Each semester, campus officials perform an emergency drill preparing the campus community with the policies and procedures for scenarios ranging from earthquakes, fires or active shooters.
According to Lancaster, the EOC planning committee will meet again in the fall to start planning the next emergency drill, which most like will be a fire drill.
In the meantime, the campus community is encouraged to do their part by reading and discussing the procedures for the various drills. The campus safety site found on Citrus College's website has updated information assessable for any device.
"I think collectively if everybody does their part we can all be better prepared to handle these types of situation when they occur," Macias said.
---
---