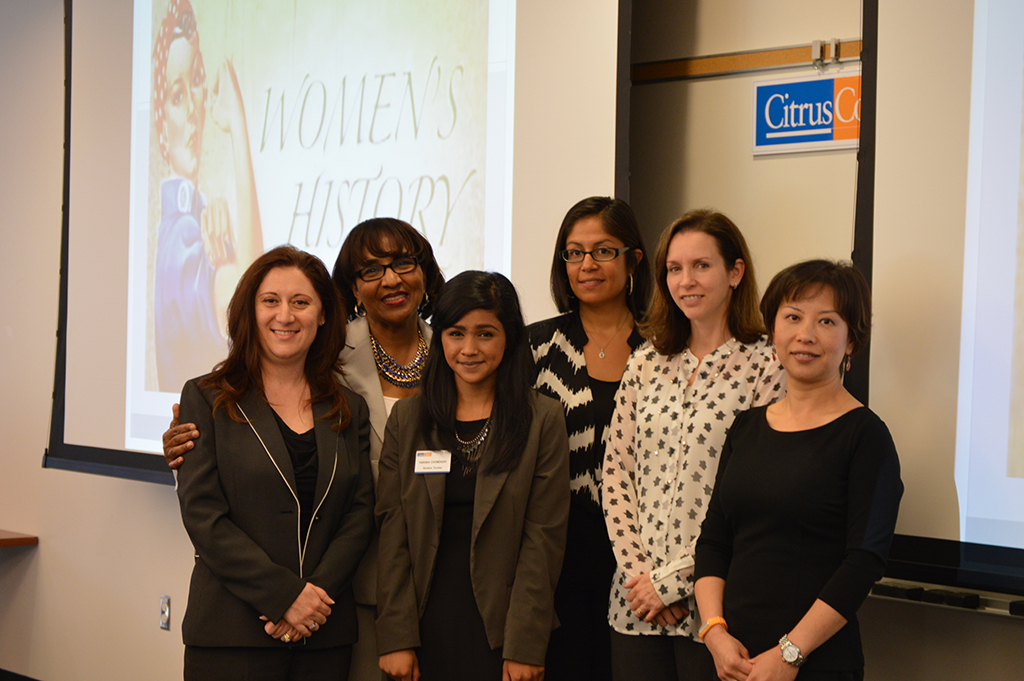 ---
The "Women in Leadership" panel speakers (left to right): Claudette Dain, Dr. Barbara Dickerson, Farihah Chowdhury, Veronica Estrada, Dana Hester, and Lan Hao, share their stories and answered questions about leadership.(Jaclyn Spencer/Clarion)
The "Women in Leadership" panel took place March 26 in the Center for Innovation Building.
Student Trustee Farihah Chowdhury organized the event in honor of Women's History Month.
The panel was made up of women leaders from various departments at Citrus College.
All speakers shared their personal experiences of their educational and professional journeys. Each speaker also offered advice to students on leadership, careers, and academics.
"I put this panel together because I truly wanted to recognize the hard work of women leaders in our campus." Chowdhury said. "I wanted to highlight some women, who I feel have rich backgrounds that can provide leadership and guidance for the betterment of the college"
Barbara Dickerson  is an active member of the Board of Trustees for Citrus College and Executive Director of Neighborhood Homework House, a non-profit community organization, located in Azusa.
Dickerson shared her family's background and how it shaped who she is now.
"I am a product of the segregated south and my grandmother was born into slavery, seeing her perseverance and her work ethic despite the obstacles are characteristics that I want to continue," Dickerson said.
Veronica Estrada Program Evaluator at Citrus College and instructor of leadership, who received a doctorate from USC.
Estrada spoke on the importance of mentors and the impact they can have in a student's life and career.
"You need to learn how to lead from the inside out and you need to learn your strengths and weaknesses in order to work with others'" Estrada said.
Claudette Dain is vice president of finance and administrative services for Citrus College, who earned an M.B.A. from California State University, Dominguez Hills.
"I put this panel together because I truly wanted to recognize the hard work of women leaders in our campus."
-Farihah Chowdhury, student trustee
She currently oversees all fiscal and facilities matters, recalled how she followed her in her father's footsteps as an accountant and took his advise of passionately growing into a career.
"Don't worry about knowing what you want to do now, use your opportunities to discover what want to do and what you are passionate about," Dain said.
Lan Hao is the director of institutional research, who received her Ph.D. in higher education administration and policy analysis from the University of Southern California in 2005.
As the chair of the Strategic Planning Committee, she led the task force that produced the college's five-year strategic plan. She focused her advice on ethics and hard work.
"The best advice I can give you is to be a good person, know that hard work pays off and be reflective on your day's accomplishments," Hao said.
Dana Hester is the dean of social & behavioral sciences and distance education at Citrus College, who earned a doctorate of education in educational leadership with an emphasis in community colleges from Cal State Fullerton as well as has a Master of Science in biology.
Hester reflected on the struggles and achievements women have been though history.
"Choice is a precious commodity that we did not always have, Hester said. "You can lose your job but something you can never lose is your education."
More than 30 students attended the event and had the opportunity to interact and ask questions to the panelists.
Nestor Aquino, astrophysics student, connected and was impressed by the personal stories of each panelist and all of the work they have done for Citrus College.
"I think this panel was important because it featured women who are dedicated to Citrus College and are inspiring to every student. "
---
---