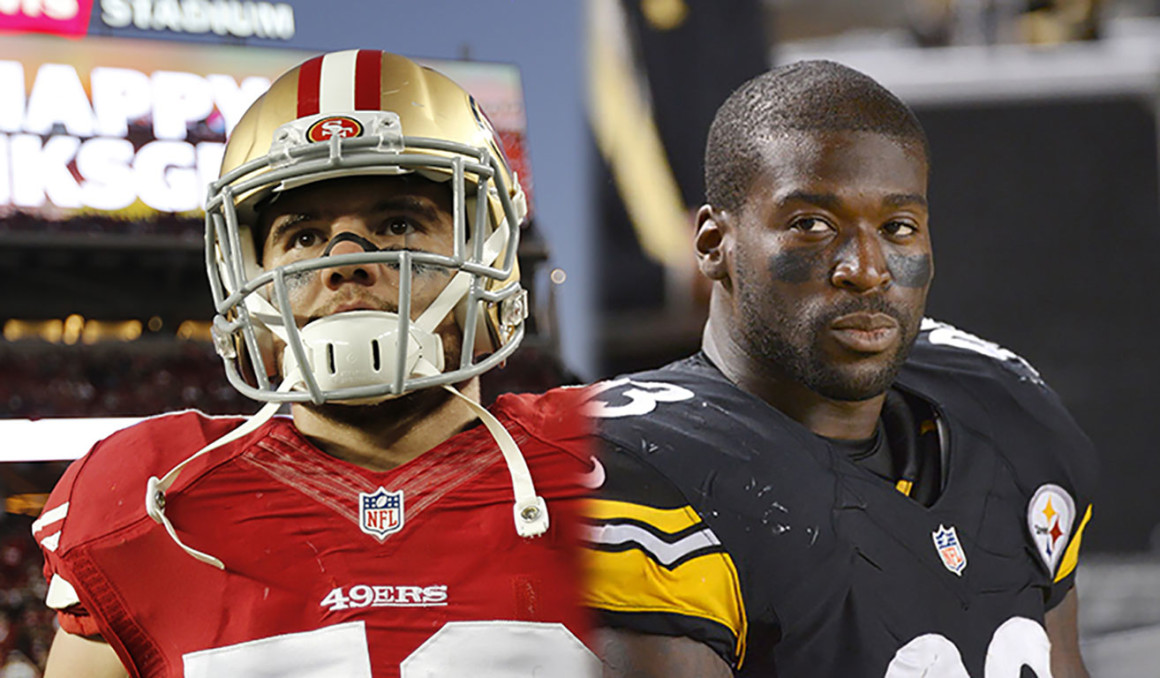 ---
It's been a weird offseason for the National Football League. I mean, you could say it has been a weird year.
So much has gone on. Adrian Peterson, Greg Hardy, Ray Rice, Deflate Gate and among others, the crazy antics of Jim Irsay.
Just when Roger Goodell thought he could afford (let's be honest here, he can afford to do anything he wants) to take a seat and exhale, he's hit with the media making a huge deal out of San Francisco linebacker Chris Borland, 24, retiring.
What's the reason? Is it really due to the health concerns and will this deter future athletes from trying to achieve their goal of playing in the illustrious NFL?
Quarterback of the Tennessee Titans Jake Locker, 26, linebacker of the Pittsburgh Steelers Jason Worilds, 27, and a slew of other football players have decided to end their careers short of what was expected.
Worilds earned $9.75 million from the Steelers in 2014 and was a free agent when he decided to retire, possibly leaving millions of dollars behind.
In 2013, the NFL reached a tentative agreement with its 18,000 retired players. A $765 million settlement that would cover injuries and trauma to the brain. Whether it be concussions, dementia, depression or Alzheimer's.
In 2014, a federal judge approved the deal that would compensate those retired athletes.
The part that really bugged me was that if you were a player that retired with Lou Gehrig's disease (ALS), you would be compensated $5 million.
A disease that gives twenty percent of people living with it five years to live, is worth about $5 million.
According to this deal, if you are 50-years-old and have Alzheimer's, you would get $1.6 million.
It seems like we are putting a nice juicy price tag on these diseases that have been scientifically proven to be caused by trauma to the brain.
I have talked to a few players on the Citrus football team over the year about concussion issues and injuries they may sustain to the head, none of them were worried about it.
"It's the risk you take every time you step out of your house," one athlete told me. He went on to say that he's not going to stop doing something he loves and is passionate about because there's an injury risk.
Medium.com ran a discussion piece that involved seven sports-writers from a variety of publications including the New York Times and GQ. The topic was whether or not we should ban sports.
The concerns of Medium.com are very valid. You have doping the Major League Baseball and just about every other sport. You've got the corruption going on with the exploitation of students in the National Collegiate Athletic Association with March Madness and you have your neuro-cognitive illnesses.
While yes, it is extremely important to be aware of all of the risks when stepping out onto the field or court, but to ban sports?
Aren't there worse evils out there in the world? For example, the infinite amount of seasons of The Bachelor?
When I used to play, those were the days I would look forward to. Lacing up my cleats, putting my catchers gear on and getting ready to throw a guy out trying to steal second on me. Being in the middle of a collision at home plate, eyeing down the runner steaming down the third baseline as I prepare for contact.
Those moments, I'll never forget. Or perhaps I will when I am older and am affected by a neuro-cognitive illness, I just won't be paid $1.6 million for it.
Back to one of my original questions, should the NFL be worried that players are starting to retire at an early age?
The simple answer, no. Did the NFL worry when its players beat their wives and children? No.
Will the NFL ever worry when one of its players does something wrong or their sport beats an athlete's body and brain to a piece of lettuce? No.
The NFL will never worry. Because people like me and millions out there will still tune in to hear Al Michaels broadcast a Titans and Raiders game on a Thursday night.
The NFL is untouchable.
---
---