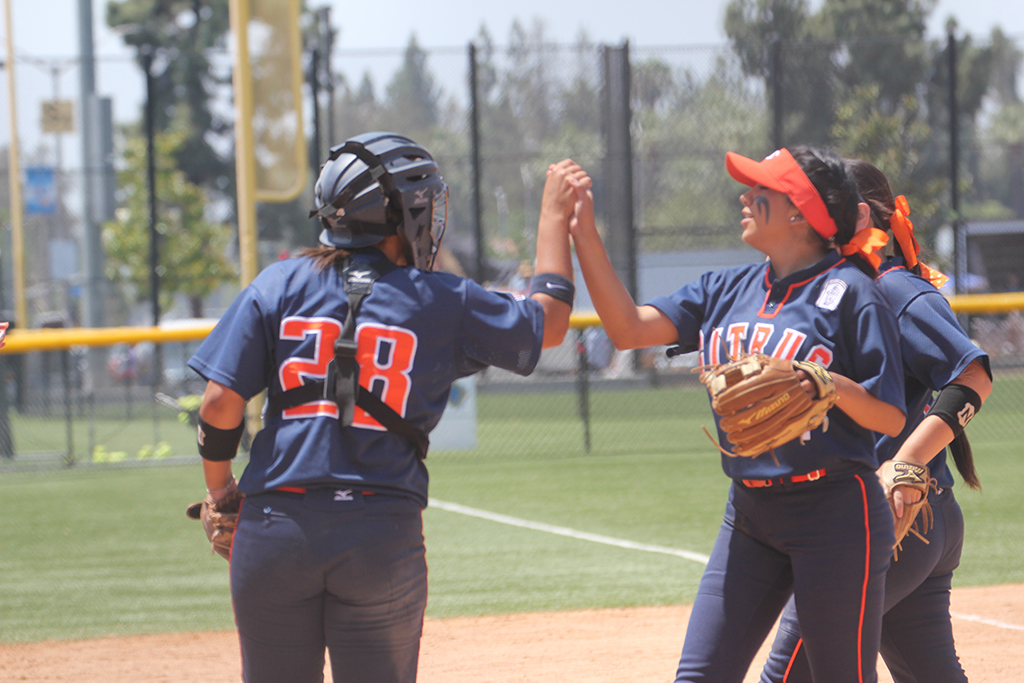 ---
The Citrus Softball team began their regional playoffs tournament with a victory over San Bernardino Valley College, 5-4 on Saturday, May 2.
As 2015 champions of the Western State Conference Blue Division , this was the ninth playoff appearance for the Owls in the last 10 season, entering this year at the highest seed in Citrus' history.
Although there have only been six game wins for Citrus in the nine seasons the team has appeared in playoffs, May 2's game exemplified this year's potential of the Owls.
With a fast shot hit toward Citrus' shortstop Stephanie Noriega (#7), Noriega swiftly field the grounder and gave Citrus the first of their three consecutive outs in the first inning for a quick 3 up, 3 down start.
Citrus catcher Jessica Brown (#28) was the first Owl to get a hit, popping up toward center right field, safely making it to first base. After a fielding error on San Bernardino's part, Brown scored a run putting Citrus on the board, 1-0.
Although San Bernardino would score a run in the second inning, it was the Owl's rightfielder Kalei Guillermo (#12) who hit an infield home run, also bringing in a runner on base.
"Kalei hitting the ball down the line and getting a couple of runs was huge," Citrus head coach Jackie Boxley said. "She's been a spark all year."
San Bernardino continued to struggle to get runners on base, visibly failing to adjust to Citrus pitcher Anissa Gallegos (#4).
"I thought we were a little bit anxious at the plate," said San Bernardino head coach Jerry TIvey. "We may make a couple of adjustments."
Erinn Jaramillo (#2), Citrus third baseman, would use her at bat in the third inning to drive a homerun over the right field fence leading Citrus to a 4-1 lead. The Owls cheered on their teammate who already had nine home runs this season.
"We have the ability to do whatever we want, it's just a matter of getting them together and rallying," Boxley said. "They come together and blow up."
Citrus' pitcher Gallegos was consistent in her performance on the field, although she admitted to a few jams throughout the game. Gallegos was able to continue strong after mentally focusing on her pitching.
"My mentality was just to get the ball on the ground," Gallegos said. "I knew my teammates would get the outs behind me, and that's what happened."
Citrus would not score another run until the sixth inning, by then leading by 4 points. Although obvious effort was focused into the game, San Bernardino would not score another point for the rest of the game.
At the end of seven innings, the end of the game was called naming Citrus victors of game 1 with a final score of 5-1.
---
---