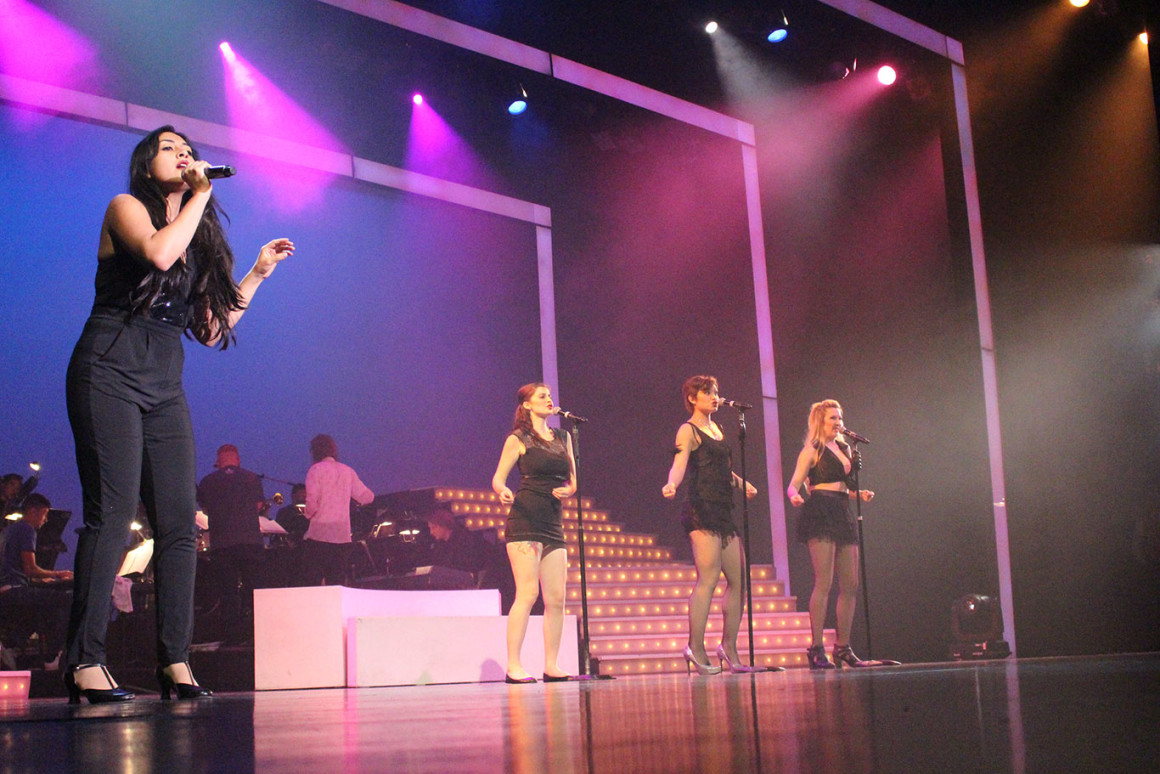 ---
The Citrus Singers are making history with their first trip to China. For 15 days, the Singers are booked to perform 10 times and tour five cities.
Four staff members and 37 students depart on May 13 and return June 3. They will join musical groups from around the world at the annual choral festival in Shanghai. The Citrus Singers are the only group from an American college or university scheduled to participate.
"Through a series of circumstances," said Doug Austin, director of the Citrus Singers, "there was a booking agency [at Citrus College}… who became acquainted with John Vaughn when [Vaughn] was interim director of the Haugh and Bob Slack who is the dean of the music department."
"[The Citrus Singers} would be perfect for this choral festival,'" said the booking agency to Austin.
The Chinese festival audition panel reviewed footage of Citrus Singers performances, initiating a three-month audition process that eventually lead to an invitation to perform in the international festival.
"A total group of 20 top rated and highly regarded choirs from other countries including  Europe and around China have also agreed to participate," said Kristopher McDowell, founder and president of KMP Artists, in a formal invitation to the Citrus College Board of Trustees.
"The initiative of Choral Week aims to enrich and expand the choral arts, promote and showcase high quality choirs from around the World," McDowell said, "and future boost the communication and cooperation of international choral groups."
Although the total cost of this trip is a staggering $177,410, the festival management in China will cover $77,238 of expenses and the Citrus Singers' individual payments of $300 will pay for $11,100 of the total. Citrus College will pay for the balance, $89,062.
In addition to the leadership of Doug Austin, the Citrus Singers group also has two elected student directors who hold much responsibility in the group's progress.
"Being one of the student directors of the Citrus Singers has definitely been an added pressure," Co-Student Director Brandon Jenkins, 26, said. "However, I don't regret one second of being a student director."
"I have helped facilitate the continued success of this group," Jenkins added, "which I am more than honored to have been able to do."
The music selection of the Singers' tour has been encouraged to represent the American culture, allowing Citrus to showcase music international audiences may have never heard prior.
"We'll be singing Rogers and Hammerstein, Andrew Lloyd Webber and Leonard Weber basically representing American musical theatre literature," Austin said.
The Singers also have learned two songs in Mandarin with the assistance of Lan Hao, Citrus College director of institutional research, who is fluent in the language. Hao, who is an American citizen, will be traveling with the group to China where she was born.
"Singing in Mandarin, [a] dialect of Chinese, is very different than singing in English," said Co-Student Director Alexandra Almendarez, 24. "Although it is said that English is one of the most difficult languages to learn, Chinese, I would believe is harder."
"There's a lot of pressure going to a country and trying to sing in their language without disrespecting them," Jenkins added.
The work ethic of the Citrus Singers has been commended many times in the group's history, often making it easy to fill up a yearly agenda of performances.
"I am very proud of all we have accomplished," Jenkins said, "and are about to accomplish in China."
"It is quite amazing actually being in [a] type of environment with everyone wanting the dream just as bad as you do," said Almendarez.
"Put it this way," she continued, "when you are running a race and you are the fastest in the race with the other players way behind, winning the race is not appeasing. When you compete alongside people who are all the same level, it means more to succeed and it pushes you to become the best that you can be, which is more than what you think possible."
"I am especially proud of this year's group," said Austin. "It will be an honor to take them to China and have them represent this college, the community and the United States."
---
---